Warsaw (Brussels Morning) Athletes are invariably linked to their national identity or brand. They are seen as political capital domestically and ambassadors when abroad. Their skills are projected as attributes of the nation they represent, their unique qualities and characteristics offering, at times, a platform for entry into the realm of politics. In the US and elsewhere, athletes have been a driving force in promoting the Black Lives Matter movement. In the UK, Manchester United's Marcus Rashford has galvanized support to ensure that the needs of impoverished children no longer able to avail of free school meals because of pandemic restrictions are met. The groundswell of grassroots and street-level activism for democratic representation and humanitarian rights is being reflected more and more in the world of professional sports, sometimes at personal cost to the careers and legacy of the athletes concerned..
One example of this activism is the Belarusian Sport Solidarity Foundation (BSSF), which is currently touring Europe. Brussels Morning caught up with BSSF last week in Warsaw. BSSF provides financial, psychological, logistical and every possible assistance to athletes that have been targeted by the Lukashenko regime.
Five athletes from a range of sports who have been touring Poland on behalf of BSSF shared their views with Brussels Morning about the on-going political crisis in Minsk. They spoke about police and state brutality, propaganda and patriotism.
Athletes Interviewed:
Vladislav Kovalev, is a Belarusian Chess Grandmaster.He has represented Belarus in four Chess Olympiads and was expelled from the national team after he signed an open letter supporting other athletes who were protesting electoral fraud in Belarus and the authorities' counter measures.
Andrei Krauchanka, a decathlete champion and silver medallist at the 2008 Beijing Olympics, having signed an open letter condemning the violence and electoral fraud, was forced to leave the national team and quit his job.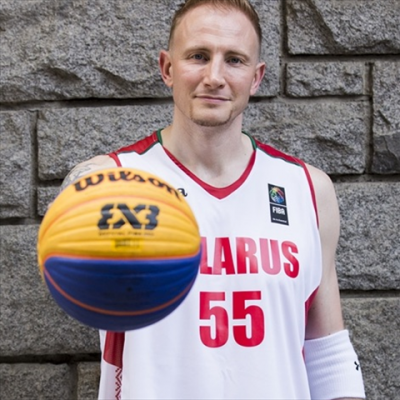 Yegor Mesariakou, a retired Belarusian basketball player, assistant head coach of the national team of Belarus (2016-2019). Won several European and Belarusian championships.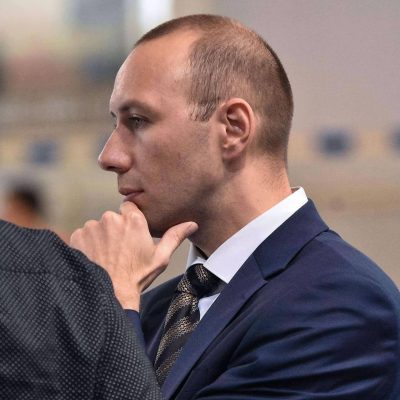 Alexander Opeikin, European Handball Federation Marketing Inspector, Executive Director of the Belarusian Sports Solidarity Fund and Coordinator of the Vityaz handball club, was expelled from the Belarus championships for his involvement in the rally to support basketball player Elena Levchenko, who was arrested 15 days ago.
Melitina Staniouta, Belarusian gymnast and winner of several World and European Championships.
Brussels Morning: How courageous do you have to be to run a campaign against an incumbent who has held your country's presidency for 30 years? What is the personal cost?
Andrei Krauchanka (Decathlon): I strongly believe that one day, Belarusians will walk with their heads held high and with a smile on their faces. After the regime changes, Belarusians will become kinder and begin to respect each other. This future gives me confidence and courage because courage lives in each of us. What kind of country do we want to live in tomorrow? Do we want to walk with our heads down and accept humiliating beatings and lawlessness? I openly declare my civil opposition and support the people of Belarus in their weekly Sunday protest marchs.
Yegor Mesariakou (Basketball): It is not a question of bravery, but instead a question of awareness and understanding of what is really happening in the country. We have seen a lot of political and economic mismanagement over the years, but what happened during the latest stolen elections and the violence that ensued marks a point of no return for Belarusians as a nation. We have simply had enough. I personally took part in every Sunday march with the exception of one. I distributed water bottles in the early days of the protest and then I joined other athletes who care.
Alexander Opeikin (Handball): Athletes are brave people in their own right. Every day they have to push their personal limits, conquer themselves, overcome fears and emotions in order to one day climb the Olympic podium. First of all, we, athletes, reacted to the events in Belarus as citizens of our country, unable to look away as the regime abuses its own people.
Brussels Morning: How much damage are you causing to the country's international image? Do you believe you stand on the right side of history on this one?
Vladislav Kovalev (Chess): I am not sure that today the authorities are interested in the country's international image. The leadership of the country is firing the leading athletes just because they have a different point of view. This policy means that something else is more important to them, and not the recognition of the country's sports.
Andrei Krauchanka (Decathlon): I believe that I am fighting against this unacceptable political situation and that I do not harm the country's image. I speak the truth and only the truth about what is happening in the very centre of Europe in the 21st century. The events of the last few months in Belarus are an incredible madness.
Melitina Staniouta (Gymnastics): I believe that I am on the right side. The majority of Belarusians share my point of view. The looks, the smiles, the warm words of everyday people who meet me on the streets and thank me, indicate that I was not mistaken. In addition, other people whom I have always respected are now standing with me. We are on the same side.
Brussels Morning: Can Belarusians change the regime without a clash with Russia?
Alexander Opeikin (Handball): Undoubtedly, today Russia is most interested in Lukashenko's early departure. If this political situation continues on for a year or longer, then we will witness the beginning of political protests in Russia itself. That is why Moscow is trying to remove Lukashenko from the presidency through constitutional reform.
I would also like to note that many Belarusians have relatives and friends in Russia and among Russians in Belarus. We are fraternal peoples, and we have nothing to divide, which is why the Russians support us with statements, actions of solidarity, resources, and employability projects, something we witness every day.
Yegor Mesariakou (Basketball): The Kremlin's influence is well known. However, we simply believe that it will mostly depend on how Belarusians respond this time around. Historically, the power of Belarusians has been deeply under-estimated by the Kremlin. But in recent days we have seen a change in Putin's rhetoric.
Brussels Morning: How important is sport for the regime's international image?
Melitina Staniouta (Gymnastics): Sports have always been the strong card of Lukashenko. He frequently stated that Belarus is a sports country and he has always tried to be part of this trend. He participated in tournaments, presented himself as a sports expert. Lukashenko knows that the country is proud of its athletes, that athletes are more than diplomats, because it is thanks to us that foreigners can hear, see, and learn about Belarus. But I am sure that the victories of our athletes are not a personal victory of Lukashenko. The teams that train athletes — coaches, assistants, masseurs, doctors — should be proud of each victory and credited accordingly. But not the President.
Vladislav Kovalev (Chess): I think that sports have always been important for the authorities to strengthen the country's image in the international arena. That is why so much attention was given to them, especially to Olympic sports.
Unfortunately, chess was hit much more than other sports. There was a 2020-2022 chess project, where several major international chess tournaments were scheduled to be held in Minsk, including the World Chess Olympiad in 2022. The tournaments would certainly have raised the international image of Belarus. Hosting such events would further enhance the development of chess in Belarus. But everything was cancelled – in part due to the pandemic, and the Olympics – due to the lack of financial guarantees from the state. This is a big blow to our sport.