Washington (Brussels Morning) The Biden administration has waived sanctions on the company behind Russia's Nord Stream 2 gas pipeline to Germany and its chief executive, a move that was criticised in Congress.
The move came in the aftermath of a State Department report sent to Congress concluding that Nord Stream 2 engaged in sanctionable activity. As a Senator, President Joe Biden opposed the $11 billion project that promises to channel Russian gas from the Arctic Circle to Germany, calling on Europe to opt for US natural gas exports instead.
To understand this dramatic shift in US policy we talk to Richard Morningstar, Chairman of the Global Energy Center at the Atlantic Council and former Former US Ambassador to the European Union.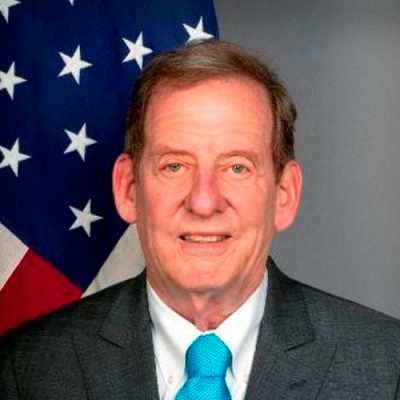 Ambassador T. Japaridze (TJ). What is the significance of this move for Poland and Ukraine? Can the Biden Administration rebuild relations with Germany at the expense of the countries Donald Rumsfeld referred to as "New Europe"?
Ambassador R. Morningstar (RM). Tedo, you are right there has been much fuss over Nordstream 2 sanctions. To the surprise of most everybody, the Biden Administration recently issued waivers of sanctions on the grounds of natIonal security interests to Nordstream AG, which is the operating company for the pipeline, as well as Matthias Warnig, who is a former Stasi officer, and the CEO of Nordstream AG. At the same time it became apparent that Germany was ready to talk to the Administration about steps that could mitigate the negative effects of Nordstream 2 on European energy security, particularly in Central and Eastern Europe and on Ukraine which currently transits the bulk of Russian gas to Europe.
The waivers were granted in spite of strong bipartisan support in Congress for sanctions. President Biden stated to reporters that sanctions would likely not do any good, because the project was near completion and that the waivers would help strengthen the transatlantic relations and make it easier to reach agreement on Nordstream and a host of critical issues.
My initial reaction was that the granting of the waivers gave away a bargaining chip that was unnecessary and sent the wrong message to Russia leading up to the Biden-Putin summit and the Blinken-Lavrov meeting that took place almost simultaneously with the decision. I felt, "why issue the waivers when nobody was even expecting sanctions to be issued against Nordstream and Warnig at that point in time? Why give away an important bargaining chip in seeking a compromise agreement with Germany that would satisfy the interests of the various stakeholders? "
The negative reaction to the waivers was swift in Congress where new legislation was filed to make the sanctions mandatory and in countries such as Poland and Ukraine that will be directly affected by Nordstream.
On further reflection, it became apparent that there is another side to the story.
A high-level German delegation was in Washington at the beginning of June in part to negotiate on Nordstream. We need to see the results of such talks. Can there be an agreement to guarantee in some fashion the current transit agreement between Gazprom and Ukraine? Can that agreement be extended beyond 2024? Could Germany match US pledges to the Three Seas Initiative which will further develop necessary infrastructure in Central and Eastern Europe, thereby lessening dependence on Russian gas? What about working to further the energy transition in Central and Eastern Europe to lessen dependence on gas? It may be, this is pure speculation, that Chancellor Merkel insisted on the waivers before working to achieve a compromise. Germany clearly opposes secondary sanctions and may have taken the position that it would not negotiate if under the threat of secondary sanctions.
Along with considering Nordstream a purely commercial project, Germany has strongly taken the position of "Who are you to tell us who to buy gas from?" At the same time, it is important given the Administration's decision that Germany step up to the plate and agree to a deal that will show that the Administration's decision was worth it. As to Congress, although new legislation could be passed making sanctions against Nordstream AG and Warnig mandatory, the proposed legislation has not yet received much Democratic support. It is unlikely that the legislation could be passed with a veto proof majority.
It is also important to mention that although there have been serious repercussions to the decision, Nordstream 2 is not a serious domestic political issue. As to the decision's effect on the Biden-Putin Summit, it will not necessarily have an effect. It can be argued that the decision shows weakness towards Russia, but the success of the Summit will depend on how tough and credible the President is on other issues, such as cyberattacks, election interference, Navalny and threats to Ukraine, while also looking to see if there are potential areas of cooperation, such as arms control and climate change. President Biden is a pragmatic person. He may believe that this is the best way to achieve a solution on Nordstream, further the transatlantic relationship on other critical issues relating to climate, security and trade, and at the same time not weaken our ability to take tough positions on Russia. Time will tell whether he is right.
TJ. The lifting of sanctions – and the threat of secondary sanctions towards EU member states – sets a different tone in relations between Berlin and Washington. Is this a good start? Do you feel that Berlin and Washington are likely to see eye-to-eye when it comes to policy towards Russia?
RM. Several European countries, including Germany, are very much opposed to secondary sanctions. Even many in Europe who oppose Nordstream are also opposed to secondary sanctions. As mentioned before, the decision to waive sanctions could have a positive effect on the transatlantic relations. It is also important that Washington and its European partners have a common approach towards Russia and act together to counter Russian behaviour on cyber, human rights and Ukraine among other issues. A common approach on sanctions will also be the most effective. There is nothing that says that the waivers cannot be withdrawn and new sanctions be enacted depending on Russian behaviour.
TJ. Given where EU energy policy is headed, one may assume that Nord Stream II may never recover the cost of its initial investment. Given your experience in the energy sector, for how long will natural gas be relevant to Europe's energy mix.
RM. It may well be that the investment in Nordstream 2 will never be recovered. That will depend on alternative sources, such as LNG, Caspian resources, as well as energy from the eastern Mediterranean. It will also be a question as to how quickly gas demand will fall off as a result of the energy transition, which will increase energy efficiency and new sources and technologies such as wind, solar, hydrogen, geothermal and biofuels, among others. I believe that gas, including LNG from the U.S. and other locations, will continue to be an important energy source at least for the mid term. It is cleaner than other fossil fuels and will play a major role in the transition from coal. The solution is not to ban gas, but for the public and private sectors to work together to decarbonise gas through the whole supply chain, by such things as elimination of methane emissions, carbon capture and eliminating flaring.
TJ. Oil pipes established interdependence and oil has famously been at the root of many conflicts. In a post-oil world, should we expect more or less conflict?
RM. A post-oil world has the potential to create significant tension and conflict. There is much debate as to when we will reach peak oil demand followed by a drop off. Some say it could be in the next few years. Others say it will be in the distant future, if at all. If we are to meet climate goals, it will be sooner rather than later. The geopolitical ramifications could be major. Russia is economically dependent on the export of fossil fuels. How will it react to a major drop off in demand? Will Putin or his successors act even more aggressively to maintain markets and distract the public from a faltering economy? What steps will be taken to diversify its economy? Saudi Arabia and the UAE are already looking to diversify their economies, recognising a possible drop off of demand in the future. A drop in demand could have a devastating effect on oil dependent countries such as Nigeria and Angola and exacerbate the already desperate situation in Venezuela. Diversifying economies on a global basis through the energy transition can help to mitigate these potential issues. We cannot ignore these issues and must plan for the future.