Belgium, (Brussels Morning Newspaper) According to the Turkish disaster management organization, at least 36,187 people have died in southern Turkey as a result of the earthquakes that struck that region and northwest Syria last week. Even though the Turkish government has been working nonstop to help individuals affected by the disasters, the level of destruction is astounding.
NATO has gathered resources and expertise to offer humanitarian aid to Turkey in response to the situation. The group has a long history of supporting people in need, and its assistance has been essential in assisting Turkey in dealing with the earthquakes' aftermath.
NATO's initial response was to send an expert team to Turkey to evaluate the situation and determine which needs were most urgent. In order to plan the relief activities and make sure that the aid given was focused and efficient, the team closely collaborated with Turkish authorities.
The magnitude of the destruction brought on by the earthquakes was one of the main obstacles facing recovery operations in Turkey. Many villages were left without essential utilities like electricity and water, and thousands of individuals were left homeless. NATO gathered a variety of resources, such as medical professionals, engineers, and logistical specialists, to handle these difficulties.
Reliable ally
NATO Secretary-General Jens Stoltenberg was in the Turkish capital, Ankara, last week. Speaking alongside Turkish Foreign Minister Mevlut Cavusoglu, Stoltenberg told reporters that NATO stands with Turkey, a NATO member, in its time of need.
"We salute the courage of the Turkish first responders and we mourn with you," Stoltenberg said.
The medical staff from NATO worked nonstop to treat earthquake victims who needed immediate attention. They establish mobile clinics and field hospitals in the afflicted areas, giving individuals in need essential medical aid. As this was going on, NATO's engineers worked to restore the nation's crumbling roads and bridges so that aid could reach the areas most in need.
NATO also donated crucial supplies to individuals impacted by the disasters in addition to these efforts. These include essentials like food, drink, and shelter in addition to coping mechanisms like heaters and generators.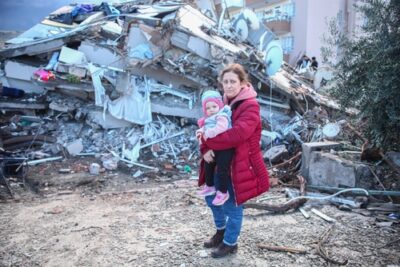 Overall, NATO's assistance has been essential in helping Turkey deal with the quake's repercussions. The group's knowledge, resources, and coordination have been crucial in ensuring that aid reaches people in need and in assisting Turkey in rising up from this terrible catastrophe.
Although the earthquakes have caused a great deal of suffering and loss, the response from Turkey and its allies abroad, especially NATO, has demonstrated the human spirit's fortitude and courage in the face of difficulty.
We can help individuals affected by this tragedy move ahead by working together to rebuild and restore the afflicted communities with sustained support and collaboration.
The Future
The alliance between Turkey and NATO is expected to continue to develop and change in the future.
Turkey will need to collaborate closely with its NATO allies as the geopolitical environment of the area continues to change and new issues emerge in order to ensure that it is able to address these challenges successfully.
NATO will also need to keep up its dialogue with Turkey and make sure that its issues and viewpoints are considered when making decisions. In the end, maintaining peace and stability in the region for many years to come will depend heavily on Turkey and NATO having a robust and fruitful relationship.
Turkey is a significant factor in the geopolitical landscape of the area due to its strategic location at the intersection of Europe and Asia.
As well as offering a sense of security and stability, its membership in NATO has given it a platform to interact with its neighbors and the larger international community.
The Past
The relationship between Turkey and NATO hasn't always been easy, though.
Turkey and its allies in the Alliance have recently experienced a number of conflicts and differences, particularly in relation to the Syrian conflict and Turkey's acquisition of S-400 missile defense systems built in Russia.
The Syrian crisis has been one of the main sources of contention between Turkey and NATO. Major foreign supporter of Syrian opposition troops, Turkey has urged for more assistance for their cause.
Nonetheless, the country's NATO allies have exercised greater caution and resisted getting too deeply involved in the fight. Turkey has expressed considerable displeasure about this, feeling that the alliance is not providing it with the support it requires. The acquisition of Russian-made S-400 missile defense systems has also strained ties between Turkey and NATO.
Many in NATO have opposed the action, viewing it as a potential security concern and a violation of the alliance's commitment to interoperability. Nonetheless, Turkey has justified the acquisition, saying that it is required for its national security.