Greece (Brussels Morning) The recent victories of the Ukrainian Army are important for morale and the next day of the country. According to a Sunday intelligence briefing from the U.K. defense ministry, Ukraine's armed forces are making "major successes" in their fight against Russia's occupation of Kharkiv's northwest region.
The discussion on the reconstruction of the country has already started, from the way the money will be found, charities and funds to the confiscation of Russian deposits and bonds. Apart from these, however, there are other ways to rebuild the country.
"The vision of a free and democratic, modernized and European Ukraine is the answer", according to a New York Times article, and I could not agree more.
Brussels Morning, in a discussion with Zhan Vensanovych Beleniuk and Stanislav "Slava" Medvedenko, analyzes the efforts made at the international level to return the country to normality.
Mr. Beleniuk is a Ukrainian Greco-Roman wrestler, and multiple Olympic medalist. Mr. Medvedenko is a Ukrainian former world-class basketball player, who played with the Atlanta Hawks and the Los Angeles Lakers in the National Basketball Association. They are both politicians currently, trying to help rebuild Ukraine based on the political and moral values ​​of the country.
AK: Ukrainians are fighting to defend their nation, but they are also fighting to defend their capacity and their right to define their future. What will it take to rebuild Ukraine?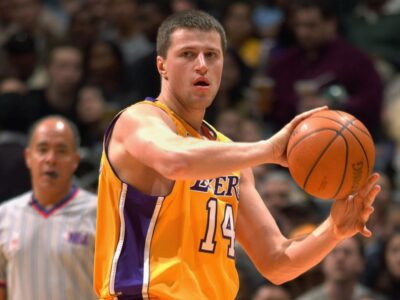 Stanislav Medvedenko: I see how people claim that the rebuilding of Ukraine has to begin after the victory. But I fundamentally disagree with this. Now is the time when we can and definitely should conduct analysis, seek partners, and carry out design and planning. No matter how much we want to do everything quickly on our own but unfortunately we can't do it without external help. The scale of destruction and loss of human resources by Ukraine is too large. That is why, the accumulation of experience from all over the world, partner programs, and fundraising – these are all things that will help build a new, strong, and modern Ukraine.
And the most important thing we have to do right now is to restore crippled souls. People are the most important thing for the restoration of Ukraine, so saving lives, and psychological and medical care should be a priority. Physical activity and sports can become antidepressant tools.
Zhan Beleniuk: Currently, the own "Ukraine Recovery Plan" is being developed. The plan is a set of documents that describe almost all key areas and branches of the Ukrainian economy. Conditionally, the plan will be divided into three parts. The first part is the fastest restoration of objects critical to people's lives; the second part is – the restoration of schools, hospitals, and construction of temporary housing; the third part is the long-term transformation of our country, which will affect all spheres, from education and medicine to the transition to green energy and the new military-industrial complex. I am convinced that together with the entire civilized world, we will be able to rebuild our country through joint efforts.
AK: How can the international community prevent more destruction?
Zhan Beleniuk: Ukraine needs more air defense systems, and we also need more long-range artillery and multiple rocket launchers to effectively eliminate Russia's logistical facilities and thus prevent further destruction.
Stanislav Medvedenko: Strengthening of sanctions against Russia, so that every Russian citizen begins to wonder why this war is needed for him? So that they simply won't be able to produce new destructive weapons. And, of course, we need more modern high-precision weapons as soon as possible that will help deter Russia and push it out of Ukraine as soon as possible. I should remind you that Ukraine is only the first bridgehead on the way to the desire of a terrorist country to restore the Empire of Evil.
What are the ways the international community is helping the ones that did not leave the country? How can someone donate to help Ukraine?
Stanislav Medvedenko: We see many international volunteers at the Ukrainian border and even those who come to Ukraine. This is very important help because Ukrainian volunteers are very exhausted, they have been helping non-stop for more than 5 months, and the human resource is not infinite. Therefore, such temporary help is also an important component of supporting and strengthening Ukraine. It is easy to help Ukraine, now many organizations and funds have proven themselves on the good side, you just need to decide on the direction in which you can help and offer help, or make a donation. For example, my foundation Fly High Fund deals with the rehabilitation of children most affected by active hostilities, as well as the restoration of sports halls in destroyed schools.
Our website has all the necessary details, as well as help options. For example, an American who adopted two girls from Ukraine sent me a letter. He asked what kind of sports equipment can be shipped to us and offered to spread information among the members of the association in which he is a member.
Still, there are a lot of possibilities, we just need to say what kind of help we need and we will be able to implement everything.
Recently, I sold two of my NBA Championship rings at a charity auction for over $250,000. For someone, it will be a wonderful family heirloom, and for Ukraine, it will be another opportunity for recovery.
Zhan Beleniuk: Ukraine announced the launch of the United24 global initiative, the first component of which is an online platform for fundraising. This was noted by President Volodymyr Zelensky. This platform will become the main channel for collecting donations in support of Ukraine. Fundraising is just the first part of the United24 initiative, with other projects and programs soon to follow. United24 through the website u24.gov.ua provides an opportunity to donate in one click from any country. Funds are distributed according to three directions of aid: defense and demining, humanitarian and medical aid, and reconstruction of Ukraine.