Brussels (Brussels Morning) A few days ahead of Christmas, Elias tries his best to finish the orders: crosses made of olive wood and intricately inlaid with colourful shells of different sizes, silver and wooden plates, Christian motifs designed in mother-of-pearl, miniature hand-carved nativity scenes and other Christmas gifts ready for the holidays. 
Elias Anwar Ghattas (33), a Palestine refugee, is the owner of family-run olive-wood workshop in Beit Sahour in the southern West Bank, very near Bethlehem. He is grateful for the work and is doing all he can to keep this traditional workshop that he inherited from his father afloat through crisis after crisis. Much of this was made possible only through the availability of loans from the UNRWA Microfinance Programme.
"I started working in my family's workshop when I was six years old. I don't know any other profession. When I was a child, I recall that I put sawdust on my head so that my father and grandmother would believe that I worked hard. As days went by, I acquired and mastered this profession. Now, I run this small workshop, for which I feel greatly responsible," he says.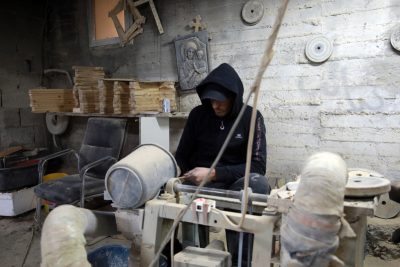 Elias's work depends mainly on holidays and tourism to the Palestinian territory. Unfortunately, tourism in the area has been repeatedly affected by violence and security threats in the West Bank and Gaza and, most recently, the economic repercussions of the COVID-19 pandemic. For the West Bank, in particular, this has meant a severe drop in tourism, causing heavy financial losses for the industry and for Elias and his workshop. Due to these financial losses, Elias has not been able to purchase the basic materials he needs for his work, including wood, shells, colours and other accessories.
In 2007, for instance, due to a lack of financial liquidity, Elias was forced to take a loan from the UNRWA Microfinance Programme to support his workshop. He recalls, "Due to lack in liquidity and the difficulty of securing even small amounts of money to buy the basic equipment for our work, we resorted to UNRWA and received the first loan. Thanks to this we managed to continue work and sell all our crafts in the local and international market.
Between 2007 and 2012, Elias succeeded in obtaining six small loans. These helped him avoid bankruptcy and expand his business. As his work flourished, Elias stopped taking microfinance loans for eight years. During this period, he succeeded in exporting his products to some Arab and European countries and the United States. However, like the rest of the world, in 2020, he and his family were badly affected by the COVID-19 pandemic, which forced him to stay home for an entire year and close his workshop. From having employed 25 workers, only two remained and he, once again, approached UNRWA for a loan.  "Since the beginning of 2020 until the middle of 2021, we closed our store and stayed home. It was a challenging period. We earned not even one dollar. But, we decided to start again and obtained a small loan last July. This allowed us to purchase basic raw materials."
And so, the family business is once again churning out much sought-after, high-quality Christmas gifts and decorations that have a long tradition both in his family and in the Holy Land. As Elias points out, "This time, though, it is not for the local market. This year, there is no tourism in the city compared to the last year. So, we opted for exporting all our crafts and wooden antiques to the United States. After the Christmas season ends, we will pause and start up again in time for Easter in four months."  
Elias and his family hope that UNRWA will contribute to developing and improving small businesses owned by Palestine refugees and are their only source of living.
The UNRWA Microfinance Programme is considered one of the most important programs of the Agency. The program was launched in 1991 in the Gaza Strip and has been operating in the West Bank since 1996. Until now, the UNRWA Department of Microfinance has provided sustainable income-generations opportunities for tens of thousands of Palestine refugees in the West Bank by extending credit and complementary financial services to small-business owners, households and entrepreneurs.