Belgium, (Brussels Morning Newspaper) All new buildings should be zero-emission from 2028 and those occupied or operated by public authorities must meet this deadline by 2026, according to today's vote on the Energy Performance of Buildings Directive (EPBD) by the European Parliament.
New targets
Policymakers want all new buildings to be equipped with solar technologies by 2028, where technically suitable and economically feasible, while residential buildings undergoing major renovation have until 2032 to comply.
The EPBD aims to aim to substantially reduce greenhouse gas (GHG) emissions and energy consumption in the EU building sector by 2030, and make it climate neutral by 2050. 
It also aims to increase the rate of renovations of energy-inefficient buildings and improve information-sharing on energy performance.
Buildings in the EU are responsible for 40% of the bloc's energy consumption and 36% of GHG emissions.
"We want the directive to reduce energy poverty and bring down emissions, and provide better indoor environments for people's health. This is a growth strategy for Europe that will deliver hundreds of thousands of good quality, local jobs in the construction, renovation, and renewable industries while improving the well-being of millions of people living in Europe," said MEP Ciarán Cuffe (EPP).
Conundrum
However, a conundrum was noted by the NGO Climate Action Network (CAN) Europe.
While acknowledging the positive elements of the Parliament's final agreement — such as a stronger framework around mandatory renovations (Minimum Energy Performance Standards) resulting in more vulnerable homes being renovated — CAN Europe argues that a more flexible approach to heating technologies risks undermining the 2035 fossil fuel phase-out date.  
As a consequence, the more vulnerable households will be forced into using expensive and polluting fossil-fuel-based technologies for seasons to come.
"We need to see a commitment from both MEPs and Member States to cut energy demand and send a strong signal to replace fossil fuel boilers with sustainable, renewable technologies as it is the only way to decarbonize the building stock while enhancing the EU's energy security and lowering energy costs," said Eva Brardinelli, EU Buildings Policy Expert at CAN Europe.
Energy performance
According to the latest vote on the EPBD, residential buildings would have to achieve, at a minimum, energy performance class E by 2030, and D by 2033 — on a scale going from A to G, the latter corresponding to the 15% worst-performing buildings in the national stock of an EU country.
As for non-residential and public buildings, the same ratings apply but the deadline is extended until 2027.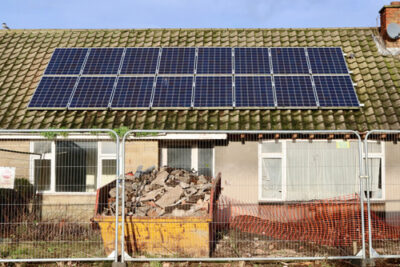 EU lawmakers also foresee that the upgrade in energy performance, through insulation works or improvement in the heating system, would take place when a building is sold or undergoes a major renovation or, if it is being rented, when a new contract is signed.
It will be up to each EU country to establish the necessary measures to achieve these targets in their renovation plans, MEPs said. Moreover, these national renovation plans should include support schemes to facilitate access to grants and funding.
Skeptics
While the vote passed with 343 votes to 216 objections and 78 abstentions, a lot of skepticism remains regarding the EPBD's progress.
"We shouldn't try to shape society to prepare it for climate change with bans and coercion. We have to find smarter solutions," said MEP Angelika Niebler (EPP).
"It goes without saying that the building sector needs to do its share to enable us to reach our climate targets […] The question isn't whether we should decarbonize our building stock, but how we should do it," she added.
Niebler questioned the real necessity of the EPBD citing legislations like boosting energy efficiency and including a carbon price for the heating of buildings as enough to address emissions from buildings.
Some derogations will, however, be considered, should the draft law pass intact through the Council. For example, monuments would be excluded from the new rules, including buildings protected for their special architectural or historical merit.
EU countries may also exempt public social housing, where renovations would lead to rent increases that cannot be compensated by savings on energy bills.
After today's vote, MEPs will enter into negotiations with Council to agree on the final design of the legislation.
"This vote came with a decent share of close calls and suspense, but it's great to see the text adopted with the most decisive provisions MEP. Now, all eyes on trialogues, hoping to see the Member States finally realize what a positive transformation tool the EPBD can be," Senior Policy Advisor at the NGO E3G said.