Belgium, (Brussels Morning) Before designing and producing their Turkish drones, in the 2000s Turkey was using Israeli-made unmanned aerial vehicles in its asymmetric warfare with Kurdish rebels fighting to earn independence in the parts of Turkey, Syria and Iraq.
After being dependent on Israeli-made drones for years, the country decided to design and develop its first local drone with the name Anka drone.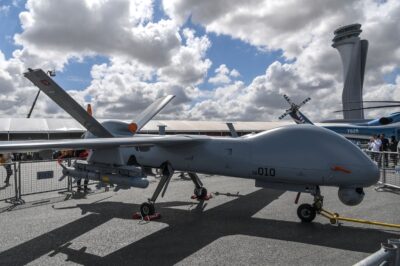 The 100% Turkish-made Anka ultimately boasted foreign flight computer data, a foreign engine, foreign radio and foreign landing gear and during its first flight test, the drone suffered a number of crash landings.
Even after facing a huge failure in developing their very first local drone, Turkey drone manufacturers did not give up and in slightly over a decade Turkey emerged as the operator and exporter of the fine drone system.
Birth of Turkish drones
Francis Fukuyama, an American political economist and scientist made the point that the US decision to impose embargoes in 1975 along with NATO allies rejecting the sales of predators and reapers led Turkey to start producing aerial vehicles domestically and these successfully built drones are the proof.
Francis Fukuyama said that Ukraine using Turkish military drones in the region could prove to be a complete game-changer for the peace within the region.
He said in a statement "Drones are however not that hard to manufacture and the most recent Turkish ones are quite impressive. The TB2 drone can stay aloft for 24 hours and perform both reconnaissance and attack missions".
Russian vehicle carrying missiles was hit by TB2 Turkish Drone…

Turkish drones have really come out as the game changers…. And most lethal weapon in Ukrainian hands.

In the previous war against Armenia as well, these drones played a decisive role in winning the war. pic.twitter.com/xf4CwITkjE

— Zaid Hamid (@ZaidZamanHamid) March 10, 2022
MIT scholar Selcuk Bayraktar is the leading two biggest drone manufacturers in Turkey and has sold its bayraktar TB2 drone to several allied countries including Azerbaijan, Ukraine and Turkish aerospace industries.
As per Fukuyama's study, Turkey's use of a drone has brought significant changes in the land power similar to the changes produced by the British battleship.
The rise of turkey-made drones proves to be a potential game-changer as it was used by the Azerbaijan army last year to overpower Armenia's army in Nagorno-Karabakh.
New Turkish Drones
The Turkish drone manufacturers are aiming to launch some new technology drones to provide more effectiveness. In February, TAI revealed the mock-up of the ambitious electric power and unmanned version of its T629 attack helicopter.
Turkey unveiled its unmanned attack helicopter T629.

The 6-ton chopper is a niche between the light attack T129 ATAK and the heavy ATAK 2 pic.twitter.com/8aC6vsPc7K

— Kasım İleri (@kasimileri_) February 25, 2021
The T629 helicopter program has been in the process since 2017 and TAI started gathering the first flight model of the chopper in 2019. T629 will weigh 6 tons and be equipped with 70mm unguided missiles.
TAI is a state-controlled entity and can mix progress with propaganda as its main aim is to impress President Recep, Tayyip Erdogan.
TAI pledged to fly the first Turkish local fighter jet in 2023 however, the authorities have recently announced a revised target date of the maiden flight to 2025-26.
Baykar has also initiated the conceptual design phase of what will be Turkey's first indigenous AI-based unmanned fighter jet.
The planned drone will be able to fly at an operational altitude of 40,000 feet. The artificial intelligence–powered aircraft can perform missions for five hours and will be connected to satellite communications data networks.
The fighter aircraft is expected to reach a cruise speed of 0.8 Mach and carry a maximum of 1 ton of ammunition. It will be used in close air support, strategic assault, hostile air defence system attacks and missile assault missions.
Turkish-made drones as Game changer
The Turkish military has successfully employed TB-2 in its cross-border operation in Iraq and Syria. The TB2 is widely known to have been a game-changer in the Libyan civil war for the Turkey backed faction.
The operational command "Pivden" clearly showed how the occupiers are being destroyed

The media report that the video shows the positions of the #Russian troops at the #Kherson airbase. They were destroyed by #Ukrainian artillery supported by Bayraktar TB2. It was March 15th. pic.twitter.com/lx4wNTdT18

— NEXTA (@nexta_tv) March 18, 2022
Emre Calilkan, an analyst at the London based HIS Markit said Turkish-made drones proved themselves admirably against the Russian defence system in Syria, Libya and Nanggroe-Karabakh, becoming a game-changer and shifting the balance of power.
Over the years, the Middle East has proven to be an ideal spot to test the capabilities of armed drones and particularly true in Libya and Syria. Turkey is the country that took advantage of the current situation in the Middle East by building its drone technology.
Ben Wallace, Uk defence Secretary said that Turkish drones proved to be game-changing hinting as the TB2 was employed to turn the tables against the Emirati-backed warlord khalifa Haftaar who was all set to capture the Libyan capital Tripoli.
He said " In July last year they stuck the Libyan national army-controlled jufrah airfield destroying several command and control nodes as well as two transport aircraft"
Ben Wallace announced that the UK had signed a 65 million pounds deal to start building its first three protector drones.