Belgium (Brussels Morning Newspaper) Vaccination against infectious diseases has saved millions of lives throughout history. The toll of communicable diseases worldwide has decreased from 33% of total deaths in 1990 to 25% in 2010. Due to this tremendous reduction, and before the onset of the current SARS-CoV-2 pandemic, the World Health Organization (WHO) declared that worldwide, vaccines prevented more than 2.5 million deaths from communicable diseases annually.
When vaccines were developed for the COVID-19 virus, the world rejoiced, seeing the solution to the pandemic. However, it became clear that a vocal minority were afraid and mistrustful of the vaccines.
The anti-vaccination crowd ranged from the hardcore, who do not receive any type of traditional vaccine, down to doubtful individuals who were up-to-date on all of their usual vaccines but mistrusted the new COVID-19 vaccines.
The speed with which misinformation travelled – through the internet and social media – reinforced these doubts.
Even the most vulnerable groups – the elderly and the immune-compromised – fell prey to anti-vaccination messaging, with life-threatening consequences. In countries where vaccine confidence is lower, such as in Latvia, Poland and France, a significant proportion of the elderly population (over 80 years of age) did not receive any COVID-19 vaccine dose, ranging from 15 % in France to 40 % in Poland.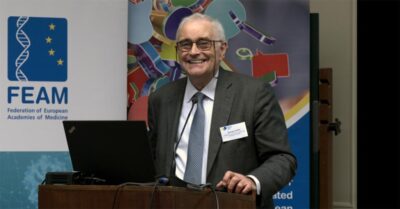 Mistrust of the vaccination within the healthcare professions can pour fuel on the fire of vaccine hesitancy, especially in older adults who trust their caregivers. Very often, due to a lack of appropriate vaccine education, healthcare professionals lack confidence in the efficacy of vaccines, expressing doubts about the low risk of adverse side effects. The EU, in collaboration with its Member States, needs to roll out a better vaccination strategy designed to boost public trust in vaccination. This is not only relevant for the COVID-19 pandemic, but for the entire vaccination schedule that all citizens should follow.
Although European countries have typically strong child vaccination programmes with high take-up, older adults in the EU tend not to follow their recommended vaccination schedules with the same rigour, and there may be several factors, such as inadequate communication of benefits or lack of access to the vaccine, for example. In Europe, very few countries, except for the United Kingdom and the Netherlands, satisfy the WHO recommendations (75% of the population of the 65+ population) for annual influenza vaccination.
It is vital that we highlight the importance of following vaccination schedules to the general population, particularly the over 65s. Europe's population is ageing, and as we age, our immune responses become less efficient, and even our immune response to vaccines become less effective. The reason that the influenza vaccine, for example, is highly recommended to individuals over 65, is that our immune systems are less capable of fighting off flu at that age – even if we have fought it off in the past – and older people are more likely to suffer a severe infection, and even die, from influenza.
A survey done by the Federation of European Academies of Medicine (FEAM) revealed that European countries have different vaccination schedules, advising that vaccines be taken at varying life stages and intervals. This also leads to mistrust in vaccination campaigns – why does one country say I need this vaccine at 65, another country says I need it at 70, and a third country says I don't need it at all?
FEAM recommends that the vaccination schedule should be harmonised across all EU Member States. If there is one set of rules on vaccination that is followed throughout the EU, then we can improve transparency and trust in vaccination. It will reduce the confusion that the over 65s feel in relation to vaccination, which vaccines they need and when, and whether they really need them or not.
To further reduce vaccine hesitancy, educational programmes should also be employed. Such programmes will explain to older adults why vaccination is so vital. Targeted educational programmes could also be rolled out within the healthcare sector, to explain vaccination in detail to healthcare professionals who may be vaccine-sceptic.
A third action that should be taken is the implementation of a European electronic data system – similar to the Adult Immunization Status (AIS) in the US. This would track the percentage of people aged 19+ who are up-to-date on their recommended vaccines for various diseases such as influenza, tetanus, diphtheria, Herpes zoster, and acellular pertussis. A full list of FEAM's recommendations can be read in this report: Immunisation for old adults in Europe: scientific and social strategies.
Taking these three steps will go a long way towards improving uptake of vaccines throughout life. It will both save lives and raise the quality of life of many older individuals. The COVID-19 pandemic has taught us that we cannot underestimate the grave impact that vaccine hesitancy can have. The European institutions should take action now to ensure that trust in vaccination is high, both to save citizens from preventable diseases today, and to prepare for the next pandemic.