European Union Parliament President Roberta Metsola has provided exclusive insights into key EU matters as she grants not one, but two exclusive interviews to the reputable newspaper Brussels Morning
Belgium (Brussels Morning Newspaper) EU Parliament President Roberta Metsola has warned of the current dangers to the environment and world peace.
In an exclusive interview with this website, the MEP also praised the EU for "reacting with unity to Russia's aggression against Ukraine."
She also conceded that her time in office, so far, has "not been smooth sailing" with the "toughest" being the probe into corruption claims against some members.
In a Q&A with Brussels Morning, the president, a Maltese national who took up office as president in January 2022, outlined her thoughts on a whole range of issues.
These included the climate, the war in Ukraine, and how the assembly has reacted to the so-called Qatargate scandal which has seen some MEPs embroiled in corruption allegations.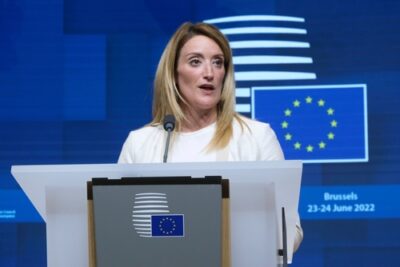 Brussels Morning (BM): How would you summarise your term in office thus far? What do you consider the successes (and failures)?
Roberta Metsola (RM): "It has definitely not always been smooth sailing. Faced with the economic repercussions of the pandemic, the illegal invasion of Ukraine, and the resulting energy crisis, my term in office thus far has been anything but easy. But these challenges have only reinforced my goal to support European unity with every means at our disposal. 
"In the last 18 months, we have grown stronger and we have been able to deliver.
"I believe our biggest success has been our unprecedented strong and united answer to Russia´s illegal aggression of Ukraine. The European Parliament has been and will continue to be a leader when it comes to supporting Ukraine and its people through various different means. We were the first to call for tougher sanctions, providing support and EU membership for Ukraine.
"I am also very proud that the European Parliament is one of the leaders in taking action to protect the environment, to address climate change, and to save our planet. Our new climate laws will mean cleaner air, healthier rivers and seas, with stronger economies. They will bring about the green transition and make us the first carbon-neutral continent by 2050.
"In June we also voted on the European Parliament position on the world's first act regulating AI usage with which we are setting global standards for years to come.
"The challenges have been manifold, but I believe that this Parliament and the EU have delivered in unprecedented speed."
BM: What have been the biggest challenges of your presidency so far for you personally? How have you coped with these challenges?
RM: "It goes without saying that the war on our doorstep has been Europe's biggest challenge and concern. Ever since 24 February last year, the Parliament has been pushing for a real, sustainable, lasting peace. A peace with freedom, a peace with justice, and a peace with dignity.
"The EU has reacted with unity to Russia's aggression against Ukraine, by supplying the necessary weapons and also the financial, humanitarian and political support that the Ukrainians need; the most recent example being the ASAP, the act recently voted in the European Parliament to accelerate the defense industrial production of ammunition in Europe to increase our production capacity.
"Personally, the toughest was the corruption accusations which have tainted the European Parliament last December.
"It felt like being hit in the stomach when I first heard about it. From the very first moment, this institution has done everything in its power to assist in investigations and we will continue to make sure that there will be no impunity.
"I have put in place a package of reforms that will help build firewalls and set off alarm bells to prevent this from happening again. These reforms boost the integrity of Parliament's systems, make decision-making more transparent, and strengthen the Parliament as a whole.
"We want to consolidate trust with the European citizens and re-affirm the European Parliament as an open institution. Next year we will return with a more modern and more efficient Parliament."
BM: How does the post/job compare with your expectations? Does the presidency of the EP carry as much "weight" eg influence as you would like eg compared with similar posts at the Council and Commission?
RM: "I do not necessarily think that this has anything to do with weight or influence. Each of these institutions and their respective representatives play different roles in the European Union but one thing they all have in common is that each institution, in its own right, constitutes a pivotal part of the European project, working tirelessly for its citizens.
"I am proud of leading the European Parliament: co-legislator with the Council, budget authority and scrutiniser of the Commission."
Separately, Metsola has also warned of the threat to world peace. She is reminded of the Declaration presented by Robert Schuman on 9th May 1950. It reads: "World peace cannot be safeguarded without the making of creative efforts proportionate to the dangers which threaten it".
"It rings true today," she said.

She noted that the EU was an "unprecedented project of reconciliation fundamentally based on solidarity. A project that brings people together without trying to make us all the same. A project that lit a light that permeated through iron curtains and concrete walls."
She added, "The European Union is not perfect, I know many share our frustrations with some of our processes. But the fundamental pillars of hope, possibility, freedom, democracy, and the rule of law, make this political project unique. We cannot take what we stand for, and what we have achieved – and what we must achieve still – for granted. We must keep evolving.
"European progress was made possible thanks to daring solutions. And more daring solutions will be needed moving forward."