Belgium (Brussels, Morning Newspaper) A leaked draft mission report by the European Parliament's Committee on Civil Liberties, Justice and Home Affairs has raised serious concerns about the state of democracy in Greece. The report highlights threats to the rule of law, harassment of officials of independent public bodies, and widespread intimidation of journalists.
According to the leaked report, Greece is failing to uphold its commitments to the rule of law and human rights, and there are serious concerns about the independence of its judiciary. The report also notes that there is evidence of political interference in the appointment and dismissal of judges and prosecutors, which undermines the impartiality of the legal system.
The report further states that there are worrying trends of harassment and intimidation of officials of independent public bodies, including the Ombudsman and the Hellenic Data Protection Authority. This raises concerns about the ability of these bodies to carry out their work independently and without fear of retribution.
The report also highlights the alarming levels of intimidation and harassment faced by journalists in Greece. It notes that journalists have been subjected to threats, physical attacks, and smear campaigns and that this is having a chilling effect on freedom of expression and the ability of the media to hold those in power to account.
These findings are deeply concerning and suggest that Greece is backsliding on its commitments to democracy and the rule of law. The European Parliament's Committee on Civil Liberties, Justice, and Home Affairs has called on the Greek government to take urgent action to address these issues and restore public trust in its institutions.
The Greek government has yet to respond to the leaked report. However, it is likely that these concerns will feature prominently in discussions between Greece and the EU, as the country seeks to secure much-needed financial support in the wake of the Covid-19 pandemic.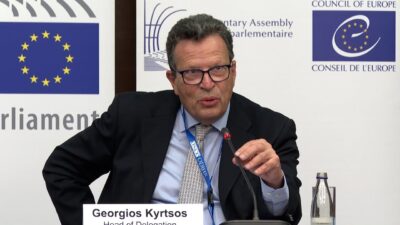 Renew Europe MEP Georgios Kyrtsos (Greece), said:
"Greece remains the only EU member state where a journalist has been assassinated without the authorities being able to find the culprits and where no official information has been given to the public about the progress of the investigation. We cannot let it be – answers are needed. A free and independent media landscape where journalists can abduct their work safely is a central pillar for any healthy democratic society. The Greek authorities must speed up the investigations to resolve the crime and bring the perpetrators to justice."


Sophie in 't Veld (D66, Netherlands), the group's coordinator in the European Parliament's Committee on Civil Liberties, Justice and Home Affairs, and leading the recent EP to the mission to Greece concluded:

"The shocking situation in Greece follows the standard playbook of rule of law backsliding. The EU's reaction cannot be too little too late, as it often was in the past. The Parliament should take the lead here as a priority matter. Protection of the rule of law must take precedence over the protection of partisan interests. We cannot kick the can down the road when it is about our core values."