A visit to the exhibition 'In Transfer, A new condition' in the Möllerei, Esch-sur-Alzette.
Belgium (Brussels Morning Newspaper) The program of the 2022 European Capital of Culture, Esch-sur-Alzette in Luxemburg, offers once again an exhibition that is absolutely worth a visit for all those interested to know how to cope with change and transformation happening now all the time in what some scholars coined as a time of permacrisis. We visited the exhibition under the guidance of one of the curators, Mrs Laura Welzenbach, responsible for the Ars Electronica's export department.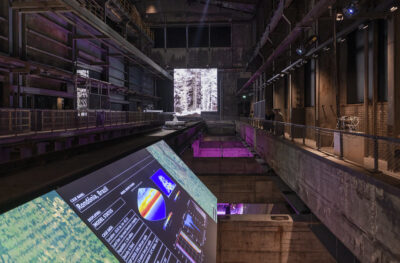 "Ars Electronica is a platform for Art, Technology and Society. It has different pillars and one of the main pillars is a festival once a year during 5 days, highlighting media art on many levels." Founded in Linz, Austria, in1979 the festival expanded to include a laboratory, an award, and a museum dedicated to the study and promotion of media arts as well as digital culture, www.ars.electronica.art . Each year, the event is dedicated to different themes and invites visitors to new locations. This year, the festival was present in some 100 different locations, including metropolises such as Los Angeles, Berlin, London and Tokyo. Connecting the world digitally and offering insights to each other is part of its mission.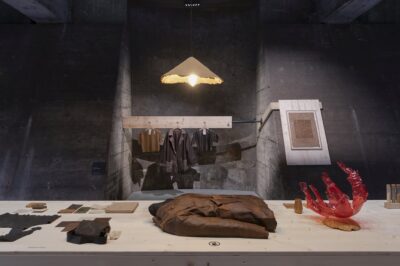 As Laura explains us launching an export department was a logical consequence "When you think about all the work that goes into organizing all this it would be a pity if it ends with the end of the festival and therefore Ars electronica export tries to let this knowledge travel the world around through exhibitions, talks, workshops and that is what I am organizing since 2020." In this way you find Ars Electronica in operation the whole year all over the world busy with exporting exhibition concepts, setting up workshops, etc on request from other festivals, universities, research centra …These last 2 years were very challenging with the pandemia because different countries produced different regulations under which you could make exhibitions happen. To really bring physical installations or spatial installations to other countries was pretty much impossible because e.g. the shipping was impossible and many of the installations needed the artists being present for installing the work as they developed their very own devices created specially by them for those installations and that is why, to escape this, exhibitions became during the pandemia years very screeny.
But happily this is not the case in the exhibition in Esch.
"Our artworks are very precious and work very well in an exhibition context but it is also super exciting to break through the screen based perception in an exhibition and to go to the spatial in an exhibition. So this is definitely the case in the Möllerei. The screen can be a digital information about the installation or the object you can look at but the object it is finding back the context which is what is often lost when working with screens. The title of the exhibition is 'In transfer, A new condition'. It introduces us to the fact that we will be constantly in a process of transformation, adaptation and transitioning. So we won't arrive at point B when we leave at point A. So being aware of this we can actually see this as an advantage also. It can be something to allow us to be continuously mentally seeking for solutions and to emancipate from the XXth century."
As is explained in the small guide of the exhibition, central questions that make up the story line are: What are the mechanisms that drive change, why is it prevented, by what means can it be accomplished? And what role can art play in this?
The general idea behind the storyline of the exhibition is that Art and culture can represent an offer to society, an artistic, social laboratory in which reality and the future are simulated. "In transfer, a new condition" presents the work of artists operating in the space where art, technology and society intersect, artists who are always in the places where transformation is happening. In the exhibition visitors meet a generation of artists who, as citizens of this world, wish to contribute new perspectives that can help us make farsighted decisions.
One of the artworks that asks for immediate attention when entering the Möllerei is the huge digital reproduction of a forest titled Remains. The artist, Davide Quayola employs technology as a lens to explore the tensions and equilibriums between seemingly opposing forces: real and artificial, old and new. Constructing immersive installations he engages with and re-imagines canonical imagery through contemporary technology. While recreating similar conditions to 'en plein air' (outdoor) painters of the late 19th century the natural landscapes are actually observed and analyzed through extensive technological apparatuses.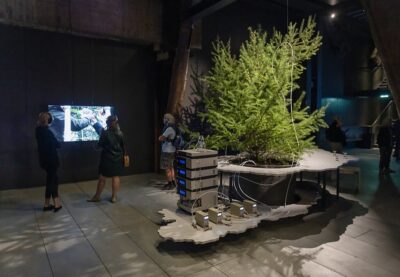 Downstairs the first work, One Tree ID, How to become a tree for another tree by Agnes Meyer Brandis is even more intriguing. Ever thought of going into a dialogue with a Pine Tree? The work is based on the fact that plants emit and communicate via Volatile Organic Compounds (VOC) gasses and molecules that contribute to cloud formation, which we recognise as the fragrance of a forest. These emissions are specific to each individual plant. With the help of bio tech researchers from the Luxembourg Institute of Science and Technology and of a senior perfumer Marc vom Ende from food giant Symrise the artist managed to synthesize these as a perfume that we can apply to our skin and so invisibly wear characteristics of the tree in the exhibition. She wants to question whether we can become a tree for the tree and apprehend the tree's communication system at a biochemical level.
Asunder, a collective work of artists Tega Brain, Julian Oliver & Bengt Sjölen intends to question assumptions of computational neutrality, our increasingly desperate reach for technology-driven fixes to planetary challenges, and the broader ideological framing of environment as a system.
More specifically it responds to the growing interest in the application of artificial intelligence to solving critical environmental challenges. Taking this approach literally, the project combines state of the art climate and environmental simulation technology, a super-computer and machine learning techniques. The result is a fictional "environmental manager" that proposes and simulates future modifications to the planet by using data on climate, geology, biodiversity, and topography for a series of regions. Although the intention is to prevent harm and stay safely within planetary boundaries, the suggestions are often completely unacceptable and even absurd.
In all installations and artworks the aesthetic element is part of the message. Some are even made with the collaboration of journalists. So is the Branch magazine, as they write themselves, a practice of collective imagination, an attempt to uplift fresh thinking for how to green the web technically, aesthetically and politically. The pieces in Branch are vignettes: essays, presentations, interviews with designers, software engineers, activists and more that sketch an artistic picture of what a cleaner and more digital world could look like.
More concrete are the works from Remix Eco Design, working with natural dyeing, molding, 3D printing, laser cutting and other digital fabrication techniques. Each designer works with a different type of waste from coffee stones to olive pits and orange peels, restaurant waste, etc. The Spanish Catalan collective behind this project believes that mapping the local neighborhood resources, socializing technologies, and empowering citizens with open knowledge and horizontal co-creation methodologies, are the solution for closing circular waste streams that add value while educating people on environmental impact. This approach results in a kind of physical library where you can see what you can do with different waste materials. All of these can moreover be thrown back to earth without any impact as they are completely biodegradable. The nep leather coat presented her with other items thus manufactured looks very fashionable and felt upon touching it very ageable to wear. These are only some of the works presented in this exhibition that offers in a digestible way an overview of artists working with scientists on broadening our scope on the material and intellectual challenges we face in the light of climate change, energy, food, and transport problems that arise in series.
To be seen until November 27. Information and booking: esch2022lu/[email protected]