Brussels (Brussels Morning) Authorities in Saudi Arabia and United Arab Emirates continue to step up their repression of freedom of expression, and the rights of association and peaceful assembly by means of arbitrary detention and the prosecution of government critics, human rights defenders, and activists' family members. Bans on the formation of political parties and independent human rights groups remain in place, while those who set up or participate in unauthorised or unlicenced human rights organisations are subject to prosecution and imprisonment.
Moreover, migrant workers in both countries continue to be governed by the kafala sponsorship system that gives their employers disproportionate powers over them as employees, preventing them from leaving the country or changing jobs without the initial employer's express permission. Due to the pandemic, migrants workers have become more vulnerable to labour exploitation, which can ranges from bad living conditions to limited access to proper health treatment.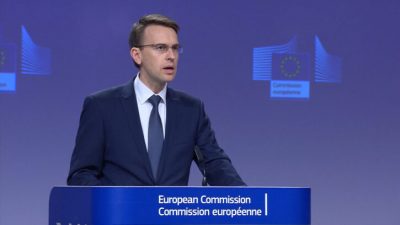 Brussels Morning spoke to Peter Stano, Lead Spokesperson for Foreign Affairs and Security Policy at the European Commission, about how the EU works as a positive force to help change the situation and the conditions.
Sarhan Basem: Despite promises of reforms, the record of human rights in Saudi Arabia shows continued violations against journalists and of activists being subjected to prolonged detention, including, in some case, solitary confinement. What exactly is the EU doing to address the need for freedom of expression in Saudi Arabia?
Peter Stano: Respect for human rights and fundamental freedoms, including freedom of media, are core European values and principles. The EU speaks up in defence of these values and principles whenever they are violated or under threat. We raise it bilaterally with partners and also in international fora as needed.
This goes also for Saudi Arabia. Our latest report on human rights and democracy mentioned that the human rights situation in Saudi Arabia remained a matter of continued concern in 2020.
When it comes to journalists, but also human rights defenders and activists for women's rights – we raise such cases in our interactions with the Saudi authorities and we will continue to follow their situation attentively.
Through our bilateral contacts, the EU has been emphasising the relevance of the role of free and independent media, human rights defenders and civil society groups in the process of reforms, which the Kingdom is pursuing.
In addition, we continue our efforts, in close coordination with the Member States, to reinforce our dialogue over human rights issues with our Saudi partners.
Sarhan Basem: Saudi Arabia has enacted a law awarding more rights to foreign workers. However, a large segment of these workers are still subject to the exploitative Kafala system of sponsorship), yet not enough has been done to improve the situation and their conditions of employment. What is the message to the Saudi authorities, for example, when it comes to protection of the financial rights of foreign workers? What measures can the EU undertake to persuade the authorities to change a system that essentially is at odds with prevailing human rights standards?
Peter Stano The kefala system, governing the employment of migrant workers, which gives employers excessive control, has been raised with Saudi Arabia by numerous international partners, including the International Labour Organisation (ILO) and the International Monetary Fund (IMF), as well as the EU. In the assessment of the ILO, the kefala system is inherently problematic as it creates an imbalance between the rights and abilities of workers and employers to terminate an employment relationship, and to be mobile on the labour market within the country.
The EU strongly supports the labour legislation reform efforts, which it has long advocated for and hopes that the system of kefala will be eventually completely dismantled.
Sarhan Basem : The United Arab Emirates prides itself as one of the last bastions of moderation and stability in a region racked with war, religious strife and economic malaise. However, journalists, media outlets and activists who contradict the policies and world-view of the rulers have become persona non grata in the UAE. The late journalist Tayseer Alnajjar was a victim of the brutal treatment and torture practiced by security intelligence in the UAE. Were these violations taken into consideration before approving the UAE's membership in the European Bank for Reconstruction and Development?
Peter Stano This is a question for the EBRD to answer.
I can only stress that the EU is addressing human rights issues in its regular dialogue with the national authorities in the UAE. In fact, the UAE is the first country in the Gulf region with which the EU set up a comprehensive dialogue on human rights. Last year, the UAE embarked on a year-long human rights review to strengthen the country's human rights framework. A consultation process with government bodies and public institutions has been launched to draw up a national human rights action plan. The plan is looking at a broad range of issues relating to human rights including women's empowerment, humanitarian aid, interfaith tolerance, labour rights and workers' welfare. Nevertheless, as our Human Rights and Democracy report on UAE states, in 2020, there was no change to the UAE's approach to civil and political rights and political pluralism. Fundamental freedoms such as freedom of opinion and expression, speech and association remain limited. The UAE continued to employ vaguely worded and loosely interpreted provisions in the Penal Code and other laws to imprison peaceful critics, political dissidents and human rights activists. Concerns also continued to exist with regard to prison conditions, the right of fair trial and due process, especially in state security-related cases. These include allegation of torture and ill-treatment at state security facilities. We continue to follow developments in this regard and raise relevant cases with the UAE authorities.