Belgium, (Brussels Morning Newspaper) "Today is the best day in my life because today I sent my message of hope to the world." These were the words of Rahaf, 15. Along with her friends from Gaza, Malak (14) and Yara (13), all three of them Palestine refugees, she travelled to Belfast to meet Magdalena (12) and Julie (13) from the Czech Republic. Together, they spent a week-long visit organised by The Hands Up Project, a British charity that connects Palestinian children with classes globally.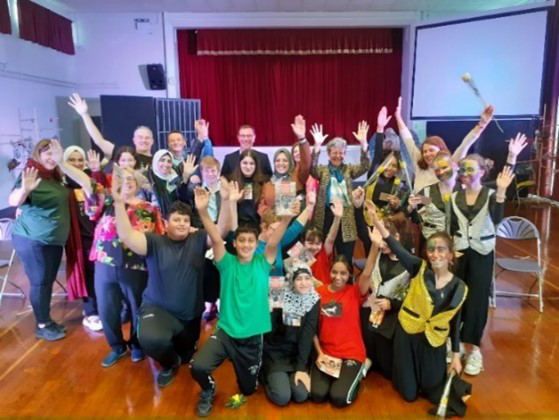 For the first time, the five girls shared a stage at St Louise's Comprehensive College in Belfast to perform two plays, give a dance recital, sing, and communicate with one voice the importance of taking care of the environment. They were joined by children from Afghanistan, Iraq Russia, Sudan, Syria and Thailand.
Last year, the young actresses won the annual Hands Up Project Lockdown Theatre competition with their international production of 'Welcome to Earth.' The prize was a life-changing trip to the United Kingdom to meet for the first time and turn the play into a face-to-face performance. The online play, originally written and performed by five teenage boys in Askar UNRWA Boys school in Nablus, tells a story of peace and hope for a better world.
For the girls from Gaza, it was a chance to be seen and heard by the outside world.  "I feel like I'm in a dream," said Yara. "It's so hard to achieve, but the Palestinian kids never give up." Malak has resolved to return one day to study medicine so that she can become a surgeon: "I want to help the people from my homeland."
The group enjoyed a warm welcome from their host families, the staff and pupils at St Louise's, as well as several other schools, such as St Kevin's, Coláiste Feirste, All Saints College and Glengormley High. Over the last week, they took part in art classes, enjoyed the traditional Irish sport of Camogie, and had a video call with UNRWA Beach Elementary Co-ed School C. Founder of Hands Up Project Nick Bilbrough said the whole trip had been 'amazing' and "meant so much to the children who had never left the Gaza Strip before."
Gazan teacher Haneen Jadallah from the UNRWA Asma'a Prep Girls B School in western Gaza accompanied them on their journey to Belfast. She has been awarded a scholarship by the A.S. Hornby Educational Trust to study a Masters in ELT at the University of Warwick. Haneen is an experienced teacher with UNRWA, as well as a drama and remote theatre specialist. "Drama is not just a teaching tool, but also the perfect way to help students break out of their shells, explore their strengths and feel more connected to the world. It allows the children to feel confident and resilient, despite the hard circumstances they have endured."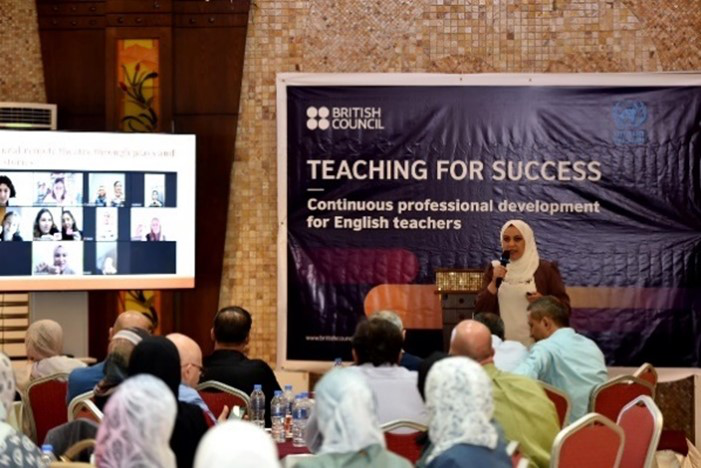 Last September, the UN Office for the Coordination of Humanitarian Affairs (OCHA) reported an increase in the levels of mental disorders amongst the population of the Gaza Strip, especially among children. UNRWA provides psychosocial support for Gaza children to protect their basic right for them to live, learn and play in a safe and stimulating environment.
This theatre exchange has given Rahaf, Malak, and Yara a unique chance to develop long-lasting connections with their peers around the world. But what does this group of Gazan and Czech girls have in common apart from their passion? For them, the answer is simple: "It's not only theatre what brings us together. We all share dreams and hopes. We want to achieve a sustainable, peaceful, and better world. And we know that together we can make a difference."