Belgium (Brussels Morning newspaper) Whisper it quietly but Belgium has just chalked up something of a European first.
The country, or more to the point its capital, Brussels, has become the first city in Europe to host an internationally-acclaimed franchise.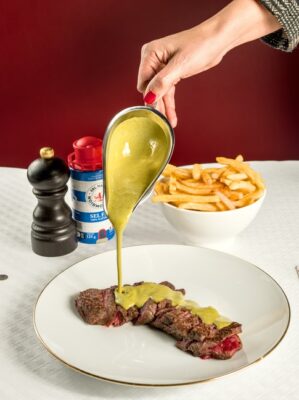 While it is currently present across several continents and in no less than 26 different countries, Brussels is the first EU country to boast a "Relais de Paris".
The concept dates back many years, to 1972 and the husband and wife team, Monica Benito and Reza Afshar Kharaghan have now set up a "branch" of the international brand in Place Sablon, one of the most sought-after (and expensive) areas in the city.
Based on an original Parisian formula, the idea is as simple as it gets: to serve excellent meat topped with a sauce as magnificent as it is secret – all accompanied by delicious "homemade" fries.
What makes this story also rather different is that both Monica and her husband, though himself a fanatic of gastronomy, previously had zero direct experience in the horeca business: Monica is a lawyer by trade (from the city's UCL university) while Reza is a commercial engineer from Brussels' Solvay Business School.
Both came relatively late in life to the restaurant trade but are now fast making a name for themselves in the chic Sablon neighbourhood after opening this pleasant resto in July last year.
It can be notoriously difficult to make a success of a franchise and, initially, Reza tried several different chefs in order to satisfy his own high standards.
But, judging by some of the positive reviews the place is now attracting, his formula is "going down a treat".
The food menu itself could well be one of the shortest in Brussels: there are just 6 items to choose from but this disguises the fact that the house speciality here (very much so, in fact) is steak. Not just any old steak, mind. Reza uses only the finest Irish Angus meat at his restaurant which is offered in two ways, matured or "normal". If you are a meat lover you might be tempted to opt for the matured version which, as explained by staff member Homous, is probably more flavoursome and has a slightly salty taste.
When it comes to meat, Reza admits to be being particularly "passionate," saying, "at the end of the day it really is all about the taste."
For those who want to know how to really cook steak, he will gladly lead you through a quite scientific appraisal of how he does it.
Depending on your appetite, the steak comes in two sizes, available in a 180g or 350g version.
It is not just the meat that is rather wonderful though, so too is the "secret" sauce and even the frites.
The potatoes are specially selected to produce, in-house, delicious fries. They are prepared, according to the rules of the art, with beef fat.
Then there is the aforementioned iconic and very original "Relais de Paris" sauce. This is thought to have been invented by a Swiss chef in the 1930s and the formula, as secret as that of Coca-Cola, has often been imitated but never equalled. It comprises no less than eighteen ingredients and its slightly spicy and herb-rich flavour is a perfect accompaniment to meat and, of course, the fries here.
If steak really is not your thing, the place is still well worth a visit and also offers a handful of other dishes, including chicken fillet with the same sauce, Angus hamburger and, for those who prefer a less carnivorous formula, a nice salad with Crottin de Chavignol.
If the food list is relatively short (just one page on the card), then the drinks list is the opposite (6 pages, no less). This features a great selection of French vintages from all regions, offered at very reasonable prices. There's also an exceptional choice of spirits available here, especially in the field of whiskies.
If the food (and drink) is excellent so too is the friendly service and also the lovely, easy-on-the-way décor. It all adds up to a very pleasant dining experience.
Worth noting maybe, that there is another representative of the franchise in Paris but this goes by another name, "Relais de l'entrecote" and has a different menu and décor.
So, with its first anniversary fast approaching (next month), its hats off to Monic and Reza for bringing this terrific franchise to the capital of Europe. Closed on Mondays.
Relais de Paris
42 place du Sablon, Brussels
02 731 0285