Washington DC (Brussels Morning) To say that Serbia has had a turbulent relationship with the Euro-Atlantic community is an understatement. Since the Euro-Atlantic community has recently been enjoying (if that's an appropriate word) a turbulent relationship with itself, now is as good a time as any to revisit and review inflection points in order to understand what went wrong.
As the legal heir to Yugoslavia, Serbia has had to deal with complex problems of state succession that go beyond the traditional dimensions of state-building and political transition. Belgrade negotiated the transition of its economy, strategic culture, and political identity while dealing with a number of "stab in the back" myths. The notion that history can only be a linear progression towards the West has been proved wrong.
The 1999 NATO bombings established a narrative of strong opposition to NATO membership, fuelled by continuous opposition to accepting the de facto secession and subsequent Kosovar statehood, a region regarded by Serbs as the cradle of their nation. Consequently, Serbia has sought to create its own political, institutional and economic narrative, one that is not typical of states in the Western Balkans. Moreover, it sets a precedent with implications that extend beyond Serbia.
Talking about history inevitably entails a commentary about present-day politics.
To understand the impact of the recent and more distant past on present-day politics in Serbia, we speak to Damjan Krnjevic-Miskovic, formerly a senior adviser to the President and the Foreign Minister of Serbia as well as to the President of the UN General Assembly. Krnjevic-Miskovic belongs to a small cohort of Serbian leaders with global experience. He started out as the Managing Editor of The National Interest and is now a Professor and Director of Publications at ADA University in Baku. He was at the epicentre of the Serbian transformation project, initially the ranks of the opposition, then the government, then diplomacy, and then back to the opposition. It's fair to say, he has a "bird's eye view" that is well worth sharing.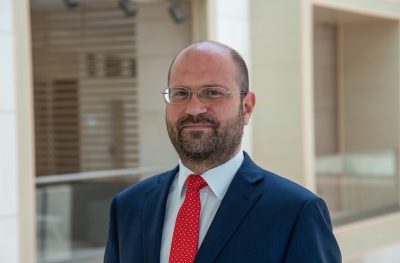 Ambassador Tedo Japaridze (TJ). Often the Partnership for Peace program is regarded as a lobby for NATO membership, especially in Southeastern Europe. Is this prospect a dead letter in Serbia?
Damjan Krnejevic-Miscovic (DKM). I remember a moment—right after the March 2003 assassination of Serbia's first democratically elected prime minister, Zoran Djindjić—when the geopolitical stars aligned and there was serious talk, in Washington at least, of fast-tracking Serbia's NATO membership. Joining then would have made the subsequent attempt at unilateral secession from Serbia by the Kosovo Albanians impossible. Can you imagine the forced partition of a NATO member state?
I think the maximum Priština could have ended up with, had the NATO membership idea gone forward at the time, was "more than autonomy, less than independence"—a formula that was originally used in an unsuccessful attempt to peacefully end the civil war in Croatia in January 1995.
But now? The compelling reason for joining that I mentioned has disappeared.
Partnership for Peace is another story.
In September 2007, I sat in the North Atlantic Council chamber when my boss, Vuk Jeremić—Serbia's foreign minister at the time—formally presented Serbia's Partnership for Peace Presentation Document. That speech was truly historic. That Presentation Document set forth the strategic terms of Serbia's Euro-Atlantic engagement. It laid out a set of priority fields, including the goal of interoperability, accelerated defence reform, training and education programmes in line with NATO standards, and so forth. The present regime in Serbia has made some moves that call some of that into question, and the state of the military reform process is not close to being what it could be. But few would dispute that PfP remains the right framework for Serbia's ongoing cooperation with NATO.
TJ. The separation of Serbia and Montenegro has left a socio-economic, political and strategic rift. Do you have a view of what happened in October 2016 in Podgorica?
DMK. One precondition to beginning to heal that rift has now been fulfilled—I refer to the August 2020 election that saw the defeat of Milo Djukanovic's party. Now Djukanovic is a real piece of work, a man continuously in power since the Berlin Wall came down— that's longer than Lukashenko. His party is the successor to the Montenegrin communist party, which means that his kind had ruled the country since 1945.
Djukanović's party was defeated, finally, although he remains president for the moment. But he's now alone in his den of thieves. His friends flee and hide. A democratic housecleaning has begun. And this shows what can happen when the opposition comes together in common cause to defeat tyranny at the ballot box.
Your question also referred to the reports of an attempted coup in 2016.
I think it's time to put that fairy tale to rest. Whatever else one can say, the Russian services are not run by foolish and incompetent people. Their operatives do not remind one of Jacques Clouseau. Even the official narrative of this kabuki event is simply laughable. That narrative was launched by the propaganda machine run by Djukanović. Remember the concept of the "new Soviet man"? Not even those who came up with it believed in it?
But I want to say something more about Montenegro.
I think Zdravko Krivokapić, the democratically elected new prime minister—one could say the first truly democratically elected prime minister in Montenegro's history—has the wherewithal to become a real statesman. And that would be salutary for the entire region. Montenegro could witness a re-founding, as it were. In 1946, Kurt Riezler—now largely forgotten but one of the most brilliant and clear-headed thinkers on international relations of the last century—spoke of a statesman as one who "knows his ends, he has a goal, a hierarchy of purposes, long-term and short-term; he subordinates one to the other; he has a vision of both the possible and the desirable and looks at the one under the aspect of the other; he thinks the possibilities through to their end; he follows up his actions, keeping ready a possible answer for whatever their foreseeable consequence."
You get the idea: someone who shapes the future instead of taking it for granted. That could be Krivokapić—he had a very successful visit to Brussels recently, which was a good start. Of course, expectations are high at home, in the region, and abroad. Krivokapić runs a coalition government he has to hold together whilst systematically undertaking reforms. He does not hold all the cards. Djukanović still has a few to play, too. And he's still got a large pile of dirty money at his disposal. But it will be much, much harder for him to try to rig the next election.
TJ. It is now more than 20 years since the "it's time" campaign that led Slobodan Milosevic out of office. What are the most enduring changes of the political transition? How far did colour revolutions change Eastern Europe?
DMK. Here I can only give a short and obviously incomplete answer.
Some countries made it; others didn't. Some of those that didn't really make it still ended up in the European Union and NATO. Amongst almost all those that didn't make it—but also in some countries that did—populism has taken hold. Part of the state capture problem is that corruption has gotten much worse; so has organized crime. The rule of law is simply gone. Media freedom is effectively non-existent. Poverty and unemployment rates are up. And the pandemic has obviously made everything worse.
Serbia was a country that for a while was really on its way to making it—after having started at the very bottom and later than everyone else, because in the 1990s the country was not in a position to begin its transition. Communism was not overthrown. Sanctions and conflict were the prevalent reality. There was the 1999 bombing. Four wars were lost in a decade. And then a break was made in 2000 with Milošević's overthrow, but a true democratic consolidation was not to be.
There was no lustration. Institutions were not transformed enough. There was the Kosovo situation. The global economic crisis hit the country hard. The recovery was sub-optimal. And Aleksandar Vučić, Milošević's former propaganda minister, rode the wave and won the day. He now runs the country like a psychiatrically unstable absolutist, surrounded by completely incompetent courtiers. This has been Serbia's prevalent reality since 2012—a country in the "heart of Europe," as Madeleine Albright used to say.
TJ. The Non-Aligned Movement is part of the legacy of former Yugoslavia. What is the relevance of this movement at this point in time?
DMK. Josip Broz's foreign policy—which was conceived and executed by a series of prudent foreign ministers including Koča Popović, Marko Nikezić, and Mirko Tepavac— was, for the most part, exemplary. It was characterized by a high level of geopolitical sophistication that enabled Yugoslavia to punch far above its weight. The founding of the Non-Aligned Movement in Belgrade in 1961 should be put in that context. It represented a historical turning point—one could even say it's the political moment when the empowerment and emancipation of the majority of the human race became irreversible. Soon colonialism was largely eradicated. A new, more equitable form of multilateralism was shaped. Bridging the North-South gap became a pressing issue across the world. And so on.
Today, the Non-Aligned Movement is not what it once was in its heyday, although Azerbaijan's chairmanship has reinvigorated it more than many thought likely. I looked up some words recently of Koča Popović, Yugoslavia's foreign minister at the time of NAM's founding: "We wholeheartedly believe that the participation of smaller, less powerful states on the basis of the sovereign equality principle is an absolutely necessary condition for securing a peace not only for the benefit of the great powers; but an equitable, sustainable peace where each state feels it has assured its security as much as its dignity." That's what NAM means to me. What it represents. And what should continue to define the relevance of the Non-Aligned Movement in the 21st century.
TJ. How did the pandemic change the essence and the context pf power and democracy globally?
DMK. The pandemic has not caused, only accelerated existing centrifugal trends like non-polarity, no acknowledged global leadership, the onset of de-globalization, and so on. This is the first time in centuries that you have an evident vacuum of power and no one is capable or willing to fill this vacuum. No one wants the job; not really. It's really an extraordinary situation.
And I think this has at least six strategic implications.
First, geopolitical options are progressively narrowing for the West, yet this has not resulted in what the Germans call Torschlusspanik.
Second, many of the major players are becoming decreasingly detached from ''Western liberal democracy'' without much remorse or embarrassment.
Third, a lack of respect, even disdain, characterizes the perceptions of virtually all the major players towards one another.
Fourth, few of these major players are ready to commit to working in concert to establish agreed terms framing a workable international system predicated on a realistic, common assessment of a new global balance of power.
Fifth, the major players will have fewer resources at their disposal to fund their ever-deepening rivalries.
Sixth, a whole set of issues requiring a broad and robust multilateral approach—most obviously sustainable development, including climate change, as well as cyber security, nuclear proliferation, and so on—will continue to receive a sub-optimal amount of attention.