Belgium, (Brussels Morning Newspaper) The International Energy Agency (IEA) predicted on Thursday that Europe will face a difficult winter in 2023.
Speaking in Berlin at an energy symposium, IEA head Fatih Birol expressed the belief that Europe will be able to weather the gas crunch this winter, but will have a more difficult time next winter, according to Associated Press reporting.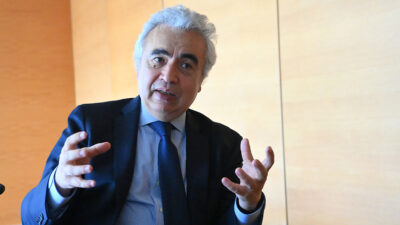 He pointed out that Europe built up considerable gas reserves which should help it through this heating season, barring unforeseen events.
"Europe will go through this winter with some economic and social headaches, bruises here and there," Birol predicted and pointed out that this is largely a result of the EU's efforts to replace Russian energy imports with alternatives.
"Next winter will be more difficult than this winter," he reiterated, noting that Russian suppliers may be off the table for the EU next year while demand for liquefied natural gas (LNG) in China is expected to recover.
Birol warned that, according to IEA's projections, new natural gas capacity expected in 2023 will be the lowest in the last 20 years or so.
Importance of preparation
Taking these factors into account, the EU "needs to prepare today for next year," he stressed and added that solidarity among bloc members will be important to overcome the crisis.
Commenting on Russian energy exports, Birol predicted that they will suffer due to EU sanctions. He reminded that the EU accounted for about 75% of Russia's gas exports and roughly 55% of the country's oil exports.
He pointed out that redirecting exports to Asia is not simple as new pipelines would take a decade to build and tankers take significantly more time to reach clients in Asia compared to Europe.
Birol reminded that specialised gas and oil companies left Russia due to Western sanctions, stressing that production will likely suffer.
"Russia is set to lose the energy battle big time," he predicted and pointed out that, according to IEA's calculations, Moscow's revenues will drop approximately USD one trillion by 2030.
Commenting on the green transition, Birol warned that investments in green energy will have to increase fivefold compared to current levels.