Belgium (Brussels Morning Newspaper)War and political conflicts in Europe. Displacement of millions of people due to an invasion that doesn't seem to have an end in sight. High energy costs, scarcity of grain, and other goods with a risk of recession. The urgency of curbing climate change. In this context, is there room for solidarity entering the second decade of the twenty-first century? How does power affect relationships between humans and nation-states? Is there a way to find an equilibrium? These are some of the questions that Czech artist, Milena Dopitová asks herself in her work.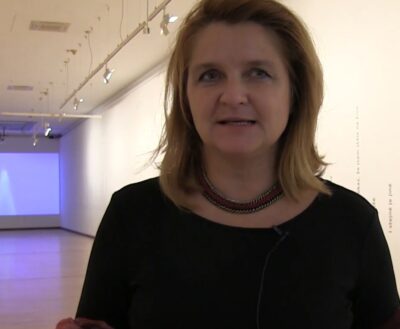 Born in 1963, Dopitová has chosen to pursue art that centers on human intimacy and emotionality. It aims at social themes of physical, and gender identity. In Even Odd, an exhibition organized by the National Gallery in Prague in collaboration with the Centre for Fine Arts Brussels on the occasion of the Czech Presidency of the Council of the European Union, Dopitová delves into the idea of solidarity – across cultural differences and nationalities – as the principal concept of Europe. Even Odd will be on display until the 30th of October at the Bozar Centre for Fine Arts in Brussels. She speaks with Brussels Morning about her poetics, the motivation for this exhibition, her current projects, and more.
1. Could you tell us more about the creation process behind the work presented at Bozar?
From the beginning, the Even Odd project was related to this year's event of our presidency in the European Union. Themes such as the belonging of EU countries, caring for their mutual relations, and the creation of open space, foyers – meeting places resonate in the installation.
It consists of several object installations. Their form, the folded composition, was inspired by a children's set of train tracks. It is composed of many parts, from which it is possible to assemble different variations of tracks. In the installation, these individual connecting parts then form, on an enlarged scale, object assemblies referring to figural compositions and to architecture. The blue drawing of "tracks" in its connection grows into possible variations and at the same time forms an abstract three-dimensional drawing. The name Even Odd symbolizes ranks, society, which carries with it the signs of structure, and organization of society.
2. Could you elaborate on the theme of solidarity in your work in general, and in this particular exhibition?
Solidarity is opposed to the idea of the power of one over another. The name of the exhibition is also related to this, which places the society in the mathematical series of even, odd – in a balanced society without extreme differences. The rule of unequivocal inclusion does not apply here, i.e., odd can be even and vice versa. Together they go through the path of mutual understanding, help, and harmonious confrontation. It is an idealistic example of solidarity, which is a virtue and an ethical challenge in a developed society.
3. How does it span across cultural differences and nationalities as the principal concept of Europe?
If I can speak for myself, art has the privilege that cultural differences and otherness enrich the creative environment, they are a source of inspiration across visual disciplines. The intermingling of cultures can enhance communication, shift meanings and open up important questions that currently resonate in society. This confrontation provokes thought, opens up stimuli and gives space to outputs that can currently move at different levels of engagement, from activist to apolitical ones, which are also an unquestionable part of the visual world of art. Free thinking without set boundaries, not subject to power, is an imprint of the times, a reflection of society, and holds a mirror to both historical contexts and future generations.
4. Is it something that can be fostered through art? How? How did the conflicts in Syria and Ukraine shape your understanding of the concept of solidarity? What are the contrasts and/or similarities between the two?
I am not a journalist, so the analysis of solidarity in this context is not my specialty. I don't live an apolitical life, what I work with is conceptual art and here I find space and means to express what I perceive as a current topic. The fact that here we have the Russian scenario of "help" repeatedly, after 11 years from Syria, now in Ukraine, only shows that not only European countries were not strong enough, active and did not devote enough effort and attention to this problem in order to prevent it. Thus, the invasion in the form of an aggravated war conflict is repeated, and all that remains is to finally unite and act unitedly in this new situation when we can argue about what Russian aggression could cause without the intervention of countries.
5. In your opinion, has the sense of Czech identity (in the country as a whole) changed since you were coming up as an artist? If so, how?
My beginnings in the field of art are connected with Perestroika / at the end of the 80s of the last century when the efforts for change led by the then Soviet leader Gorbachev peaked in Russia. As a result of these events, the Velvet Revolution took place in our country in 1989, which ended the communist domination of one power and our country could continue to develop on a democratic path.
It was a beautiful time full of enthusiasm, and hope, and we all believed that freedom would bring us a long-awaited life change. However, it soon became clear that 40 years of socialism would have a long-term effect on the formation of a free tomorrow and could not change everything at once. Today, more than thirty years later, this period of one-power rule still has an influence on the formation of opinions, decisions, and actions for many residents, belonging to the middle and older generations. Czech identity pays for the forty-year influence of Soviet power, and this legacy still confronts it with the fulfillment of free, democratic ideas and moral values. But I am convinced that in the future it will fight its difficult way and will deservedly belong to the respected developed countries.
6. What themes/projects are you currently working on?
In two weeks, I will have a solo exhibition in the Czech Republic at the Brno House of Arts. The project is called "The next stop is a requested stop". The main topic deals with the question of the sustainability of cultural, national, and ethnic identity, connecting Christian, Jewish and Arab traditions. It contrasts the ordinary, the power of human memory with the superficiality of contemporary society. The multimedia installation works with the space of the House of Arts in various media, from objects, through video projections to audio installations.