Brussels (Brussels Morning) Following on the footsteps of US President Biden, NATO's Secretary General focused on the failure of the Afghan political class as he sought to account for the rapid takeover by the Taliban.
"What we have seen in recent days has been a military and political collapse that we did not anticipate. Some Afghan security forces fought bravely but could not protect the country because the political leadership could not," NATO Secretary-General Jens Stoltenberg told a news conference after the Taliban took control of Kabul.
"What is happening in Afghanistan is a catastrophe, but there has been progress and it is our duty to support these achievements. This failure of the Afghan political leadership has led to the catastrophe we are witnessing now,"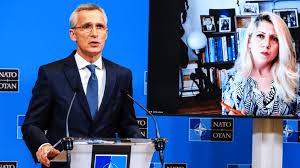 Lailuma Sadid (Brussels Morning): Thank you very much S.G. On NATO's role in Afghanistan. What is the responsibility that you personally and other Allies assume for policies framed, designed, and implemented? How is NATO accountable to Afghan citizens, particularly women, who face a catastrophic situation and are unable to understand the meaning of 20 years of NATO presence on the ground. How is that possible that the very powers that defeated Nazism, fascism and imperialism after the Second World War, with all their security and intelligence infrastructure, cannot measure up to the power of the Taliban? As an Afghan woman, I would like to ask how is it possible that you unconditionally recognise as a legitimate counterpart the Islamic Emirate of the Taliban, as did the Trump Administration.
Jens Stoltenberg: "It was extremely difficult to make the decision to end the NATO military presence in Afghanistan. And it was difficult because I share your pain, I understand your frustration."
He continued: "I was Prime Minister of Norway back in 2001 when we decided to send the troops, for the first time, to Afghanistan. And now I am the Secretary General of NATO, responsible for our presence there and the ending of our military mission. And in all these years, I've been many times in Afghanistan. I met people, not least a lot of women, standing out as strong leaders, with a strong voice. And I've seen that social and economic progress you have been able to make in Afghanistan over these years. And therefore, we will continue to support, we will continue to watch, and we will continue to hold the new rulers accountable to fundamental human rights including, of course, the rights of women.
"It is a tragedy that we now see taking place in Afghanistan. At the same time, there has been a gain. And we all need to make all efforts to try to preserve those gains, including the fact that generations of men and women, but in particular women, are now educated. They are now taking part in political processes (that) it will not be easy for new rulers to remove, to take away all those gains.
"So, I understand the anger. But I also have the responsibility to convey the message that the plan never (involved) staying in Afghanistan forever. The plan was to build an Afghan state, (with) the Afghan security force to take responsibility for the future of Afghanistan. And the tragedy was that, after 20 years, we saw a very sudden collapse of Afghan leadership, politically and militarily, that led to the advances of the Taliban."
We did not see it coming
The Secretary General talked about the achievements, especially for women's rights and human rights that NATO would maintain via its diplomatic presence in Afghanistan:
"All NATO allies have come to the conclusion that we must end our military presence in Afghanistan. We knew the risk of the Taliban taking power, but what could we do, send more troops to carry out an unfinished mission? We hoped that international investment would work, but we did not anticipate the rate of collapse," he said
The Secretary General added: "If terrorists are present in Afghanistan, we will target them remotely".
Power transfer in Kabul
First Vice President Amrullah Saleh has proclaimed himself the "legitimate caretaker president" in accordance with the country's constitution. He posted a message on Twitter on Tuesday (August 17th), calling the Taliban a "terrorist group" and saying that the war in Afghanistan was not over.
Former Afghan President Mohammad Ashraf Ghani escaped the capital on Sunday when Taliban forces reached the gates of Kabul, accompanied by Hamadullah Moheb, an adviser to the Security Council, and Fazel Fazli. It was reported that Ashraf Ghani did not inform Amrullah Saleh about his escape plan.
Zabihullah Mujahid, a spokesman for the Taliban, said on Tuesday (August 17th) in response to a question about concerns about the possible return of al-Qaeda members to Afghanistan: "Afghan territory will not be used against anyone. We can reassure the international community about this."
Mujahid continued: "We do not know exactly when the next system will be created. We are working on that. We are talking about peace and forgiveness. Our message is not arrogance; our message is the security of ending the war."
Mujahid said they had ruled out entering Kabul before the political agreement was reached, but Ashraf Ghani's escape, and the security and leadership vacuum in Kabul forced them to arrive early.