Brussels (Brussels Morning) As NATO forces are leaving Afghanistan, regional stakeholders met in Tashkent, Uzbekistan, on Saturday July 17. The regional gathering involved foreign ministers from Central and South Asia and was nominally focused on connectivity infrastructure. 
There, Afghanistan's Foreign Minister, Subrahmanyam Jaishankar, and Pakistan's Imran Khan crossed swords with reference to the perceived role of Pakistan in disrupting Afghan connectivity with India, an emerging American ally, whereas Pakistan is seen as a key state in China's Belt and Road Initiative. Regional geopolitics following western military withdrawal were also the focus of the EU High Representative, Josep Borell, who joined the regional summit in Tashkent.
EU extends conditional financial support to defend human rights in Afghanistan
Prior to his departure on Friday, Borell briefed the press in Brussels, noting that the EU is committed to investing in the region's connectivity, setting a broad framework of end objectives and principles rather than committing to a specific roadmap of physical and digital infrastructure projects.
Borrell told BM that the EU is not seeking to develop a counterweight to China's Belt and Road Initiative (BRI). but rather to work with regional actors, such as Japan, to serve the objective of fostering connectivity between the broader Middle East, Central Asia and China.
Referring specifically to Afghanistan, Borrell condemned conflict escalation, noting that civilian casualties have increased by 23% in the first half of 2021, particularly condemning targeted attacks against Afghan religious and ethnic groups.
Mr. Borrell said the EU's message in Tashkent is a call for inclusive peace negotiations, with the engagement of "the broader international community," which can play a constructive role in supporting the Afghan peace process.
The American decision to leave Afghanistan has left the government in Kabul militarily weaker. Borrell is proposing the creation of an international contact group with the participation of the EU and its member states that will boost financial support towards Kabul on the basis of strong conditionality, with regard to human rights and in particular the rights of women and girls. The objective would be to convince the Taliban to respect human rights benchmarks set by the presence of Western forces in Afghanistan for 20 years.
Israel and Palestine
Beyond Afghanistan, in his briefing on Wednesday July 17, Borrell reiterated Brussels' commitment to a two-state solution in Israel and Palestine.
"I want to emphasise clearly that Israeli security is non-negotiable, and to condemn terrorism, but at the same time, we expect Israel to offer a political perspective to end the conflict." Said Mr. Borrell.
 Israel and the EU share deep political, historical, and cultural ties. The appointment of a new foreign minister, Yair Lapid, provides an opportunity for a "fresh start" with the new administration that can strengthen bilateral relations, Borrell told the press. But this relationship is also conditioned by principles on which the Israeli government has backtracked since 2012, the top EU diplomat noted.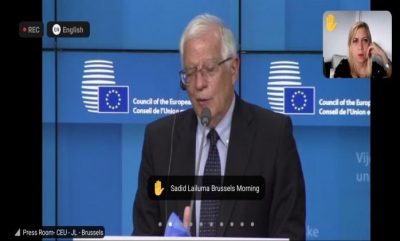 "We expect Israel to offer a political perspective to end the conflict; finding a solution with the Palestinians can only contribute to Israel's security, and the Israeli Foreign Minister has publicly advocated for 'a two-state solution,' which is the solution European Union strongly supports."
"We can credibly engage and relaunch a stronger relationship with Israel on a path that points towards peace and justice for both Israelis and Palestinians. We are ready to support both sides in their efforts to rebuild a meaningful political process. We know that this will not happen tomorrow, but we were very interested in the explanations to improve the daily life of the Palestinians and to move forward in cooperation and common efforts. To achieve all that, we must reach a consensus among the member states, but Israel must do its part."