Thessaloniki (Brussels Morning) In the 2020 Communication on EU enlargement policy published on 6 October, the evaluation of Belgrade's status was far from positive, especially with regard to media freedom, regional cooperation, and conflict management.
Serbia's progress on the rule of law and the normalization of relations with Kosovo is viewed as essential to the enlargement process, which, in-itself, is often seen as a peace-building process.
However, Serbia's compliance with EU norms seems to be following a negative trajectory, particularly in the context of the COVID-19 crisis, which caused a number of individual rights to be suspended.
By way of contrast, North Macedonia's assessment surpassed expectations on the issues of stability, economic freedom and regional cooperation.
Tellingly, the General Affairs Council of March 2020 decided to open accession negotiations with Albania and North Macedonia, recognizing the progress registered in Tirana and Skopje.
According to OSCE/ODIHR, the parliamentary elections that took place on 15 July in Skopje were free and fair, with candidates being able to campaign freely, although the normative level-playing field was slightly tilted because of revisions of the legal framework and a number of executive decrees.
The Commission stressed the significance of sustained commitment to the Prespa Agreement with Greece and of the Treaty on Good Neighbourly Relations with Bulgaria. For a reflection on how the progress report was received, Brussels Morning approached Mitko Arnaudov, a Tanjug News Agency journalist.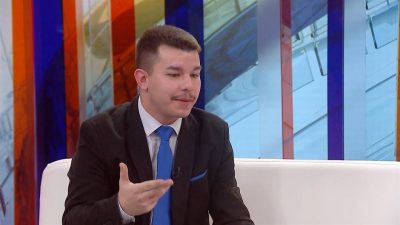 Brussels Morning (BM): What was the overall impression in the region?
Mitko Arnaudov (MA): The European Union continues to perceive itself as a global actor, signaling to Western Balkans countries that "it will return" to the region once its current institutional challenges have been addressed.
In Serbia and North Macedonia this message is received with scepticism. First, there are reasons to question whether the EU is a global player because, in these two states, global players are able to position themselves on all agendas simultaneously rather than sequentially. Secondly, there is a sense both in Serbia and North Macedonia that patience for inclusion in the European Project is thinning; that its already taken too long.
Looking to the future, public opinion in Serbia and North Macedonia seems to be exhausted by the prevalence of "sticks" over "carrots". In the long run, this functionalist formula has lost its potency, because, rather than offering mentorship, the dominant message seems to be a disrespectful and patronizing rhetoric that disregards vital interests.
Each year, each month, each day, this "talking down" language that stems from the whole spectrum of European institutions – from the European Council to European Delegations in Skopje and Belgrade – seems to be reduced to form over substance. Terms such as rule of law, freedom of media, and democratization go hand in hand with the threat of countermeasures or "punishment." But there is little attempt to reflect a sense of empathy with political decision makers or public opinion in Serbia and North Macedonia. In that sense, it is hard to create an appealing "success story" narrative.
BM: You are describing a sense of far-reaching disillusionment.
MA: That is the reality on the ground, in both states. What needs to be understood in Brussels is that the project of European Integration is no longer perceived as "the only game in town" in Belgrade and Skopje and there is a "first-come, first served" mentality.
In the case of Serbia, that is the case when it comes to the framing of the dialogue with Pristina. While Brussels focusses on convincing the government in Pristina to abolish taxes on Serbian goods, Washington follows a tested pattern of activity with direct and regular bilateral meetings with a practical focus that seek to advance negotiation.
The same can be said of North Macedonia, where Brussels has exhausted its political capital in addressing the Greek-Macedonian constitutional name issue. Washington, meanwhile, has accelerated the processing of NATO membership all in the context of a broader geopolitical agenda.
I recall once that one of my university professors said that the EU's power is one of adaptation in a changing situation. The question today is whether the EU is merely adapting to the policy agenda of its most powerful member-states.