Washington (Brussels Morning) President Biden has met President Putin in Geneva. Besides the "America is back" mantra and the "agree to disagree" principle, expectations were low. The United States and Russia are managing a relationship that changes glacially, and often imperceptibly. Russia's relations with the world change when Russia changes, or the world changes. 
The world is changing, the question is how Russia now changes.
To understand how Russia changes domestically, we talk to Professor Vladislav Inozemtsev. For those who know Russia, this is a well-known name, synonymous with intellectual integrity and a point of reference in foreign policy, macroeconomic planning and governance. Leading the Centre for Post-Industrial Studies, professor Vladislav Inozemtsev is a "go to" informant for media in Europe and the United States, with good reason.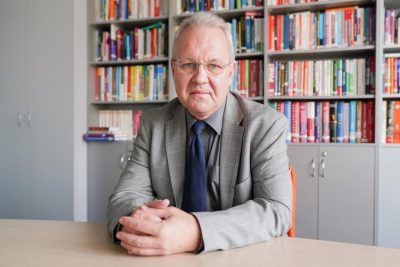 Rather than engaging in the gossip of the Geneva Summit, we look ahead at the forthcoming elections in September and ask how important is this political countdown and in what respects.
Ambassador Tedo Japaridze (TJ). The opposition in Russia is often "constructive" or extremely nationalist. Does Russia have a Putin problem or an ideological ultra-nationalist consensus? If that is the case, should the West fear "the President it does not know" more than President Putin?
Professor Vladislav L. Inozemtsev (VI). Look, I don't think the people you refer to, can be called 'opposition'. Those like Zakhar Prilepin and/or former Donbass mercenaries are fully supported by the Kremlin and encouraged to take part in the upcoming parliamentary elections. Putin (or, better to say, 'the collective Putin', with all those Patrushevs and co.) these days looks the most radical figure on the Russian political scene, using all the means at his disposal for upbuilding the anti-Western and traditional political/cultural attitudes in the Russian people. So, I would argue that the West should not fear a post-Putin figure as one who will be even more anti-Western than he is – at least this is definitely not the case if one reflects on (the possibility of) fully democratic elections held in Russia. Of course, the Kremlin elite can pick Putin's successor, who could be more aggressive than the current President is, but even in this case I wouldn't say the people will support her or him with great enthusiasm as in Russia every epoch of conservatism and oppression has been succeeded by a more liberal time (like in the cases of Nicholas I/Alexander II, Stalin/Kruschev or Brezhnev etc./Gorbachev).
But there is another question here that both you and the majority of Western scholars completely ignore. President Putin and his close circle have never been 'nationalist': quite the contrary, they destroyed any significant Russian nationalist movement well before they took on the liberal opposition. They understand perfectly well how dangerous nationalism may be in a multicultural state like Russia, so you have to distinguish between 'nationalistic' and 'imperial' approaches. The current Kremlin elite wants to restore the elements of the Russian Empire (which was very loyal to local cultures and elites) rather than to develop a Russian nation state that actually never existed (I wrote a book on this last year). So, for me, the division between imperial aspirations and nationalism looks essential for understanding any trend and any development in contemporary Russia.
TJ. Looking ahead to this year's elections: can Russia expect to have elections in which the government can lose? In what respect are forthcoming elections in Russia likely to make a difference?
VI. I would discourage you and any Western observer from wasting time monitoring the September polls. The Kremlin will not allow any opposition candidate to run – and not only those who may be considered potentially 'dangerous' for pro-Kremlin candidates, but anyone else with greatly diverging views since no competition should be made public (one can see the proof for this as the United Russia party cancels the results of its own 'primaries' in cases where their favourite candidate did not top the list). My forecast is that the United Russia party will get more seats in the Duma than it currently controls; the meddling in the elections will be the greatest ever, and the democratic parties will get a small fraction of votes (Yabloko's ceiling looks as being around 2% in the national vote).
Putin's regime cannot be challenged in elections – and no protest will arise after their results are made public – first of all because for this to happen, it should be a rise of hopes and expectations across different portions of the society that later broke down (as it was in late USSR as the anti-Gorbachev forces tried to fix the situation, in Kiev in 2004/05 and 2013/14, in Belarus in 2020, or even in Russia itself in 2011). Now there is no hope for change in Russia, so the absence of change will not agitate people. September elections are not an event worth concentrating on.
TJ. The Trump Administration made the case for Russia's return to the G7 format. Given the extensive references to China in Cornwall, would you say that that Russia may in fact be a natural ally for the West?
VI. I wouldn't say Trump was (particularly) serious about bringing Russia back to the G7 – it seemed to be his intention to invite President Putin to the U.S. at the time of the summit if it were organised off-line. I never heard that anybody among other G7 leaders backed this idea. But yes, I completely agree that Russia should be the West's natural ally as the Atlantic world is confronted by China. I have mentioned it many times in the last ten years, both in the Russian and Western press. "Russia and America can reset relations by looking North," I told the Financial Times three years ago.
Together with Russia, the Western world (could) transform itself into what I call 'The Northern Alliance,' a global grouping of nations that are united by their European historical roots and together (could) control the dominant part of the world's nuclear weapons, military power, technological capabilities, financial resources, and human capital (Russia in this alliance can be as an indispensable part providing military might, natural wealth, energy resources, and its domestic market).
So, the (prospect of this happening) doesn't look so bright, (yet the idea is ) obvious – but I doubt it might be realised under the current conditions. Russia is, of course, endangered by China – but it has a deep mistrust of the West. As I told the Moscow Times in 2014, Putin acts like former Russian Prince Alexander Nevsky, later canonised by the Orthodox Church: he fights with the Europeans and submits to Asia just because, like the prince before him, he prefers not to be converted into the Western religion (now substituting this with human rights doctrine), even if he has to pay tribute to the Mongols (now to China), supplying it with cheap oil and gas.
I don't see any realistic possibility to disengage Russia from China, whom it sees as the leading partner in today's world – in political, military, and economic senses. For even trying to do so, the Western leaders should propose to Russia a kind of union with NATO and the EU, a regime of wealth transparency for the Russian ruling class, a confirmation of Russia's special status in Eurasia, and the list might be even longer. So, I completely rule out any chance for the West to succeed in such an enterprise, even if I believe that it is a vital objective for the West's positioning in the 21st century world.
TJ. Russia sees military technology and know-how being copied by China. Moscow has a strategic military partnership with India, a Chinese geopolitical competitor. Do you feel that antagonism between Moscow and Beijing is inevitable?
VI. No, I think not.
For the Kremlin today, India has small or zero value – the 'strategic partnership' you had mentioned is used to characterise Russia's relations with at least thirty nations, and therefore means nothing. Russia's trade with India in 2019 was more than 10 times smaller than with China, and the technological and investment cooperation is almost non-existent. As far as China is concerned, the impression that it copies and steals Russian technologies was relevant till, I would say, the mid-2000s. Afterwards, Chinese companies gained a technological edge over Russian companies across all sectors, even completing a space launch recently. China's warfare technology is superior to Russia's in every sense, and the Chinese are able to organise and to manage largescale military production, while in Russia all the new military equipment is made in single copies and actually is incapable of being effectively used in action against any modern army.
Russia is completely dependent on China in too many sensitive areas (electronics, mobile networks construction, machinery, not to mention home appliances, etc) so that it cannot cut the ties with Beijing for purely economic reasons while the political and 'geostrategic' ones seem to be even more solid. Russia has become so servile vis-à-vis China that it allows the Chinese not only to steal Russian technologies, where there's little to be appropriated, but also to violate Russian laws in tourism and investment, to set up an uncontrolled financial networks serving the Chinese living in Russia, and to defy Russian consumer and resource use standards. No Chinese businessman was jailed in Russia in recent years, while many Western ones have been. So, I will reiterate that Putin's government actually behaves as the 14th century Prince Vladimir of Ryazan, who got their orders from the Great Khan in Karakorum.