Belgium (Brussels Morning Newspaper) Jan Olbrycht, Member of the European Parliament and Rapporteur for the Parliament's report on the proposal to revise the Multiannual Financial Framework (MFF) 2021-2027, expressed his satisfaction with today's resounding endorsement by the Committee on Budgets. The committee voted 27 in favor, 3 against, and 3 abstentions. The report will soon undergo a vote by all MEPs during an early October plenary session.
Olbrycht began by highlighting the pressing need for this revision, emphasizing that the current MFF cannot effectively address the EU's priorities due to multiple crises. He stressed the importance of a comprehensive and realistic approach, cautioning against a weak, insufficiently funded solution that would only weaken the EU's financial capabilities.
The Commission's proposal to inject an additional €65.8 billion into the MFF until 2027, which includes the introduction of a Ukraine Facility, received Olbrycht's approval. However, he pointed out that this proposal falls short of providing the required flexibility and top-ups to the various sectors, especially in light of potential inflation that could reduce the MFF's real-terms value by €74 billion over seven years.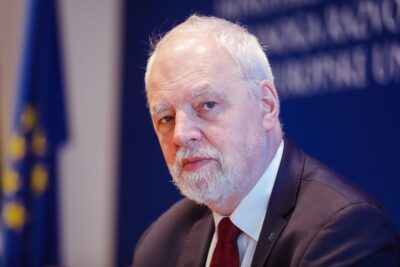 The Parliament's adopted report today welcomed the Ukraine Facility, which will involve €17 billion in fresh funding and the remainder from loans. Olbrycht emphasized the EU's ongoing support for Ukraine and the Parliament's determination to play a pivotal role in mobilizing the Reserve as part of the budgetary authority.
The draft report takes a more ambitious stance, proposing a €10 billion increase above the Commission's proposal, distributed across multiple headings to address key deficiencies.
Olbrycht highlighted three primary concerns for the EPP Group. First, addressing the higher-than-programmed repayment cost of the EU Recovery Instrument debt (EURI line) is essential. While the Commission's proposal to create a new EURI instrument is welcomed, the entire EURI line should be placed above the ceilings.
Second, Olbrycht stressed the importance of enhancing the Union's sovereignty, strategic autonomy, and competitiveness by allocating an additional €3 billion to the STEP proposal.
Lastly, flexibility for the remaining MFF years is crucial. The draft report allocates half of the total proposed increases in this area, topping up the Flexibility instrument by €3 billion and the Solidarity and Emergency Aid Reserve by €2 billion.
The draft report also calls for additional funding in areas such as migration and addressing external challenges, recognizing the need to respond effectively to crises and humanitarian aid needs.
Olbrycht urged unity during the plenary vote, emphasizing the urgency of implementing the revision before January 2024 to impact the 2024 general budget. He called on the Council to cooperate in establishing a robust MFF that can address unforeseen challenges effectively.