Following the devastating fires in the migrant camp in Moria, Lesbos, Greece, more than 12,000 migrants have been displaced from extremely poor housing to temporary accommodation around the island. The settlement, similar in size to the notorious Calais "Jungle", spread outwards from the camp's Registration and Identification Centre.
According to UNHCR, thousands of refugees and asylum seekers are now without shelter of any kind, including the most vulnerable. Unaccompanied children, pregnant women and the elderly are among those now sleeping out in the open with nowhere else to go. Witnesses describe people seeking temporary refuge in ditches, fields, even cemeteries. While the weather in Greece remains temperate, rain and cold will soon add to the challenges of providing makeshift accommodation.
On 18-19 September, nine GUE/NGL MEPs from five EU member states (Greece, Germany, Sweden, Spain and Portugal) visited the island of Lesbos. Brussels Morning spoke with four of the MEPs on the day of their arrival.
Expectations run high ahead of the European Commission's presentation of its new plans for solving the worst bottlenecks on migration and asylum on Wednesday. Even though EU leaders may not have enough time to consider the proposal ahead of the summit, it will most probably be discussed at the Special EU Council on Thursday and Friday.
---
Comments from MEPs on refugee camps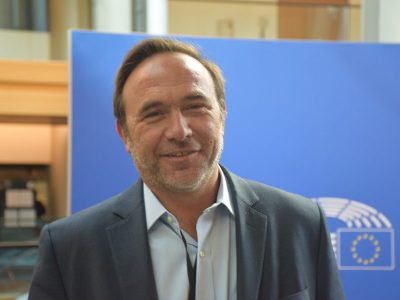 We know what is wrong, let us do something about it
The situation in Moria is dire, demanding a change in the way we think about migration. It is not "a crisis." We have known about this situation for years. Furthermore, it is not a problem seeking "a solution." This is a defining crisis about who we are, our beliefs and our values.

The real "problem" with migration is how we have chosen to deal with it. We know that we should not separate families. We know that Dublin is wrong, We know that one rule does not fit all, and we need an individual assessment of each asylum application.

We know that unaccompanied children cannot be in a place like Moria, not for a day, not for a minute. We know that Moria is not a Greek problem but a European challenge. So the only question worth answering is whether we are prepared to do something about it, at a European level, treating refugees as human beings. All else follows from there.
Europe is no longer shocked; we are enraged
Last week, I took part in the SYRIZA delegation that visited Lesbos, mere days after the disastrous Moria fire. Inviting colleagues from other countries is, for me, a natural response, almost reflexive. The European Parliament's left alliance, GUE/NGL, is extending its solidarity to Greece, immediately organising an eight-member delegation to Lesvos, Greece, headed by Syriza MEP Petros Kokkalis. The delegation is currently on the island. European public opinion is no longer shocked by what is happening on the Greek islands. People all over Europe are shamed and enraged by the EU's inability to provide a solution. They have grown frustrated with the hypocrisy of the EU's right-wing leadership's and their refusal to show solidarity in substance. What we saw and heard in the European Parliament's Plenary Session this week, fills us with hope, that something might change. So, we come to Moria, to Lesbos, not only to denounce the actions and omissions of the Greek Government and the EU but also to demand what refugees, migrants and locals alike deserve: actual solidarity and an equal sharing of the burden among the EU Member States. We come so that the image of a smouldering Moria reaches every last European citizen.We come so that a pan-European wave of solidarity washes away the far-right plans of "Fortress Europe" and "Prison Greece". We come, so that we may pronounce a resounding NO to all plans, apparent or concealed, to build a new Moria, next to the cinders of the old one. The rest will be said in situ, on the ground of Lesbos, naturally after we hear from the refugees themselves, the same refugees that Mr Sxoinas, representing the EU leadership, chose to view from the safety of a helicopter.
There should not be a new camp at all, the refugees should be evacuated.
I have visited the burnt-down remains of the camp in Moria, and I have visited the new camp. I remember very well what the old camp looked like, and the new camp is even worse. People have to stay in tents now, and these are not at all fit for winter.
There should not be a new camp at all. The refugees should be evacuated. The people here in Lesbos do not want a new camp. The refugees do not want to stay in Lesbos. And frankly, it does not make any sense to force so many people onto this island. It is so much easier to treat them properly on mainland Europe. We should bring them to other EU countries, where we have the space and the infrastructure to provide them with the safety that we all need.
We have to stop this system of camps. This can only be done if the dirty deal with Turkey is terminated and the Dublin system replaced by a model of fair distribution and relocation from day one.
The hypocrisy of our asylum policy: systematic suffering to deter people from coming
Moria showed it clearly, but you can observe it everywhere across the continent, even here in Belgium. We deliberately create suffering and hardship to dissuade people from coming. We force them into horrible conditions, providing hardly any shelter, sanitation or medical care. We force parents to bring up their children under tent roofs, with the smell of garbage around them, and screams in the night. We punish those who ask for our help, breaching international law, and failing our own ethical standards.
And why? Because we are afraid. We are afraid to come up with a better solution, with a better asylum system. We decided that the only solution we can think of is what I call a policy of deterrence by systematic suffering. I hope we can ask the people of Moria for forgiveness, and at least grant these 12,000 asylum elsewhere in Europe. Asylum from the horrors of Moria.
And next week, we have the chance for a fresh start. The European Commission will finally present its New Pact on Migration and Asylum. As Europe, we have a choice: persist with the deterrence policy that causes systematic suffering OR deliver an effective and humane asylum policy. A policy that actually works. A policy that does not finance camps, but closes them and finds systemic solutions, where people can live under an actual roof in communities that welcome them. Where parents can raise their children with hope and dignity. I think it's time we build such a system and I know it is possible.