Brussels (Brussels Morning) Following the announcement of Joe Biden's victory, the world seems in a different territory on climate action; but the President-elect's plans collide with deep-rooted American geopolitical interests. The EU hopes for an effective platform on climate may be soon dashed.
Despite the President-elect's promises to rejoin the Paris Agreement and to slash US emissions by 2050, under Biden, US energy policy may change in tone, but not necessarily in substance.
Europe rejects gradualism
On this side of the Atlantic, Brussels discards gradualism and has set out firmly on a course to achieve the pledges it made in the Paris Agreement.
The EU's objective is nothing short of a complete overhaul of the EU economy. Brussels aims to create the first operating model for a fast-track transition to a digital, post-fossil future for global geo-ecopolitics. The world of tomorrow will be powered by renewables.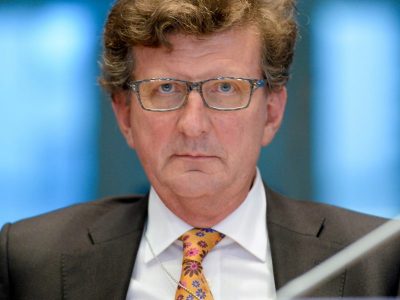 Discussing the implications of Biden's election, I talk to Mauro Petriccione, the DG (Director General) of Climate Action (CLIMA). A lawyer by training, the EU's top climate official is leading Brussels in this historic effort to decarbonise the economy and negotiate an international system of binding commitments for the climate crisis.
"The first thing I want to make clear, is that nature and science set the deadlines. Net zero by 2050 is the key to limiting global temperature rise to 1.5 degrees Celsius above pre-industrial levels. It is not an arbitrary date. We are entering a new phase; a fourth industrial revolution. When you change the energy matrix, you change the economy and the societies that are built upon that energy infrastructure. The change is happening already, and it is largely led by industries. But it is still too slow. Our role is to manage the transition and the economy, but also to make sure that it is as fair as possible for all."
Petriccione goes on to note that while it would be reasonable for emerging economies to aim for carbon neutrality by 2070, developed economies must be carbon neutral by 2050. That means slashing all Green House Gas Emissions (GHGs).
"The EU and Japan are clear: our objective is zero GHGs by 2050. China, until now, has only committed to achieve CO2 neutrality by 2060. We still don't know what the US will do. What we know is that carbon neutrality alone is not enough and does not achieve the pace of change we need. Climate neutrality means we might begin to win the fight against climate change; carbon neutrality means we certainly lose".
The no-nonsense, Italian-born lawyer has been working for the Commission since 1987. As a Deputy Director in DG Trade, he was the EU Chief Negotiator for the trade deal with Canada (CETA) as well as for the Economic Partnership Agreement with Japan. As an outsider to the clique of professional climate negotiators, he brings to the job experience not traditionally associated with climate but intrinsically relevant to the negotiations.
As often noted, classic environmental policies play only a marginal role in this specific negotiating agenda. Since the early 90s, negotiations under the UN Convention on Climate Change framework have been managed by Environment Ministries of signatory states.
And while Environment Ministers commit to reducing carbon emissions, their colleagues managing Energy, Agriculture and Finance promoted policies to support the production and consumption of fossil fuels. This contradiction underpins the entire COP marathon, albeit in different ways over the years.
Petriccione's background prepared him to meet the demands of this multivariable equation of economic decarbonization. Trade deals, industry standards, and technological cooperation must be the drivers for policy alignment of climate and environmental policies.
The long road to political consensus
I put it to him that under Biden Washington's energy policy may change in tone, but the substance of US policy is geopolitically constrained. Fossil fuels have been key to American power for decades.
When it comes to climate change, there is nothing new. All the problems and all the solutions have been known for thirty years. In spite of this, since the first Intergovernmental Panel on Climate Change (IPCC) in Sundsvall, Sweden, in 1990, humanity failed to meet its collective environmental targets.
Had we succeeded to limit the surge in greenhouse emissions by 20% by 2005, the rise of global temperature would have been kept below one and a half degree Celsius.
But to address climate policy, one needs to build political consensus and address conflicting geopolitical interests.
Petriccione admits that there is uncertainty; that public views may still change in the future. Yet, he points to progress and reasons for optimism.
"There is no doubt that the way forward is fraught with difficulties since we are building something that is completely new. Nobody knows how a decarbonised economy will work. Right now, there is broad public support for green policies. In the EU, Socialist, Liberal and Christian Democratic parties have embraced greener policies than the Greens would dare to propose a few years ago."
Geopolitics Matter
The political consensus in the United States, I insist, was ruptured with the election of Donald Trump in 2016. But the Trump Presidency was perhaps more authentically American than we care to acknowledge. Certainly, this is true when it comes to energy.
Petriccione puts it succinctly.
"I would say that in general terms, the US and Europe, especially in the recent past have been moving in different directions with their energy policies. This is due to the fact that our geopolitical interests, with regard to energy, don't coincide. Put it quite simplistically, the US are one of the world's largest energy exporters, especially of LNG."
According to the International Energy Agency Outlook 2019, despite oil production cuts decided by OPEC and induced by the crisis in Venezuela, oil and gas production is increasing, mostly due to the US shale oil revolution. The US has doubled its production in ten years.
This production has created a production glut that has made oil and gas cheaper, boosting consumption to the detriment of prices. Among the United States, Russia, and Gulf States, particularly Saudi Arabia, there have been ruthless price wars.
Historically, however, these powers come together in defence of a fossil fuel-driven economy. Opposition stems from major fossil fuel importers, namely Europe, Japan, Korea and China.
Change can lead to conflict
Europe aspires to lead the transition towards a decarbonised economy. This implies a system change.
"You see", Petriccione notes, "we are the only region in the world that can make all the pieces of the puzzle fit together to decarbonise the economy and our societies. In spite of crises, we have strong economies and still affluent societies, the most advanced technologies and innovation capabilities and, we can rely on the political will and public support."
The Paris Agreement reflected a fragile consensus over global governance between the US, China and Europe. In 2015 President Obama forced his own country's hand, signing without the US Senate's ratification.
In a sense, Obama was articulating a different vision that favours new industries over old industries, hoping that Washington can capitalize on its technological edge to lead the transition rather than simply "accommodate." Those who don't lead will be rule-takers and it is not in the nature of the United States to be a rule-taker.
Europe could move closer to China
I have a question here.
EU policies seem to be broadly consistent with Chinese policies addressing the energy transition and the plan to build up an "ecological civilization." I ask Petriccione how he views Europe's engagement with China in that respect.
The answer may be surprising to some.
"Of course, Europe's first loyalty has and will remain the Transatlantic partnership."
"Paradoxically, and for all the divergencies that separate us," Petriccione notes, "I could say that when it comes to energy policy and interdependence, the geopolitical interests of Beijing and Brussels are closer."
Transatlantic Partnership?
Obama's political consensus was important but geopolitically fragile.
The 2019, COP25 in Madrid saw a return to the "historical order" of things, one in which Europe, the United States, the developed economies, China (Russia) and other emerging and developing economies did not share the same geopolitical interests.
In fact, the Paris Agreement was the outcome of a diplomatic operation to protect the convergence of US, China and Europe on the positive outlooks of globalisation; Obama clearly forced his own country's hand, signing the agreement without the US Senate's ratification.
The foreseeable President Trump's rejection of the Paris Agreement reignited the very same conflicts that have been dragging on for years now, ever since the decision was made to share out the onus of cutting carbon emissions among the world's leading economies.
Even in principle, Petriccione notes, the Paris Accord is a necessary and potentially very effective framework that is worth strengthening. But policy development in Europe has now reached a point of no return. It is a model with binding obligations.
"What the EU is seeking to achieve," Petriccione notes, is to prove to the world that a decarbonised economy is not only possible, but also profitable.
"The EU is mainstreaming climate targets and climate policy in all sectoral policies," he notes, which in other words means that "the basis for all strategic planning in every other sector." Petriccione goes on to describe the dawn of a Copernican revolution in which entire classes of products and industrial processes will progressively but rapidly be driven out of the market and replaced with cleaner, more sustainable, circular products and processes.
But when one drives change, conflict becomes a real prospect.
"We have to be realistic," Petriccione notes. "We have to make sure that we can protect our markets from carbon leakage. We have done so successfully so far, but we will make our climate policies stricter and more far reaching and we are likely to need new instruments to deal with carbon leakage. That is why we need to design a Carbon Border Adjustment Mechanism (CBAM). The CBAM wouldn't be my first choice, to be honest, but it's necessary in the Commission's toolbox."
Europe builds rules, not walls. However, the prospect of a "Green barrier" to the Single Market is real. "Fair and open trade remains in our best interest," Petriccione notes, but Europe is willing to be forceful in setting the terms of trade.
Although Biden is committed to rejoining the Paris Agreement, he is likely to be more bipartisan to accommodate Republicans in the Senate. His energy plans could turn out to be more similar to Trumps' than some may expect.