Belgium (Brussels Morning Newspaper) If Russia once again invades Ukraine, they will pay a high price! We will continue to convey a very clear message to Russia that we are ready to sit down and discuss the situation with them. But at the same time, we are prepared for the worst. 
So said NATO Secretary General Stoltenberg in his Brussels press conference when calling on Russia to step back and move along the path of peace. However, he also made a point of saying that NATO seeks to strengthen its eastern flank.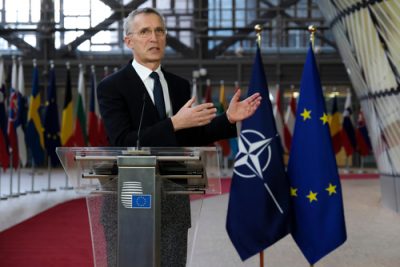 The Secretary-General of the North Atlantic Treaty Organization (NATO) said there is no sign of de-escalation by Russia and no evidence that its forces are pulling back from the borders of Ukraine.
He warned that Moscow's military had created what he described as a "normal and new phenomenon" in Europe, namely to use military force to achieve its goal. He noted that Russia had at its disposal a huge force ready to attack everyone.
He cited NATO's grave concern at Moscow's large scale, unprovoked and unjustified military build-up in around Ukraine and in Belarus. "We urge Russia, should choose the path of diplomacy, and to immediately withdraw its forces from the border of Ukraine. We remain committed to our dual-track approach to Russia: strong deterrence and defence, combined with openness to dialogue."
Mr. Stoltenberg described Russia's actions as posing "a serious threat to Euro-Atlantic security." Therefore, "to ensure the defence of all Allies", NATO would be deploying additional land forces in the eastern part in order to increase "the readiness of our forces", he said
A statement by NATO reiterated its commitment to Article 5 of the Washington Treaty as "iron-clad", saying "we stand united to defend each other."
The statement reads: "NATO remains committed to the foundational principles underpinning European security, including that each nation has the right to choose its own security arrangements. We reaffirm our support for the territorial integrity and sovereignty of Ukraine within its internationally recognized borders. As stated previously, any further Russian aggression against Ukraine will have massive consequences and carry a high price. NATO will continue to closely coordinate with relevant stakeholders and other international organizations including the EU".
NATO and its allies will continue to pursue diplomacy and dialogue with Russia on Euro-Atlantic security issues, right up to "the highest levels", it said, adding that it supports all efforts, including those in the Normandy Format to implement the Minsk agreements. The organization remains ready to engage in a Renewed European Security Dialogue as initiated by Poland in its capacity as the current OSCE Chair. Substantive proposals have been made to Russia to enhance the security of all nations in the Euro-Atlantic region and a response is now awaited from Moscow
. "We have repeatedly offered, and continue to offer, further dialogue through the NATO-Russia Council, and stand ready to engage. Outlining the topics and items where NATO Allies are ready to sit down and discuss with Russia and to try to find a political path forward".