Brussels (Brussels Morning) Russia today presented the package of security guarantees it indicat4ed it would expect to receive from the West in order to lower tensions in Europe and defuse the ongoing crisis in Ukraine.
Russia's Deputy Foreign Minister Sergei Ryabkov presented the demands in detail, telling reporters that Russia and the West must make a clean start in rebuilding relations. Russia claims that NATO's presence in Eastern Europe represents aggression, while most Western countries condemn Russian annexation of the Ukrainian Crimea peninsula and Moscow's indirect involvement in the current conflict in the east of Ukraine.
"The line pursued by the United States and NATO over recent years to aggressively escalate the security situation is absolutely unacceptable and extremely dangerous", Ryabkov told reporters in Moscow. "Washington and its NATO allies should immediately stop regular hostile actions against our country, including unscheduled exercises, dangerous rapprochements and manoeuvres of military ships and planes, and stop the military development of Ukrainian territory."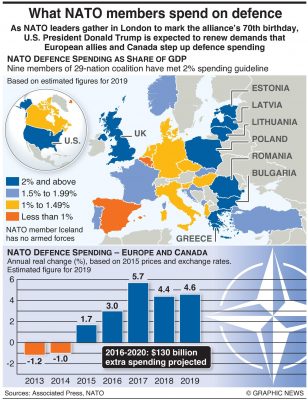 Ryabkov warned that Russia would not put up with the current situation any longer, and urged the US to take Moscow's proposals seriously and get back with a constructive response fast, stressing that Russia was ready to start talks as soon as tomorrow, Saturday.
The Russian package demands that NATO rules out further expansion of the alliance to the east, and that it pledges not to accept Ukraine as a member. Additional demands include not to deploy any additional troops and weapons outside countries they were posted to in May 1997, the date before the first Eastern European country joined the alliance.
Moscow also expects NATO to abandon all activities in the Ukraine, Eastern Europe, the Caucasus and Central Asia, not to conduct exercises with more than one military brigade in an agreed border zone, and to exchange information regularly about its military exercises.