Brussels (Brussels Morning) Heavy floods in the north of Europe are creating havoc, with over 100 known dead and more than a thousand people missing amidst the widespread destruction of homes and communities. National civil protections and first responders have been mobilised to urgently save lives. Germany has borne the brunt while Belgium has requested support from the EU's crisis management mechanism. The death toll has been mounting in the most affected regions ever since the calamitous flood began on 14 July.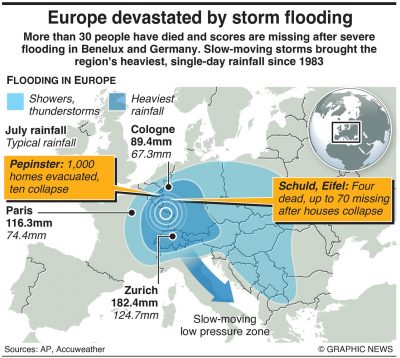 93 dead in Germany
In Germany, the states of Rhineland-Palatinate and North Rhine-Westphalia were worst hit. Latest reports count at least 93 dead with hundreds more missing.
One epicentre of the flooding was the German town of Schuld on the Ahr river —TV images show the town centre piled high with debris.
As of Thursday night, about 1,300 people appeared to be missing, according to officials in the region.
First responders are trying to do their utmost but their best efforts are being hampered because cellular networks are down, making it hard to locate people. "Due to the complexity of the damage caused, a final assessment of the situation is not yet possible", a message posted on the district government's website stated bleakly.
In Washington, Chancellor Angela Merkel described the situation in Germany as "catastrophic" in the course of her official meeting there with President Joe Biden.
15 dead in Belgium
In Belgium, the region of Liège is so far the most affected, with a total of 15 persons reported dead, according to Le Soir.
Commission President Ursula von der Leyen expressed solidarity with the families of the victims and those who have lost their homes.
In the meantime, the Civil Protection Mechanism — the EU's crisis and disaster response mechanism— has been activated by Belgium, according to the Commission.
Crisis Management Commissioner Janez Lenarcic said the EU was providing "concrete support" to Belgium. He also thanked French first responders for their assistance and efforts.
The EU's Copernicus emergency satellite is providing assessment maps of the affected areas.
In Luxembourg, a red flood alert has been activated. However, according to a meteorological office read-out this morning, the risk of further inundations is decreasing.
Local officials and flood witnesses alike cited climate changes as the major cause for the devastating floods. The scale and intensity of the devastation in Germany shocked climate scientists, the Guardian reported.