Belgium (Brussels Morning Newspaper) Major political groups in the European Parliament on Tuesday condemned Russian President Vladimir Putin's decision to recognise the two rebel-held areas in Ukraine as independent republics and send his troops into Ukrainian territory for a "peacekeeping mission".
European People Party (EPP) Group Chairman Manfred Weber stressed that Putin's move is "a blatant violation" of international law and Ukrainian territorial integrity. "The EU's reaction must be immediate", Weber insisted.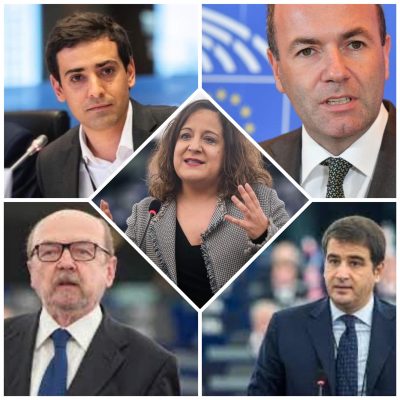 "A new sanctions package must be adopted with the aim to progressively lock Russia out of the European economy, without compromise. We expect the Council to act swiftly in this regard. At the same time, Ukraine cannot win a war with European sanctions alone. The full scope of military support by NATO and EU partners should be on the table", Weber declared, adding that the EU's "geopolitical holiday is over".
Socialists and Democrats (S&D) Group President Iratxe Garcia Perez sent out a Tweet echoing the EPP's sentiments, also stressing that Moscow's recognition of Donetsk and Luhansk is a violation of both international law and the Minsk Protocol – the 2014 agreement brokered by France and Germany, set to serve as a roadmap to broker peace in Ukraine. "Ukraine's territorial integrity must be respected", Garcia maintained. "It is time for the EU and our allies to stop the Kremlin with massive sanctions."
Renew Europe (RE) Group President Stéphane Séjourné described Putin's latest decisions as "a violation of Russia's international commitments and a threat to Europe's security", calling on the EU to impose financial and export control sanctions on Moscow. "Ukraine's sovereignty is not debatable",Séjourné said.
European Conservatives and Reformists (ECR) Group co-chairs Ryszard Legutko and Raffaele Fitto also condemned Russia's actions in the strongest possible terms. "It is quite obvious that the Kremlin will not stop at violating Ukraine's sovereignty and integrity and breaking international law", Legutko observed. "We can expect further aggression and provocation from Russia alone. The time for playing patience games is now over."
"It is time for the European Union and the entire international community to show a strong and united front and to act firmly against Moscow's actions", Fitto asserted. "At the same time, it is essential in the coming hours not to fall into dangerous reactionary fouls, but to continue working to pursue a diplomatic solution to the crisis."