Ukraine hopes to move fast towards further integration with the Single Market, but looks to Washington as a broker across a number of diplomatic fronts.
Athens (Brussels Morning)
Ukraine's new Prime Minister, Denys Shmygal, was in Brussels on Thursday, 11 February, his first visit abroad in a very long time. The meeting with top European Commission officials s, the first in four years, took place against the background of a shifting Euro-Atlantic context.
In his discussions with EC Executive Vice Presidents Frans Timmermans and Valdis Dombrovskis, Shmugal highlighted his governments' reformist zeal and its commitment to decentralisation. To understand what is at stake in Kyiv's bilateral agenda with Brussels, Brussels Morning spoke to Dr. Nickolay Kapitonenko, an adviser to the Committee on Foreign Policy and Inter-Parliamentary Cooperation of the Parliament of Ukraine and an Assistant Professor at the School of International Relations at Kyiv's Taras Shevchenko National University.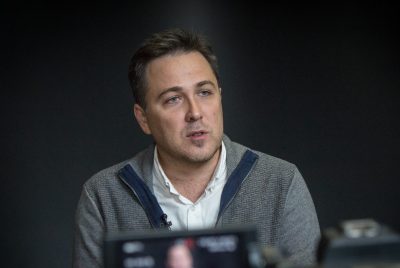 BM: Following the Ukrainian PM's visit in Brussels, he went on the record and commited to greater energy market integration with the EU. Yet without Ukraine's role as a transit hub for natural gas, how is Kyiv positioning itself to play a role in the European energy market?
NK: At this point in time, Ukraine's energy strategy focuses on reforming the country's energy sector, enhancing energy security and integration with the EU energy market. When a Ukrainian official makes a reference to energy market "integration," this should be understood as the third energy package; the integration of Ukraine into ENTSOG and ENTSOE. The challenge at hand is attracting infrastructural investment, development of Ukraine's green energy potential, and increasing the country's energy efficiency. In sum, the discussion is about common rules and regulations.
A key trasnport hub despite Nord Stream 2
In the meantime, Ukraine is expected to remain an important transit hub for Russian natural gas supplies even if Nord Stream-2 is completed. The country's natural gas storage facilities may be one of its real advantages.
In the more distant future, Ukraine aims to increase domestic gas production, including shale gas, upgrade coal mining and increase the share of renewables in its energy mix by 25%. With such an energy profile, the country aims at deeper integration with the European energy market.
BM: In November ,Poland moved to sanction companies associated with the Nord Stream 2 project. Do you feel this is still a battle of strategic significance or is this a lost cause?
NK: It is still a strategic battle for Ukraine. While the chances of derailing the project as such are low, Ukraine can still reach "a draw" if Kyiv manages to capitalise on US sanctions.
Back in 2019 very few believed that it would be possible to delay putting Nord Stream-2 into operation. However, American sanctions proved to be effective. Not only has the construction of the pipeline been slowed down, but there is also a growing probability that it will never be completed.
However, hoping for the best is hardly a good strategy for Ukraine. Given the Biden administrations' more flexible approach, one might assume that some kind of a compromise agreement is likely. Europe needs diversified supplies of natural gas. Gas companies need a return on their investment. US firms want to secure a share of Euorope's LNG market, thereby preventing excessive Russian control over the region's security. Everyone except Russia wants Ukraine to maintain a transit role.
Securing more support from the US and the EU, tightening conditions of gas deliveries through Nord Stream-2, and reducing Europe's dependence on Russian gas is the right strategic objective for Ukraine.
Decoupling from the Russian economy
BM: After the war in the East and the gradual decoupling of the Russian and Ukrainian economies, what do you feel is the cost-benefit analysis for strategic industries for Ukraine, especially defence, space, and shipping?
NK: Since 2014, Russia's share in Ukraine's foreign trade dropped about four times and is likely to decrease further. Instead Ukraine is trading more with the EU, exploiting possibilities of the Association Agreement, and with Asian markets, most notably the Chinese.
Ukraine buys from Russia roughly the same goods, although in smaller volumes. Ukrainian imports from Russia are largely the same as they were before 2014, with 60% comprising energy resources. However, Ukrainian exports to Russia have changed more significantly. There is now less agricultureal produce and timber while chemicals have doubled their share.
The long-term trend is a decoupling of the two economies, with Ukraine seeking alternative destinations for its agricultural exports. More advanced sectors in bilateral industrial cooperation are certainly struggling. Airplanes, naval gas turbines, rocket guidance systems, helicopter engines and other defence systems have stalled.
Producers of such equipment in Ukraine have been struggling to diversify their partners. Although some of them may find it difficult, industry is adjusting. Quite naturally, this kind of bilateral cooperation would suffer under war conditions.
BM: Ukraine is a commodity superpower, with many of its trading partners lying in the Far and Middle East. What is the effect of the Sea of Azov embroglio on its international trade? Is Brussels doing all that it could to assist?
Sea of Azov – another hot spot
NK: Since autumn 2018, the Sea of Azov has become another hot spot in the Russian-Ukrainian conflict. Following the capture of Ukrainian sailors and ships by the Russian navy, the ensuing crisis had a significant short-term impact on the Kerch Strait traffic. The risks of conflict escalation increased. Ukraine introduced martial law and threatened to remounce its 2003 treaty with Russia for cooperation in the use of the Sea of Azov and the Kerch Strait.
For several months these developments have disrupted maritime trade. Ukraine's biggest ports on the Sea of Azov, Mariupil and Berdyansk, lost up to 30% of their trade volumes, mostly wheat and metals. The average time of delay for ships increased from 24 to about 32 hours. But a semblance of normality has been restored, although the long-term perspective is potentially dangerous.
To meet these challenges Kyiv plans the construction of a naval base on the Sea of Azov, with new defence infrastructure, including a Neptune anti-ship missile system. Control over the Kerch Strait provides Russia with opportunities to disrupt Ukraine's maritime trade; although Russia itself is also losing due to destabilization in the sea, which is important for Russian trade with the world.
There is not so much the EU can do here. Political pressure on the Kremlin, partly backed by large trading companies, would be the best response.
BM: The European Commission facilitated trilateral talks between Ukraine and the Russian Federation. Would you consider them successful?
NK: Negotiations were as successful as one might have expected from talks between parties in an open military conflict. The result was not an overwhelming victory for either side, and reflected uncertainties about the future of the European energy market as well as the extremely complicated relations between Kyiv and Moscow.
Ukraine secured natural gas supplies from Russia and some transit rights. None of those seemed guaranteed at the end of 2019, when the agreement was signed. An old contract was expiring, while the Nord Stream-2 project faced fewer problems than today. Without a new agreement Ukraine could have lost almost everything. The agreement guaranteed transit of 65 billion cubic metres of Russian gas through the Ukrainian transportation system in the first year, and 40 billion cubic metres of gas in every year following.
Kyiv had to drop its financial demands from Gazprom. That was an acceptable price, given that Gazprom still had to pay $2.9 billion to Ukraine in accordance with the Stockholm arbitration process.