Brussels (Brussels Morning). Following the illegal push of migrants towards the Polish border, Germany's Foreign Minister Heiko Maas called for new EU sanctions against Belarus. Currently more than 166 people and 15 entities linked to Lukashenko's regime have been sanctioned. Unfortunately, this is not enough.
The grindingly relentless process of cornering Alexander Lukashenko by diplomatic means has resulted in Europe's last dictator starting to react illogically. The state-ordered hijacking of a Ryanair flight, the abusive tirades and constant threats about EU leadership, the provocations along the borders and the brutal targeting of civil society activists, all attest to this. They are the actions of a person desperately trying to stay in power by any and all means.
As Angela Merkel tries calling Lukashenko in an effort to discuss ways of delivering humanitarian aid to the migrants trapped on the borders, Belarus is threatening to cut off the EU bloc's gas supply.
In order to understand the chaos of a deteriorating situation, Brussels Morning spoke to the Belarusian opposition leader, Pavel Latushko. The former culture minister and ambassador to Poland, France, Spain and Portugal, and erstwhle Belarusian representative to UNESCO, Latushko is a member of the country's political elite. Since October 2020, he has been leading the National Crisis Management political body, a proto-government set up by the Belarusian opposition with the stated objective of facilitating a democratic transition.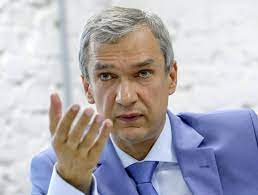 Angelos Kaskanis (Brussels Morning): How would you characterise the crisis taking place all across the Belarusian borders with Europe? What is Alexander Lukashenko trying to prove?
Pavel Latushko (PL): This is a new form of international hybrid terrorism. Lukashenko's goal is to force the EU to the negotiating table, thus blackmailing the EU. He wants recognition after the rigged elections and the lifting of sanctions after the mass repression in Belarus, which continues every day. He also wants to take revenge on the European Union and show his strength and superiority.
BM: Germany's Foreign Minister Heiko Maas has called for new EU sanctions against Belarus. Do you think the diplomatic tools used over the years have been effective?
PL. Sanctions are an instrument of pressure on Lukashenko, but they have always been applied very slowly and are not very effective. The democratic forces of Belarus said back in September last year that a sick person should call an ambulance, and not wait to go to the hospital himself. The Europeans showed a low level of willingness to make use of all the possibilities. This allowed Lukashenko to imprison thousands of political prisoners, to continue the torture, to arrest more than 40,000 Belarusians, and to dismiss tens of thousands of Belarusians for political reasons. He did not start an investigation into a single murder of peaceful Belarusians by members of the security apparatus. He regrouped his forces and struck the European Union, but of course, he could not do it himself without an ally.
BM. Would Lukashenko drag Putin, his only ally, into a full-scale conflict in the region? What should the next steps be in diplomatic terms?
PL. Lukashenko is provoking a military conflict as a matter of urgency. Now he has to sell a picture for the Western media of thousands of migrants who want a better life in Europe. It is simply impossible to exclude the human factor – migrants may not withstand the current situation and it may become uncontrollable. The military conflict on the border suits both the interests of the Kremlin and of Lukashenko. In this case, Russia will introduce armed contingents to protect an ally, and Lukashenko will build an impenetrable wall against Europe in order to preserve himself in office. Therefore, we say that we need non-standard instruments knowing that Lukashenka will obey only the strong. It is necessary:
First of all, Lukashenko should be stripped of any form of international political and legal recognition as president. Western media, for example, still use the word "president" next to Lukashenko's name. This is unacceptable. On top of that, Western politicians, having imposed sanctions, simultaneously agreed to the IMF's transfer of 1 billion in aid to Lukashenko. Secondly, he should be recognised as an international terrorist and a person who commits crimes against humanity. Thirdly, there should be stronger sanctions, including the closure of the border and the shutdown of all financial resources.