Brussels: a multicultural mosaic
Belgium (Brussels Morning Newspaper) Exploring Brussels reveals a captivating sight: people hailing from diverse corners of the globe. The city's various neighborhoods, each with its own distinct cultural essence, contribute to an environment of rich diversity, driving Brussels to its esteemed position as the world's second most cosmopolitan city.
As a newcomer in Brussels, I had my first experience with the vibrant tapestry of cultural diversity. Brussels has many ethnic neighborhoods, and each one has a story to tell.
With representation from approximately 184 nationalities, Brussels emerges as one of the most racially and ethnically diverse areas globally. Nearly 40% of its residents are foreign nationals, highlighting the city's inclusive and multicultural character.
I was wondering how people from diverse backgrounds come together, sharing, and embracing each other's culture. So, I asked Marian. She is a Mexican student at the VUB, and she is a board member of the WeDecolonizeVUB, a student-led project aiming to create space for racialized students and deconstruct Western-dominated worldviews.
What is the vision of WeDecolonizeVUB? Why did you decide to create this small diverse community within the university?
WeDecolonizeVUB started as a response to the lack of diversity and decolonial practices within the university. The university environment was predominantly characterized by a white, male, and Euro-centric perspective. To bring about a more diverse atmosphere, there was a strong need to deconstruct these existing structures and create space that acknowledges and celebrates the ethnic diversity that already exists within the university community.
How do you actively embrace and celebrate the diversity and multiculturalism within your community?
WeDecolonizeVUB creates an open and inclusive space for everyone through a range of diverse activities. Our university library is our physical space and, also, our safe place. We welcome people from different backgrounds and really listen to them and their needs. The library is filled with books written by authors from diverse racial backgrounds. There are books for everyone, fiction, and non-fiction. Actually, the library is built by the student, so it's what the students want. We usually organize book clubs and discuss a book and its topic.
We, also, organize events, that go along with our mission and vision. The gatherings work as a platform to talk about different topics. For example, recently, we organized an event centered around the intersection of Islam and gender. And I am glad because many people joined.
Do you encounter any challenges in your efforts to inspire more students to join your purpose?
Within our WeDecolonizeVUB team, we don't face any problems. I've personally learned to appreciate the people who come to support us. We've gotten pretty good at handling sensitive topics without causing unnecessary conflicts. Of course, not everyone may be a fan of what we do. People say that we exaggerate, we are crazy! But there is a community within the university that values that.
I don't know if I can speak for everybody but if there are some who don't feel comfortable with us being here, it speaks more about them. We just create space for us to exist, as we are.
Inclusivity and rainbow flags
Brussels is a vibrant city where people embrace their sexuality, feeling liberated to express themselves and proudly show their true colors. In particular, Belgium has achieved an impressive second-place ranking with a percentage of 76% in a recent assessment.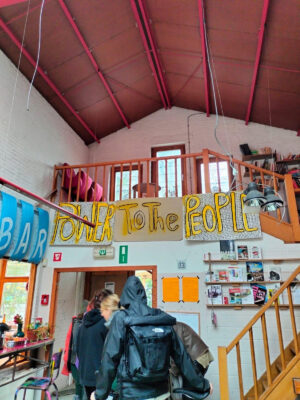 In the context of inclusivity and the LGBTIQ+ communities, I had the opportunity to chat with Rémy Bonny, the executive director of Forbidden Colours, an organization dedicated to LGBTIQ+ advocacy and support in Brussels, with a particular focus on the European Union.
Forbidden Colors has played a pivotal role in raising political awareness regarding anti-LGBTIQ+ initiatives through media platforms. They have brought attention to critical cases, including the anti-LGBTIQ+ propaganda law in Hungary, the anti-LGBTIQ+ education reform in Poland, and the urgent needs of LGBTIQ+ individuals seeking refuge amid Russia's conflict with Ukraine.
How do you manage to help people all around the world, not just in Belgium?
The most important thing is to keep contact with people on the ground and all of this, because, of course, we are here in Brussels, which is a bubble, as you know. We need to make sure that we leave our ivory tower from that time and actually go to the Member States, go to talk to people living there, in countries like Hungary. But even in a country like Belgium, there are also communities here where being LGBTQ is still very, very difficult. In comparison with Hungary, we do the average, we can live a very much better life. But there are also certain communities with religious backgrounds and so on where it is much more difficult to be openly a member of the LGBTQ+ community. That's why we always say, and that's part of our job as well, is while we do a lot of the EU high-level advocacy, at the same time we do fundraise and fund projects all around the European Union that are very, very grassroots. I can give you a few examples of that. Last year, we financed the Budapest Pride Parade. Another project is in Poland, another country where there have been quite some difficulties with LGBTQ equality over the last decades. There we finance, for instance, a school project and it's called an LGBTQ plus school ranking. This project has been going on for the last five years. Now we see that there is even evolution in the schools.
If you're here in Brussels and never leave your ivory tower or your office in Brussels, you will never really understand what the demands of your community actually are. That's the innovative thing that we want to bring is we are going to visit our partner organizations in the member states several times a year and of course, we cannot go to every single country and every single organization. But we do prioritize a few countries, of course.
Belgium is really high on the LGBTIQ+ ranking scale, but there are some initiatives like the ''gender ideology'' introduced by the far-right party. What is your answer to those anti-LGBTIQ+ movements?
First, I think we need to be more communicative, as the LGBTIQ+ community. In the last two years, we saw improvements in the ranking scale, and we celebrate our victories. But we didn't pay attention to those initiatives. Those ideologies spread around Europe. We saw that in Hungary, Poland, Italy, and Belgium.
We need to create more visibility; The Pride is a part of that. Unfortunately, I see that other organizations are comfortable, and they did not campaign for our rights anymore. They lay back and work behind the scenes. However, I think that we achieve anything working behind the scenes. I think we can achieve more if we are outside on the streets demanding. Also, is important to talk to people because nobody was born anti-LGBTIQ+.
Having attended Pride events on both the western and eastern sides of Europe, what notable differences have you observed between the two in terms of their rankings and overall experiences?
The difference is that in the west side of Europe. It is a party. However, on the other side is a protest. It is the only day in the year that we are safe, we can party. We can protect each other. That's why this day is important to us, because not only we can make a statement, but also, we are safe to show our true colors.