Belgium, (Brussels Morning Newspaper) Before the Islamic State and the rise of radicalization, several networks were active on the internet, in mosques, and in various cultural associations. Many members of social groups were unaware of their existence and many religious leaders were unable to even recognize what was happening.
But today, after so many years, we have examples to study, social issues and norms to present to the public and all the tools to fight radicalization. And this by protecting those who have dedicated their lives to the defense of peace, social cohesion, respect, and prosperity.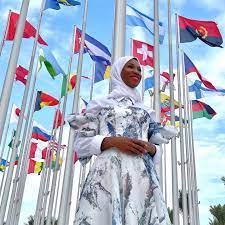 Angelos Kaskanis, on behalf of Brussels Morning, sat with Ms. Elle B. Mambetov, a UN Diplomat of Guinea Bissau-Advisor of Attaché Water/hunger scarcity & counterterrorism. Elle B. Mambetov is a fashion designer, boutique owner, former FARFETCH partner, author, activist, and a proud Black Muslim woman. She shares her perspective and valuable insights into the dark world of wealth, fashion, and radicalization.
AK: There is a radicalization network that thrives within fashion galas, VIP parties, and meetings held behind closed doors. Could you please begin with an example?
EBM: Beyoncé dazzled in a yellow Atelier Zuhra gown in Dubai for the opening of the Atlantis The Royal hotel, whilst Atelier Zuhra founder Rayan Al Sulaimani forces the brainwashing of a radicalized version of Islam with the action of public ruin for those who do not comply. As Sulaimani and her partner in London Jalila Elmastouki mask fashion services for blackmail and fraud in order to get the money they threaten ruin, then demand more money. Beyonce twirled at the same time the Commander's office for Economic and Cyber Crime in the UK and Action Fraud UK were receiving evidence of fraud by Rayan and business partner Jamila of £21,000 GBP (Approximately $26,000 USD) and a blackmail attempt for an additional £21,000 GBP more. Amongst a budding fashion industry of creatives spanning across the GCC lies corruption, and the threat of ruin if one doesn't succumb to the radicalized practices of Islam. 
AK: What are the means that you witnessed being used and in what extent? Who is behind all this from your point of view?
EBM: Threats of violence, stalking, obsession, tantrums, and manipulation using Allah as a reason to demand what they want; exacerbated by a sense of entitlement and idle habits of leisure without proper business skills, perhaps triggered one's absolute obsession in attempts to force me into submission of a radicalized version of Islam and behaviors suitable to what I would only describe as a sleeper cell; all in the name of fashion. Stemming from both Dubai and Saudi Arabia, although The United Nations reported on February 2, 2023, the resolution of the 'racism' complaint brought by Qatar against UAE and Saudi Arabia, the question remains if this is A: a true resolution and B: is this a resolution on the surface that will struggle to penetrate deeper levels of UAE and Saudi Arabian society? Qatar long reported Smear Campaigns as the epicenter of betrayal between neighboring countries in the GCC. A/HRC/40/52 The UN Special Rapporteur on the promotion and protection of human rights and fundamental freedoms while countering terrorism acknowledged that the current counter-terrorism framework enables repressive national measures against lawful non-violent activities of civil society and the targeting of "undesirable" individuals within civil society. 
AK: What is being discussed in the industry and how does the radicalized network react if someone does not play by the rules?
EBM: "I am so pissed off and fed up" "I will continue to do everything to take your name out of the industry" "You can never change this reality. I am not a stupid person and believe in me you are not clever as you think you are." "We have to warn everyone about her, she's not one of us" Islamist extremists believe violence is an acceptable means to an end, with the threat of REMVE including the bidirectional sharing of violent extremist messaging. Currently, three WhatsApp groups with over 100 members are dedicated just to me. Within these types of groups, REMVE [racially and ethnically motivated violent extremists] members are activated with the dedication to the destruction of one who has refused to conform to radicalization and threats. Ian Moss, U.S. Deputy Coordinator for Countering Violent Extremism And Terrorist Detentions reminds us that "REMVE is not a new phenomenon, for certain, but its evolution as a prominent, global threat is alarming, aided in part by the decision by certain social media platforms and online chatrooms to exercise little or no moderation of content." 
AK: Many times young people fall victim to propaganda and extremist ideology, even in the safest and most highly-profiled environments. The world of wealth and fashion is very lonely, full of career traps, and more. Do Arab brands safeguard adequately their most valuable assets, human capital? 
EBM: Having previously spent over a decade in fashion, with the last two years engaged in the Arab fashion community, I can assuredly say that REMVE trends related to the global REMVE movement are in fact prevalent. Unable to see what the rest of the world sees, they are consumed and obsessed with their version of reality, coloring outside the lines that most stay within. Christine Abazaid, Director of the National Terrorism Center states that unlike twenty-one years ago, the public today is more likely to experience a terrorist attack by an individual attacker than a highly structured terrorist organization. Bad behavior, nor an Arab fashion brand's inability to follow standard Western business practices and contractual obligations is not the main issue of rhetoric, though should also be discussed. When a U.S. bank, blocks transactions for "security reasons" and restricts all account activity and visibility for 13 days both in the branch, online, and mobile after an attempted transaction to Dubai, and then Saudi Arabia, there is something larger at play. Farfetch's continuance of the Ramadan feature despite warnings of U.S. banking security notifications in connection with specific Arab brands shows carelessness and the unregulated shipping process used by Farfetch exemplifies a dangerous paradigm of money over public safety. 
AK: What is the future face of radicalization? Where can the West and the Arab fashion industries meet?

EBM: The landscape of terrorism, and what it looks like both domestic and foreign is changing. Can lack education and/ or socialization be to blame for extremism and radicalized behavior? No. With more money, more access, more advanced degrees, and more entrepreneurs than most Western countries, the competency level in Arab countries is certainly high enough for one to recognize and distance oneself from or adhere to extremist or radicalized behavior. The idea is not to force Islamic territories to behave and conform to Western ideologies, but to find a peaceful resolution between differences of ideologies and schools of thought, while still being brave enough, and responsible enough to articulate a stance against extremism and radicalization when it is happening.