Brussels (Brussels Morning) As Germany heads to the polls in September and the Czech Republic in October, the Greens are looking to play a major political role in Europe. This newfound political influence could be significant as individual EU member states are submitting their own roadmaps for exiting the pandemic-induced crisis, dubbed Recovery and Resilience Facility (RRF).

These RRFs are at the heart of a composite NextGenerationEU master plan that sets the tone for EU recovery. These plans will detail how the EU will allocate €672.5 billion to support reforms, of which €312.5 billion is in grants and €360 billion in loans.
Discussing the "Green Plan" for this Green New Deal, Brussels Morning talks to Eleonora Evi, MEP (Italy), member of key parliamentary committees, including "Environment, Public Health and Food Safety Commission (ENVI)" as well as "Energy and Research."
Sarhan Basem: Germany could soon have a Green Chancellor and it is almost certain the party will play a role in the governing coalition. To what extent is this significant as Europe is negotiating the implementation of the Green New Deal?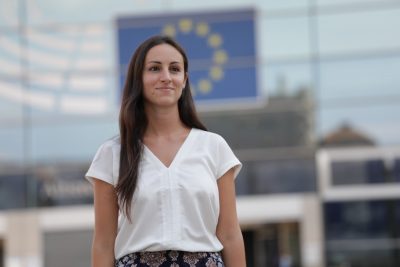 Eleonora Evi (EE): We look at the upcoming federal elections in Germany with great expectations and anticipation. These will be the first climate elections in Europe, where parties have to clarify from the start what tangible measures they intend to take in order to address the climate crisis and its repercussions on the everyday life of citizens. This is very urgent, not only to face up to the pandemic or extreme weather events and their dramatic life tolls, but also to mitigate the effects of the climate crisis on how we do business, how we dwell in cities, how we travel around – and especially the most vulnerable among us.
As a European observer, it seems to me that Annalena Baerbock and the Greens have the cleanest track record and the most credible recipe for the next German government to tackle this crisis and exercise its EU leadership towards the same direction, which is a coherent and effective implementation of the Green Deal. I cannot but think that insufficient, if not damaging policies, like the 55% reduction target in the European Climate Law or the horrific deal on CAP, would not have been agreed with a Green German government.
SB: To what extent do you feel Italy is "on the right side of history" when it comes to averting public investment in fossil fuel energy infrastructure?
EE: Our position is clear: there can be no ecological transition without energy efficiency, electrification and supply from renewable sources. These are the guiding stars of renewal. For this reason, we have urged the Commission to rigorously evaluate Italy's Recovery and Resilience Facility (RRF) plan against the ecological transition's binding objectives.
Our intervention was partially accepted, requesting for instance the limitation on fossil fuel investment infrastructure such as gas boilers, diesel tractors, gas buses. However, numerous projects that are only superficially sustainable find ample space in the Italian RRF.
And there is more. Thanks to our pressure, there should be no place in Italy's RFF for subsidies towards the fossil fuel giant ENI. However, fossil industries still have ample room for manoeuvre when it comes to the Plan's implementation. That's why we must remain vigilant, especially concerning hydrogen. That is increasingly at the centre of the debate. Perhaps, thanks to our intervention, the crisis of a completely disastrous RRF has been avoided, but we are still far from the path traced by the EU with the objectives of the Green Deal.
SB: Following the experience of the Yellow Vest movement, does the Green movement have a cohesive plan on who will pay the social cost of transition to a zero-emission economy?
EE: Yes, we Greens believe in a just and fair transition to a zero emissions economy which leaves no one behind. This is possible by stopping fossil fuel subsidies worth at least €55 billion of public subsidies in Europe; stop financing fossil fuels and climate-damaging projects (like the Turin–Lyon high-speed railway which will cause emissions till after 2050); put a price on carbon and set a carbon border adjustment mechanism for imported emissions; shift the economic burden away from citizens and on to the polluters. The revenues should be invested in projects that protect the environment as well as used to economically support the most vulnerable regions and citizens.
SB: Europe's two main trading partners are China and the United States, who are also the world's first and second-biggest polluters. Can Europe maintain an "open horizons" environmental diplomacy, while picking a side on human rights and security?
EE: I believe that in the global fight against the current climate and biodiversity crisis, Europe should be leading by example. We need to set ambitious targets for ourselves and push for equally ambitious commitments at the upcoming international forums, namely the COP26 in Glasgow and the COP15 in Kunming. We need to encourage our international partners to replicate a similar level of ambition but stand ready to access to our single market as leverage if they don't follow suit, enforcing the same environmental standards to all corporates that want market access. Only this way we can push for an ambitious climate and environmental agenda internationally and give teeth to domestic and international commitments in this field.
By the same token, when it comes to human rights, we cannot afford to send the message that our economic interests come first and for their sake we are willing to turn a blind eye on human rights violations. On the contrary, we need to make clear that human rights are a central element in our engagement with third parties. Unfortunately, this still doesn't seem to be the EU's guiding principle: striking an investment agreement with China, which fails to address its harshest policies, such as the mass detentions and forced labour of Uighurs in Xinjiang and the crackdown on Hong Kong, it's perhaps the perfect example.