Belgium (Brussels Morning Newspaper) Germany is facing growing pressure from the US and its European allies to consider either sending some of its Leopard 2 tanks to Ukraine or at least allowing other countries that have them to export the German-made tanks to the war-torn country.
The pressure comes ahead of the meeting of western countries providing military assistance to Ukraine, scheduled for 20 January, and the Franco-German summit set to take place on 22 January, with the goal to reach some kind of a wider agreement between western allies to provide heavy, offensive weapons systems to Kyiv.
Ever since the start of the Russian invasion of Ukraine, Berlin has been reluctant to set the pace for military aid, and has been dragging its feet on providing weapons systems to Ukraine, only deciding to send systems of increasing complexity and lethality once its allies have done so themselves.
The latest pressure on Berlin comes in the form of Britain announcing plans to send its Challenger 2 tanks to Ukraine, while France and Poland are reportedly urging Germany to consider participating in the plan to send German-made Leopard 2 tanks to Kyiv.
Taboo broken
Last week, France broke the western taboo of sending western-made heavier military vehicles by announcing plans to ship its AMX-10 RC reconnaissance vehicle to Ukraine. While the AMX-10 RC is not a tank, in that it uses tires instead of tracks and lacks the heavy protection of most main battle tanks, it is still the most powerful western-made combat vehicle a country has decided to send to Ukraine, armed with a cannon which can defeat Russian tanks directly.
Previously, the western countries shied away from sending offensive combat vehicles, sending instead only lightly armoured infantry transporters, such as the 60-year-old M113 armoured personnel carrier or MRAP or Bushmaster light vehicles, all of which are protected only against small arms fire and artillery shrapnel.
A day after the French announcement, Washington and Berlin jointly announced plans to send infantry combat vehicles to Ukraine – the US would send M2 Bradley combat vehicles, while Germany would send its Marder tracked vehicles. Both weapon systems are intended to provide solid protection to mounted infantry and are also armed with heavy anti-materiel cannons which can defeat Russian troop transports and anti-tank missiles which can defeat enemy tanks.
"What the west has done so far, (it) has provided training and equipment and ammunition to Ukraine so the Ukrainians would not lose the war," said Lord Richard Dannat, a retired general and former Chief of the General Staff of the British Army. "Frankly, we now need to help them to win it."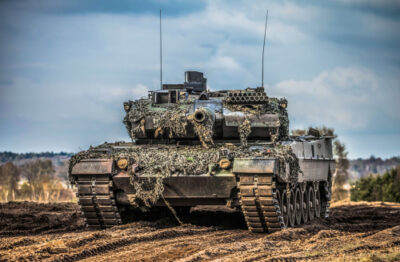 Pressure growing
Sources within the British armed forces hinted that the UK would send a small number of Challenger 2 tanks – between 10 and 15 – to Ukraine. The number itself would be relatively insignificant – sufficient to equip a company-sized unit with tanks – but the gesture itself could make Germany's reluctance to provide its own tanks untenable.
Other pressure on Berlin is coming from Warsaw, which reportedly wants to donate some of its Leopard 2 tanks to Kyiv. Poland currently has some 249 Leopard 2s in its inventory, but it would need permission from Germany to export them further.
According to Polish Prime Minister Mateusz Morawiecki, Poland would not act on its own but is hoping its donation of tanks could be a part of a wider agreement between western countries to provide a significant number of Leopard 2 tanks to Ukraine.
West German manufacturer Krauss-Maffei started producing Leopard 2 tanks in 1979 and has produced some 3,600 units to this day. The huge production figure means it would be significantly easier to provide spare parts and logistics support for the German tanks than for many other western alternatives. An additional advantage of this tank is that it is part of the arsenal of many EU and NATO countries.
European initiative
A potential joint delivery of these tanks would not depend solely on Germany and Poland, but could also include Denmark, Finland, Greece, Norway, Portugal, Spain and Turkey. Leopard 2 is also part of the armed forces of Switzerland, Austria and Hungary, though these countries are very unlikely to participate in any kind of joint arrangement – Bern and Vienna are not NATO members and are preferring to remain neutral in military matters, while Hungarian Prime Minister Viktor Orbán appears unlikely to make moves that could directly harm Moscow.
Several western military analysts believe that fighting in Ukraine is likely to intensify this spring, as Russia is training approximately half of its drafted recruits to restart a fresh offensive on Ukraine as soon as the mud dries. Ukraine, on the other hand, is preparing a counter-offensive to regain parts of its lost territory, aiming at key supply lines for the Russian forces in Donbas, and the land bridge connecting Crimea to the Russian-occupied territory in the east of Ukraine.
According to some estimates, Ukraine would need four to six fresh armoured brigades to make a successful counter-offensive, which makes deliveries of new weapons systems crucial to achieving these plans. Tanks remain important battlefield assets and play a key role in combined arms units, backed by infantry fighting vehicles to protect them from anti-tank weapons, and in turn, protecting the infantry from heavy armour.
The west has already organised a donation of some 90 Soviet-made T-72 tanks from the Czech Republic, which are currently being refurbished in cooperation with the Netherlands, but Kyiv will need more – not just in quantity but also in quality – for its armoured brigades to stand a chance of making a break through the defensive lines the Russian forces have been reinforcing throughout the winter.