Turkey and Greece have been defending their competing claims over the Eastern Mediterranean for decades. Turkey argues that the maritime boundaries should exclude the small Greek islands near the Turkish coast.
Ankara accuses Athens of trying to expand its grip over Eastern Mediterranean oil and gas resources without granting Ankara its fair share. Greece maintains that all parts of its sovereign territory are of equal significance and that accuses Turkey of pursuing an expansionist agenda through its "Blue Homeland" naval concept. Greece claims Turkey threatens its sovereignty.
The context of the maritime dispute
The delineation of maritime borders is a complicated matter whether applied to the Aegean or the Pacific. With the advance of deep-sea resource extraction technology, disputes about oil and other energy resources under troubled waters are likely to proliferate. According to Greece's Prime Minister Kyriakos Mitsotakis, Athens has the legal right to extend its territorial waters along its western coastline facing Italy from six to twelve nautical miles. The territory at the centre of the Greek-Turkish dispute remains unaffected.
In the past, Turkey has warned that a Greek extension of its maritime sovereignty to 12 nautical miles in the Aegean Sea – facing the Turkish littoral coast – would be seen as a provocation resulting in a war. Presenting a fellow NATO member state with a casus belli is not conducive to "community-building" of the kind Greece, Cyprus and Turkey seemed to be developing in the early 2000s, a time associated with Ankara's bid for EU candidacy.
From a bilateral issue to an EU challenge
This is no longer a bilateral issue. Germany plus four EU members states — France, Greece, Cyprus, and Italy — are currently involved in joint naval military exercises in Cypriot territorial waters.Their purpose is to deter energy exploration in disputed waters, something Turkey pursued for several weeks, its research vessels being accompanied by warships and jet fighters.
Germany's Foreign Minister Heiko Maas pointed out the risk of further military escalation during visits to Greece and Turkey when attemting to facilitate a dialogue. "People are playing with fire and a small spark could lead to disaster," he warned.
France has emerged as a core ally for Cyprus and Greece against Turkey's strategic plans in the region. French Defence Minister Florence Parly announced a two-day military exercise in August 2020, insisting that "respect for international law must be the rule and not the exception."
France challenges the neo-Ottoman narrative
France dispatched naval and air force assets in the first two weeks of August. French officials criticised Turkey – a NATO member state – for its support of the internationally recognised government in Libya. In return for a controversial maritime energy deal that would extend Turkish drilling rights in the Eastern Mediterranean, Turkey has dispersed ammunition, military equipment and troops to allies in the region.
Meanwhile, Greece raised €2.5 billion euros in a bond auction as the country seeks to increase military spending and raise funds for businesses affected by the coronavirus pandemic.
The first and only procurement choice by Athens was to consider the purchase of 18 French-made Rafale jet-fighters and at least one frigate. The arms deal apparently also extends to air force missiles, new navy torpedoes, and anti-tank shells. Greece's Prime Minister Kyriakos Mitsotakis says Athens will acquire the 18 Rafale warplanes along with four multi-purpose frigates and four navy helicopters. For Dassault Aviation, the Greek acquisition is a breakthrough. It is the first European order of the multi-role jet fighter, previously sold only to Egypt, India, and Qatar.
"I am delighted with this announcement, which reinforces the exceptional relationship we have had with Greece for nearly half a century, and I thank the Greek authorities for their confidence in us once again. Dassault Aviation is fully mobilised to meet the operational needs expressed by the Greek Air Force, and thus contribute to ensuring Greece's sovereignty and the safety of the Greek people," Eric Trappier, Dassault Aviation CEO, said.
Greece has a long history of using French jet-fighters, ordering its first 40 Mirage planes in 1974, an additional 40 Mirage planes 2000 in 1985, and finally 15 Mirage fighter planes in 2000. This agreement is the second of its kind in the region for France. Cyprus signed a deal with MBDA back in February 2020 for the supply of Mistral (surface-to-air) and Exocet (anti-ship) missiles, at an estimated cost of €240 million.
Overall, France is positioning itself with Greece and Cyprus against Turkey across the Eastern Mediterranean, including Libya. EU leaders are due to discuss their stance vis-a-vis Turkey at their October summit. It is possible that the EU could move to impose sanctions against Ankara, although member states are split with France, Greece, and Cyprus advocating for a tough stance, while Germany, Spain, and Italy favour a more conciliatory approach.
Turkey's containment vs. engagement
Brussels Morning approached Dr. Sotiris Serbos, a Greek Associate Professor in International Politics and leading expert in regional security, for an assessment of how Greece is reframing the Eastern Mediterranean dispute and turning it into a dispute involving the EU.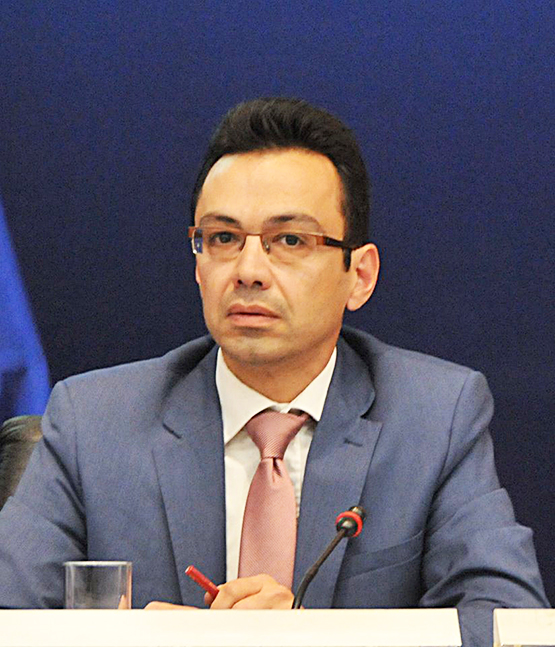 Sotiris Serbos. "From a Greek foreign policy perspective and in the wider framework of Europe's neighbourhood and shifting geopolitical landscape, the time has come to assess EU-Turkish relations via a two-fold approach of containment and engagement.
In a race against time and with the aim of avoiding the return of zero-sum transactional approaches, Europe's struggle to be strategic involves a critical examination of a variety of alternative models that go beyond accession. In a deteriorating and above all geopolitically contestable region, boosting a forward-driven strategy serves as a prerequisite to reclaim EU influence alongside capacity building for projecting stability in a more efficient manner.
In this context, security issues in the South will have to be addressed through an unimpeded upgrade of Europe's security arrangements most likely to be tested by developments in the Middle East and North Africa. Allowing for the present state of affairs in trans-Atlantic security relations and the need to foster European burden-sharing, Greece wants to upgrade its position as an upcoming, front-line state for the EU; a positive development that will further enhance its external balancing strategy over Turkey. Greece recognises that such a project is hardly possible without rekindling efforts towards EU integration. Although this process will be led by Germany in the economic field, France holds the strongest card on defence issues. The prospect of reviving a less asymmetric and more geopolitically balanced Franco-German axis provides a window of opportunity for the future of the EU serving as a deterrent to potential destabilisation.