Brussels Morning talks to President of Georgia, Salome Zourabichvili, where she discusses future NATO membership.
Athens (Brussels Morning) Founded as a nation-state after the Russian revolution for a brief period in 1921, the Republic of Georgia officially regained its independence 70 years later and has since punched above the weight of a tiny post-soviet state.
Its current president has a familial history in line with her country's soured past. Born and raised in France, President Salome Zourabichvili has lineage to the Georgian diaspora that found political refuge in France in 1921.
She was raised as part of the French elite, joined the French diplomatic corps and was appointed head of the Division for International and Strategic Issues of National Defense by French President Jacques Chirac. In 2003, she served as the Ambassador of France to the Republic of Georgia and, in 2004, the Parliament of Georgia awarded her with Georgian citizenship, after which the government invited her to lead the Ministry of Foreign Affairs. During her tenure she left a lasting impression, overseeing successful negotiations that led to the departure of Russian military bases from Akhalkalaki and Batumi.
In 2018, Zourabichvili came to office as the first woman to take office as the President of Georgia.
It is in this capacity that she visited Brussels on 22 January and met with NATO at its Brussels headquarters. The aspiration to NATO membership is not contentious in Georgia. It is a point of consensus among government and opposition. For a country that de facto does not have sovereign control over 20% of its territory – following the 2008 war with Russia – the vision of full integration in the Euro-Atlantic community is a tall order. Brussels morning sat down with the president to reflect on this objective and its implications.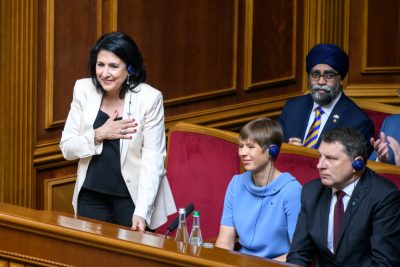 Brussels Morning. One of the milestones of your political career was concluding an agreement for the withdrawal of Russian troops with Russia's foreign minister Sergei Lavrov in May 2005. Russian troops are now present not only in the areas de facto controlled by Russian troops in Georgia but also in the broader region. How do you see the future of this region in this new context? What role can Georgia play?
President Salome Zourabichvili. Something that I have continuously believed in is that the Caucasus should be a region where all major actors are present, instead of just a few. The geopolitical importance of this region should not be left out of the priorities of our EU and NATO partners. Both the European Union and the new Biden administration in the US should be actively engaged toward ensuring stability and peace in our region, whether it is in strengthening the Geneva International Discussions and finding a higher level of political talks to resolve Georgia's conflicts, or by committing seriously to the Minsk Group.
Georgia has consistently been a country of stability, of democratic and economic development. This is exactly why we must continue to develop our role as the beacon of European values in the Caucasus with our partners in NATO and Europe. During the last war between Armenia and Azerbaijan, which was a tragedy for the entire region, Georgia remained neutral and it's important that we manage to continue this situation where we consistently deepen our links with our two close neighbours.
The role of the West in pushing for this stability cannot be ignored. The Caucasus must be a center of trade, of connectivity, of peace. The EU and NATO can help by supporting crucial infrastructure and this is something I underlined during my visit to Brussels.
BM. Twelve years have gone since the 2008 NATO Bucharest Summit. Is Georgia any closer today to NATO integration?
SZ. Much closer. The attitude of our NATO partners is now almost unanimously favorable to our integration path. We see more visits, more vocal support, more statements to support Georgia's national sovereignty, territorial integrity and Euro-Atlantic integration. Our armed forces are a lot closer to the standards of NATO member states than before. Since the beginning of my presidency, I've welcomed to Tbilisi the Secretary General of NATO, the Deputy Secretary General, the NATO Parliamentary Assembly Chair and the North Atlantic Council, who each made very positive statements about Georgia's readiness for integration and about the simple fact that no third party can veto Georgia's accession.
Even if member states are not yet ready to make a political decision about Georgia's membership today, we've continued to work on more cooperation and more partnership. The renewed Substantial NATO-Georgia Package that was approved last December is a good example of how we can constantly expect more and receive more from the Alliance.
The same can be said about military exercises – who could have imagined 15 years ago this amount and level of military exercises held by NATO in Georgia and the reinforced presence on the Black Sea. We see that the stability and development of Georgia is important to our partners, and that's why NATO membership remains so important to us.
But we need more. Georgia has shown its dedication and its resilience. Like I said in Brussels, time has come for the Alliance for further solidarity and audacity.
BM. Georgia's Armed Forces have contributed to ISAF in Afghanistan more soldiers per capita than any member of the Alliance, except the US. How has the contribution affected Georgia?
SZ. Georgia participated, indeed, greatly to both the ISAF and the subsequent Operation Resolute Support. What this shows is that Georgia is a committed member of the international community and it's important that we are part of these global efforts toward peace and security. We've also provided soldiers in Mali and the Central African Republic to help the EU preserve stability in Sub-Saharan Africa.
Afghanistan was the second country I visited once becoming President. This was right after a trip to Brussels, which happened exactly two years ago. What I saw there, beyond the proud dedication of our men and women in uniform, was the deep level of appreciation from all our partners on the ground. In almost every meeting I've had with NATO officials and NATO member leaders, Georgian troops were praised for their bravery and their attitude.
But the benefits from these missions are two-sided. For Georgia, participating in international security missions has raised professionalism and has significantly increased the preparedness of our defense forces.
BM. The Nagorno-Karabakh War and the tensions in the eastern Mediterranean have revealed different priorities and interests for individual NATO member states. France and Turkey are the best examples. How do you see this setup affecting Georgia and, as a whole, the region?
SZ. Ultimately, last year's war underlined what has been true for centuries, which is that Georgia, with its long cultural, religious and neighbourly ties with Armenia and its intensive economic partnership with Azerbaijan, is best suited to play a role in bringing peace and stability in the region. We know the Caucasus, we remained neutral during the conflict, and we have continuously called for peace and cooperation.
Of course, as I've said before, and that's something that I made sure to underline during my meetings with our partners in Brussels, Europe and Washington have a role to play. Maybe even a bigger role to play than what they've been willing to provide until now. It's key that the new US administration participates in these efforts toward regional stability.
In the end, the future of our three countries in the Caucasus is to make this region one of connectivity, stability and prosperity. We have this as a major common interest.