London (Brussels Morning) Environmental protesters are currently taking action against a high-profile high-speed rail project by Euston Station, London, a nine-minute walk from the departure point for European destinations like Brussels and Paris.
Opposed to what they say will have a devastating impact on communities and green spaces, the activists have built a network of tunnels to occupy with enough food and water to last several weeks. Still ongoing, around 12 protestors kicked off the action while nine remain underground.
The activists, part of HS2 Rebellion, an offshoot of the global environmental guerrilla activist group Extinction Rebellion, have attempted legal action to stop eviction efforts with Dr. Larch Maxey applying for an injunction this week. However, a judge denied the request calling the situation "very dangerous", while HS2 Ltd insisted protesters should leave "for their own safety".
"If Dr. Maxey does not comply with the order to leave the tunnel (or the other obligations), he will now be in contempt of court, punishable by a fine, up to two years in prison or both", said an HS2 spokesperson.
Bailiffs are now at the scene having built a parallel shaft to compel activists to leave.
What is HS2 and why the rebellion?
Tunnellers have specifically taken action against the destruction of the green space of Euston Square Gardens they say would be levelled to create a car park in expansion plans for the 106-billion-pound rail project.
The implications are wider than this, though, says HS2 Rebellion, with the destruction of 108 ancient woodlands and the forced removal of people from their homes and businesses.
The project will connect London to the Midlands and north of England as well as Scotland, which HS2 Ltd says will deliver major benefits.
HS2 took over the space at Euston Square Gardens "to progress with works necessary for the construction of the new Euston station", according to the company.
It further says that HS2 would provide a "greener, cleaner way to travel", and cut the number of vehicles on the road and in-country flights.
Additional controversy has arisen as the government-backed transport initiative has gone over budget and past schedule.
Initial estimates in 2010 budgeted for a 30.9-to-36-billion-pound construction project, this turned into 56.6 billion in 2015 and between 80.7 billion and 88.7 billion pound in 2019. In 2020, that budget was 98 billion pounds.
Large-scale infrastructure projects are naturally pricey, similar initiatives to promote connectivity around Europe have budgets ranging from the millions to several billion pounds. The Seine-Scheldt project connecting Paris to the North Sea and ports of Dunkirk, Antwerp and Rotterdam for instance, will involve constructing 177 kilometres of new canal routes, costing 88 billion euros. Meanwhile, a similar high-speed light rail project between Italy and France will cost 25 billion euros. The 270-kilometre rail network around a quarter of the budget of HS2 while extending half the equivalent distance.
Activists in danger
HS2 Rebellion has posted updates in a WhatsApp group sharing photos of the action. They have raised concerns that bailiffs are now putting them in danger by coming down the downshaft of the tunnel network to evict them.
Some of the protesters have locked themselves in at points along the tunnel.
One protestor, the group labels "tree protector", called Lazer, was surrounded by bailiffs, according to HS2 Rebellion updates, adding it was likely he'd be removed tonight.
Other "tree protectors" would likely need to be dug out, they said.
Describing why he was participating in the action, Lazer said: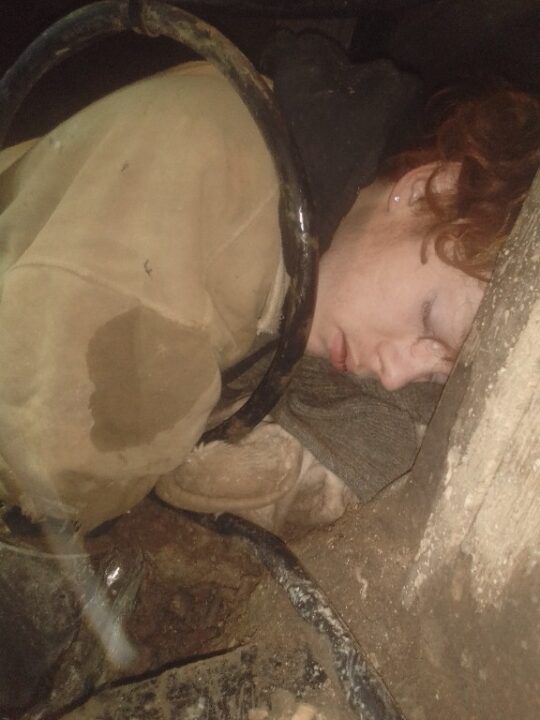 "I'm only doing this because I don't have a choice. I shouldn't have to, but we are now in a total emergency. The lives of people in my generation are being risked by carbon guzzling vanity projects like HS2. HS2 uses huge amounts of high carbon steel and concrete and it will only make the climate emergency worse. It has to be scrapped now, and the money spent on something useful like health or housing".
Justice Knowles has said the protesters had to stop tunneling immediately and provide tunnel layouts to help get people out from underground.
Now what
An HS2 spokesperson lamented Maxey and protesters had not complied with orders to provide details on the tunnel layouts.
Knowles also said tunnellers should be able to access lawyers at the site and told HS2, the Health and Safety Executive and London Fire Brigade to consult with Peter Faulding, the tunnel expert advising HS2 Rebellion.
Extinction Rebellion also offered solidarity this week by scaling the walls of HS2's buildings, releasing the banner with the words, "Essential work should heal not harm".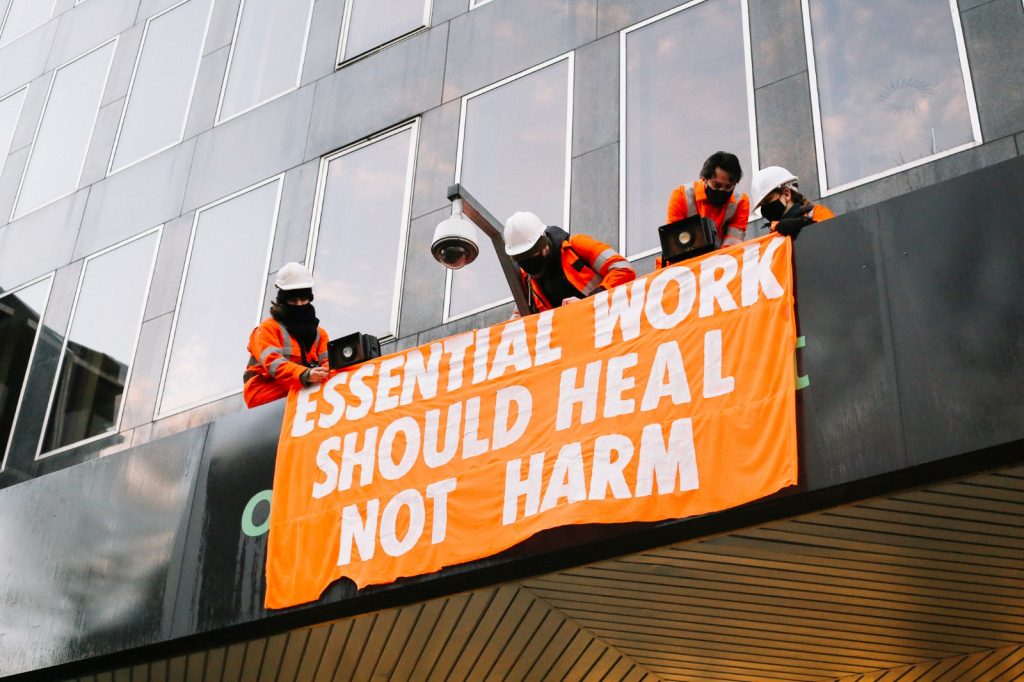 "In the midst of an economic recession, global pandemic, and climate and ecological emergency, public resources should be put towards essential work that benefits public health and well-being", said Lavender Robinson, a member of Extinction Rebellion Hackney who participated in the occupation Euston Square Gardens last week.
"Instead, over a hundred billion pounds of taxpayers' money is being funneled into HS2, who are currently carrying out an illegal and dangerous eviction at Euston Square Gardens, denying activists of their basic human rights", he continued.
"We are here to say that HS2 is not essential work – it is a wasteful and environmentally destructive white elephant that must be stopped".