Brussels (Brussels Morning) On Wednesday, the European Commission presented its long-awaited and sweeping climate reform plan, proposing a host of new and amended regulations aimed at achieving the ambitious goal of reducing the bloc's greenhouse gas emissions by 55% by 2030, compared to the 1990 levels.
Presenting the so-called "Fit for 55" plan, the EC Vice President for Climate Policy, Frans Timmermans, declared that the EU was going to ask a lot of its citizens and its industries, while noting that it was all for a good cause. "We do it to give humanity a fighting chance", he said. He added that failing to act would let down "our children and grandchildren", asserting that wars will be fought over water and food "if we don't fix this".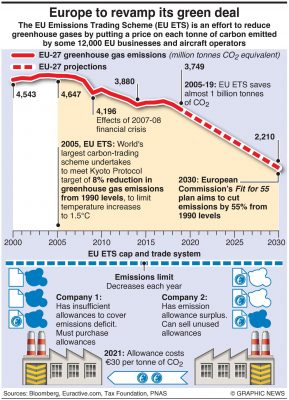 Commission President Ursula von der Leyen outlined the gist of the reform, emphasising that CO2 emissions should come with a price, and that this would serve as an incentive to consumers, producers and innovators to opt for clean technologies and to invest their money and efforts in sustainable products.
The package of measures envisions ending internal combustion engines by 2035, raising the costs of emitting CO2 for purposes of heating, transport and manufacturing, taxing shipping fuels and introducing a tax on aviation fuel for routes within the Union.
One of the key pillars of the new package is the plan to charge importers for the carbon emitted during the production and transport of products such as cement and steel, two industries considered to be major greenhouse gas contributors. The idea is not to penalise manufacturers for adhering to stricter environmental standards, but to level the playing field by encouraging other nations to adopt higher emissions cuts themselves.
Ultimately, the success of the Fit for 55 package will depend on the coming series of negotiations between the Commission, the European Parliament, and individual member-states, all of which might well have differing interests in approaching the 55% emissions cut.
Meanwhile, environmental NGOs insist that the Commission has "missed a historic opportunity" with its plans. Greenpeace insists that the entire package is based on a target that is too low to stop the degradation of the planet.