Jonathan Katz, Director of Democracy Initiatives at the German Marshall Fund of the US explains the legacy of the German Marshall Fund and the current US commitment to Europe to Brussels Morning.
Washington (Brussels Morning) When Donald Trump became president on an "America First" platform there were concerns about foreign aid. The Administrations' debut budget in 2017 looked like catastrophic news for low and middle-income states as the US was ready to slash funds for 27 countries. But in Congress, foreign aid has bipartisan support and its expenditure maintained at the same level.
US spending on development assistance is proportionally low compared to OECD economies, but its position as the largest economy in the world means that in real dollar terms is the biggest force of its kind in the world.
Foreign aid is instrumental in building longstanding geopolitical bridges. Nowhere is the legacy of US assistance more evident than in Europe. After all, in the aftermath of the Second World War, US Marshal Fund assistance was offered on condition of political cooperation. In sum, there is a clear American legacy in the project of European Integration.
Jonathan Katz, Director of Democracy Initiatives at the German Marshall Fund of the US explains the legacy of the German Marshall Fund and the current US commitment to Europe to Brussels Morning.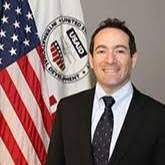 Ambassador Tedo Japaridze (TJ). In some western democracies foreign aid is seen as a "handout" that should be curtailed given unprecedented domestic challenges. Given the historical experience of the Marshal Plan and the GMF's personal involvement in the field, what is the benefit of foreign aid to the American taxpayer?
Jonathan Katz: US assistance, which has strong bipartisan support in Washington, continues to be a main pillar of American engagement globally and critical to addressing challenging problems, including global health and the pandemic fallout, food insecurity, climate change, advancing democracy and rule of law, human rights, economic growth and supporting security. The interests, prosperity, values, and security of the US and the American people is advanced when nations around the globe are more democratic, respect human rights, follow a rules-based system of trade and engagement and are committed to cooperation and shared values.
US assistance globally, while significant in impact, is less than 1% of the US annual budget. Fallout from the COVID-19 pandemic and other challenges at home and abroad have had a profound impact on US President Joe Biden and his administration's commitment and urgency to step up global engagement, which was laid out in the White House Interim National Security Strategic Guidance in March. We are already seeing increased Biden administration support globally with 4 billion dollars committed to the COVAX fund and recent announcements by US officials that they will seek to "beat back the pandemic globally" by authorising tens of millions of vaccines to be sent globally by the end of June.
In Europe, US assistance was critical following World War II and we saw that same commitment of American support for millions of European and Eurasian nations following the collapse of the Soviet Union and a transition to democracy and market-based economies. US assistance and diplomatic support played a central role in providing support to Central and Eastern Europeans as they sought and ultimately achieve NATO and EU membership over the past three decades. US assistance will continue and likely increase in the Biden administration given the need to address immediate global challenges, including COVID-19 and preventing future pandemics, and Washington's laser-like focus on addressing climate change, strengthening democracy and human rights, and combating corruption and autocracy, including from Russia and China.
TJ. During the Coronavirus pandemic western states invested heavily in income protection and business support with a view to shielding their labour markets. It takes years to rebuild jobs lost in days, we are told. Can western democracies function with double-digit unemployment as they have done across Eastern Europe for decades?
JK: The COVID-19 pandemic has had devastating impact on economies, governments, families, and individuals globally, including in the transatlantic community. The road to economic recovery, stability and job growth will be uneven across the globe in 2021 and difficult particularly with new waves of COVID-19 still potentially looming in several nations globally. We are already starting to see signs of a recovery in the US where unemployment is at 6.1 and where a large percentage of the population, 122 million Americans, are fully vaccinated. The faster vaccines are distributed and administered globally the more likely economies impacted by the coronavirus will see greater economic growth and job creation. However, the socio-economic impact of COVID-19 will likely have a longer-term impact for some nations and communities globally.
TJ. Let's talk a bit about the perspectives of US-Russian relations and their impacts on global affairs. Shall we envisage further escalation of tensions between these two countries but at the same time the reemergence of some elements of so-called "operational cooperation" on some sensitive security and regional issues?
JK. Unfortunately, there will continue to be significant tensions and escalation between Russia and the US, Europe and other countries, including Ukraine and Georgia in 2021 and for the foreseeable future. Since day one of the Biden administration, Russia and China have been the top foreign policy challenges for Washington and threats posed by Russian hybrid aggression are likely to continue, including threatening Ukraine with a massive buildup of troops, the poisoning and imprisonment of leading opposition figure Alexei Navalny, cyberattacks and other dangerous actions.
TJ. The Biden Administration has been taking a hard line towards the Kremlin, including via sanctions, talking up the need for transatlantic unity. While offering more support, US Secretary Blinken pointed out during his recent visit in Kiev that the Kremlin still has "significant forces and equipment" that threaten Ukrainians and NATO allies in the Black Sea. What happens next?
JK. One item to watch closely — whether there will be a Biden-Putin summit this summer, possibly after the NATO summit and US-EU summit in June. President Biden offered this meeting to President Putin including expressing a desire to pursue a "strategic stability dialogue on a range of arms control and emerging security issues, building on the extension of the New START Treaty."
However, it is the areas of divergence that will likely dominate the Biden-Putin conversation, including continued security and other challenges posed by Moscow to the US, West and their partners.
Putin who is engaged in a deepening crackdown on Russians, in the lead up to faulty and rigged Duma elections in September and is likely to keep the pressure high by advancing foreign policy adventures to distract from domestic challenges, keeping international adversaries off balance. The US and European partners should continue to hold the line, including with partners in Kiev and Tbilisi and push against Kremlin adventurism while also raising directly, including in international fora, Putin's increased repression and the new iron curtain falling over Russians.
TJ. The German Marshall Fund reflects a history of Euro-Atlantic solidarity, economic and political. Is this legacy as vibrant today as it had been a generation ago?
JK: The German Marshall Fund of the United States (GMF) continues to be a leading institution in support of Euro-Atlantic solidarity and greater transatlantic democracy, security, and political cooperation. That focus and support for democracy, peace and engagement extends globally but we continue to see the transatlantic community as essential and a bedrock of stability and progress as the international community faces numerous challenges, including the impact of the pandemic, climate change and the rise of autocrats and extremist threats.
The cohesion, success and future of the Euro-Atlantic community is not to be taken for granted, and it takes organisations, like GMF and other like-minded think tanks and organisations, individuals and civil society and policymakers, to strengthen the alliance, support cooperation, build greater democratic resilience and foster the next generation of leaders. The need for a continuous investment in these pivotal relationships, including from GMF, in the short, medium and long-term, will be critical to ensuring that 21st century challenges will be met successfully by the Euro-Atlantic community, its global partners and other actors bilaterally and multilaterally.