Both Ankara and Baku are trying to consolidate the new territorial status quo in the Caucasus, following the six-weeks war with Armenia.
Washington (Brussels Morning) In December, Turkey's President Recep Tayyip Erdogan was in Baku for what was essentially a celebration of the conclusion of the Nagorno-Karabakh war. The conflict ended with a Russian-brokered ceasefire that grants Turkey joint monitoring rights. This framework formalises cooperation between the two regional powers, a development that has significant political implications for Georgia, the US, and the EU.
While visiting Baku in December, Erdogan extended an invitation to Armenia – a longstanding Russian ally – to join a regional platform of cooperation together with Azerbaijan and Turkey, along with Georgia, Russia and Iran. What's more, he noted that President Vladimir Putin was "keen" on the idea.
It is hard to see how Armenia's military defeat can be viewed as an "opportunity" in Yerevan, while a common cooperation platform with Moscow will be met with some scepticism in Tbilisi. Be that as it may, we discuss the regional perspectives with Baku-based technocrat, the Cambridge and Georgetown-educated Dr. Taleh Ziyadov. Director-General of the Port of Baku since November, 2014, Ziyadov is a true expert in "geo-economics" and "geopolitics".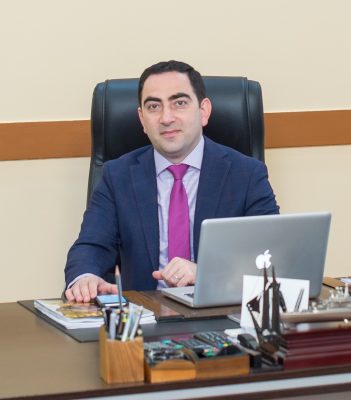 Ambassador Tedo Japaridze (TJ). For nearly two decades Azerbaijan has been building itself into a multimodal trans-shipment hub. How is this planning affected by Sino-American economic competition and the Iranian embargo? How can you make the South Caucasus (the Azerbaijan/Georgian infrastructure) more attractive for Foreign Direct Investment (FDI)?
Taleh Ziyadov (TZ). Azerbaijan's quest to become a key multimodal transport and logistics hub in Central Eurasia is a phased and multifaceted strategy that has domestic, regional and global aspects. First and foremost, this strategy entails building and upgrading internal infrastructure to meet international standards. Thanks to oil revenues, the government of Azerbaijan has mostly achieved this goal by investing billions of dollars into modernizing its highways, railways, ports and airports over the last two decades. Along with its internal infrastructure, regional connectivity and its seamless integration with regional and global transport networks has been pivotal. Here, a number of energy and transport projects have been completed linking Azerbaijan, Georgia and Turkey on the East-West axis (i.e. Baku-Tbilisi-Ceyhan and Baku-Tbilisi-Erzurum pipelines, Baku-Tbilisi-Kars railway, etc.) and with Russia and Iran along the North-South axis.
Today, we are on the verge of witnessing the emergence of 21st century hubs that will once again revitalize hitherto diminished, land-based trade between Europe and Asia. Alat/Baku, Poti/Tbilisi, Mersin, Aktau/Kuryk, Turkmenbashi, Khorgos, Mazar-i Sharif and many other cities of Eurasia are contenders for becoming hubs. Located at the strategic crossroads of Europe and Asia and in close proximity to sizeable markets, Azerbaijan aims to become not only a transit bridge between Europe and Asia, but also a major distribution and value-adding centre of Eurasia. The Baku International Sea Trade Port (aka the Port of Baku) plays a key role in Azerbaijan's hub concept and its strategy for attracting FDI into its non-oil economy. International businesses looking to establish their regional headquarters in Baku do so with an eye to serving a market of 130 million people within a radius of 1,000 km. To support this, the Port of Baku is reinforced by a legal regime (a free economic zone law passed in 2018) that will protect the interests and investments of these businesses. In short, it is a strategy aimed at creating a global logistics hub with a 21st century ecosystem that is thriving, smart, green, and innovative.
A robust network of these interconnecting hubs will provide the economic backbone for Euro-Asian commerce, linking regional and global markets in new ways. In order to succeed, this strategy requires a well-coordinated regional effort. In the case of Azerbaijan, the connectivity with countries like Georgia, Turkey, Russia, Kazakhstan, Turkmenistan, Uzbekistan, Afghanistan, Pakistan, and Iran is essential. Moreover, connectivity to larger economic blocks like the EU, China, Japan, India and the Middle East is critical to making the hub concept viable and sustainable. In light of this, China's Belt and Road initiative could contribute positively to the emergence and development of new hubs across Eurasia and increase the significance of Azerbaijan and Georgia in general, and of the Port of Baku in particular.
The economic competition of global powers combined with certain restrictions put on countries within the region could negatively affect this hub strategy. However, the changing nature of the business and innovative trends (i.e. e-commerce, 3D printing etc.) point to a number of advantages possessed by countries like Azerbaijan and Georgia. These include: geographic location and the proximity to large customer pool, regional connectivity, tax and legal incentives, and so on. In other words, the current geopolitical environment should not be considered an obstacle to achieving these goals. Rather, what will define the success of the hub strategy is how innovative and customized the governments' actions are in creating investment-friendly conditions to attract investors.
TJ. Azerbaijan is pursuing a so-called "non-aligned" foreign policy, which seems to echo the rhetoric of Yugoslavia during the Cold War. What does that mean in terms of tax regimes and regulatory standards?
TZ. Azerbaijan is pursuing an independent foreign policy based on its national interest. This policy entails respect for international law and the principles of justice. It is no accident that 120 countries of the Non-Aligned Movement unanimously elected Azerbaijan to chair the group, starting in October 2019. However, the foreign policy choices of a country should be viewed distinctly from the social and economic standards the government wants to achieve for its people. Social, institutional and economic transformation is an objective that could be achieved by the introduction of innovative solutions, which in today's world could be found in the West as well as in the East. As such, adopting a particular regulatory standard should be viewed in the framework of economic benefit and its impact on long-term economic development of the country. Having said this, the hub strategy highlighted above necessitates building economic cooperation and adopting regulatory standards that will attract major business and investors from around the world to our region. Some countries prefer to apply these standards to the entire economy. Others choose to start with "regulatory islands" like free zones with the intention of building on their success to expand them further.
TJ. Following the recent war with Armenia, is Azerbaijan and the region at large an attractive destination for FDI?
TZ. The answer is yes.
The ceasefire agreement signed by the leaders of Azerbaijan, Russia and Armenia has effectively ended an unpredictable "no war-no peace" situation that existed in the region for almost thirty years. Azerbaijan restored sovereignty over its internationally recognized territories that had previously been occupied by Armenia and managed to stipulate clauses in the agreement that could become the building blocks for future regional cooperation. Of course, the involvement of Armenia in future regional initiatives will depend on the choices of future Armenian governments and the country's vision of itself in this rapidly changing region.
For nearly 30 years, Armenia occupied the Nagorno-Karabakh region and held seven adjacent districts of Azerbaijan as a "buffer zone." This resulted in all transport and urban infrastructure that had existed in these regions during the Soviet era being destroyed by Armenian forces. We are talking about villages, towns and cities that have been effectively erased and could no longer be used by the returning Azerbaijani population. Hence, the first priority of the government will be to rebuild new villages, towns and cities from scratch. We are talking about multi-billion dollar investments in new cities, highways, railways, airports, electrical networks and other essential infrastructure over the course of the next five-to-ten years. This constitutes a new opportunity for international investors.
In the larger context, we should consider the transportation link between Azerbaijan and its exclave, the Nakhchivan Autonomous Republic (NAR), which borders Turkey, Iran and Armenia. During the Soviet era, the city of Julfa, which is situated at the Azerbaijan-Iran border in NAR, acted as a major logistics centre; the railway that connected Azerbaijan and NAR via Armenia was the only international railway along the North-South corridor. Some three million tons of freight was transported via this railway every year – a major land-based trading route between the Soviet Union and the Middle East. In addition, the restoration of railway and highway links between Azerbaijan and NAR will open new access points to Turkey and the Mediterranean Sea. Moreover, the opening of all communications between Armenia and Azerbaijan will boost the economic significance of the region as a whole. Therefore, an integrated, peaceful and well-connected South Caucasus region has a better chance of being an attractive destination for FDIs than would be the case if each country were acting independently in an uncoordinated context.
TJ. Is energy sustainability – the use of less fossil fuels – part of the Azerbaijan's value proposition when it comes to logistics?
TZ. At the Port of Baku, we view sustainability as one of our core values. In 2019, the Port of Baku became the first port in the Caspian region to be awarded the European Sea Ports Organization (ESPO)'s PERS—"EcoPorts" certificate. For us, becoming an EcoPort embodies our genuine belief in a green and sustainable future. While oil and gas exports still remain an important source of foreign exchange for Azerbaijan, the shift from an oil-dependent economy to a diversified economy was initiated by President Aliyev several years ago. The very logic of our hub strategy entails diversification and sustainability. Any socially responsible business or country in the 21st century must have sustainability as part of its value proposition.