Brussels (Brussels Morning) Even though Brexit talks are still on-going, Brussels EU headquarters are quietening down with the approach of the year-end holiday break. Staff in EU institutions have been working remotely, mostly from home.
Office-based duties were partly restored in September, but the subsequent Belgian lockdown that began in November required workplaces to arrange for teleworking to the maximum extent possible. European schools remain in distance learning mode with physical classroom attendance not expected to resume before mid-January.
To enable staff to return to their home countries over Christmas, EU employees from this week on are being allowed to work remotely from other countries to help them comply with and complete whatever quarantine restrictions may apply in time for them to join family festivities.
In normal circumstances, personnel are required to telework from their residence within the country of their employment. However, given the prevailing situation regarding pandemic restrictions, an exception is being made and the need to remain in the country of duty station has been put aside for now.
Home alone
EU staff had been working mostly from home since mid-March this year, subject to normal office rules. If unable to work, for reasons of health or otherwise, they were obliged to report their absence to relevant colleagues in the same way they would had they missed a routine day at the office.
Over the course of the last six months, staff members did attend their offices periodically but sustaining a regular presence was complicated not just by the individual impact of coronavirus restrictions but also by the fact that as a result of those restrictions canteens and cafes remain closed, with kitchen staff furloughed.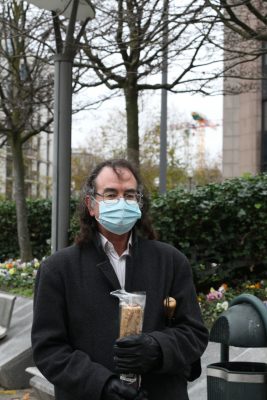 Ettrick Sonntag works for an IT contractor in one of the EU institutions. Considered critical staff, he has worked in the office every day throughout the period of both lockdowns and partial office closures.
"First I was alone on a floor where we normally are some 30 people," he says, while out fetching a sandwich for lunch. "Then after summer some 30% of the staff were allowed in the building over the day, so they were being rotated. Now we are a total of five on the same floor. Sometimes I could do with a bit of banter and distraction!"
Continued absence of EU staff
"These are exceptional measures, Commission spokesperson for Human Resources Balazs Ujvari said. "Since most staff are from other locations, for a short time there is a possibility for those staff members to work outside their duty stations — for two weeks, provided they agree on that with superiors."
Even though no local recommendation has been made that schools should close, the European schools will only start well into the new year.
"It is a safety strategy. They want to reduce the risks following the festive season. We have to avoid transmission risks and instead have online learning," Commission spokesman for health Stefan de Keersmaecker said on Friday s when explaining the decision by the European school system.
The absence of EU staff is notable in the Brussels streets surrounding the EU quarters. The cafes at the Schuman roundabout are virtually empty and the space between the Parliament's Brussels buildings has been taken over by skaters. much to the regret of the local vendors and grocers.
Wilting flower sales and empty office spaces
Much to the regret of the local vendors and grocers, the familiar throngs of grey-suited and pen-skirted officials who would normally crowd the area are missing. "In the summer there was nobody here," says the local florist on the corner of the Council building where ministerial and EU leadership meetings are held.
"Things picked up a bit in September until mid-October, but from then to now sales have been slow," she laments. "But now we have customers coming for Christmas wreaths and there are those living in the area who stop by. But sales are still nowhere near normal."
EU staff members have been encouraged to use up their leave days within this calendar year, despite the exceptional circumstances. Many found themselves with accumulations of unspent leave because they had been forced to postpone holidays while waiting for travel to return to normal.
"It is obvious that many have returned to their home countries," the Schuman florist says. "Otherwise we have been lucky to be here because among the Europeans there are those who pick up a bouquet once a week and some nationalities buy more flowers than the locals Belgians!"
The problem of empty office quarters is even more striking in the centre of Brussels where most local and international businesses are located. Brussels shows all the marks of over investment in office space, with the city long plagued by an oversupply of offices to rent.
Now, with staff having moved their work desks home, demand for office space has dwindled even further. In a city with an estimated 13 million square metres of office space, 10% was under-utilised already before the corona measures struck.