After a blow to US reputation on climate change, Jonathan Alkind explains how Joe Biden will change America's path in climate diplomacy.
Washington (Brussels Morning) On Monday, US Secretary of State Antony Blinken was visiting London where the G7 group is scheduled to meet. Featuring prominently in his joint press conference with his counterpart, Foreign Secretary Dominic Raab, was the environment and climate change. That would not be the case three months ago.
In a post-Brexit London and a post-Trump Washington, it can't be assumed the two G7 countries will set the global diplomatic agenda on climate change. Rather there is likely to be continued diplomatic coordination with Canada, France, Germany, Italy and Japan, even though the US started as a leader on this work, i.e., through the Clinton-brokered Kyoto protocol Obama-brokered Paris Climate Agreement.
Set back by Trumps' climate denying term in office, Jonathan Elkind, one of the foremost authorities in foreign policy, energy and sustainability in Washington, speaks to Brussels Morning about where the US stands on climate politics.
Elkind was the Obama Administration Assistant Secretary for International Affairs at the US Department for Energy, having previously served as Deputy Assistant for the same office. Earlier in his career, he was staff to US Vice President of the Al Gore at the US Department of Energy and at the Council on Environmental Quality.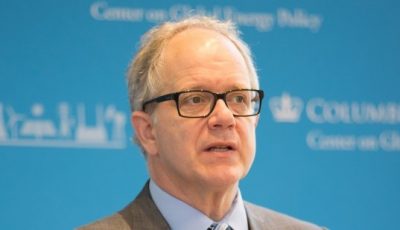 Ambassador Tedo Japaridze (TJ). The Yellow Vest movement in France is a warning that energy poverty will push people to the streets. How is the Biden Administration planning to avoid making the energy transition another boost to income inequality?
Jonathan Elkind (JE). The Biden Administration aims to pursue and accelerate the transition to carbon-free energy because, done right, it provides for a better future, new economic opportunity, and a path away from greater income inequality. In 2020 alone, the US experienced more than 20 severe weather events (wildfires, floods, hurricanes, and the like) that caused loss of life and economic damages in excess of 1 billion dollars per event. We had a total of nearly 100 billion dollars in severe weather destruction last year alone. Worse statistics like these are what the future holds if we keep emitting greenhouse gases into the atmosphere.
People, naturally, want to limit expenditures on the basics of daily life. In this respect, energy costs are no different than costs for housing, transportation, and medical care. But energy prices are different in a couple of important respects. First, what many of us pay for energy fails to include all the real costs to society because we are not paying for the costs associated with pollution – particularly carbon pollution. We would never condone throwing litter out the window rather than paying for a service to collect household waste. We should not emit carbon dioxide either. Second, as a result of major investments in R&D and market development, many conventional energy systems are increasingly more costly than zero-carbon energy systems. We can address the climate problem, create new jobs, and save money at the same time.
TJ. A number of US States depend on oil revenue: from Texas and Oklahoma to the Dakotas and Alaska. Given the failure of the Federal Government to cushion the impact of the Coronavirus crisis, why are we confident that Federal planning can cushion the social impact of an energy transition? Is America ready to deal with a wave of new poverty similar to the Appalachian carbon ghost towns?
JE. The Biden Administration is creating new economic opportunities, not prescribing rigid plans. The US and the globe face a massive, global challenge — human-caused climate change.
Thankfully, we have a range of technologies that can address the challenge, and those technologies can help build new jobs and new sources of revenue across the country. It is indeed vital that we address the need for new investment and new job creation in coal-producing parts of the US. The workers in those regions built an economy that offered good jobs and good standards of living for generations of Americans. They deserve assistance in building their next economies.
Parts of the US that today rely on revenues from oil and gas also need engagement and support from neighbours and from their local, state, and national governments. The people who worked in the fossil fuel industries are not the problem. Emissions of greenhouse gases are the problem.
TJ. The European Commission's Vice President, Frans Timmermans, told Congress that Europe will protect its industries by setting a levy on high carbon imports, also known as a Carbon Border Adjustment Mechanism (CBAM). What do you think will be the American response?
JE. The EU is expected to propose a carbon border adjustment mechanism this summer, but it has not yet done so. Any US response will reflect the actual content of the intended measure. The stated goal of a CBAM is to avoid a situation in which companies operating in Europe (or in another the jurisdiction where greenhouse gas emissions are controlled) end up penalised because they are doing the right thing for the climate. The best way to avoid that risk is for all countries to do their part to eliminate carbon dioxide and other greenhouse gas emissions, and that is exactly what the Biden Administration is trying to do.
TJ. America took the back seat in the energy transition for four years while China and Europe have been building bridges. Does America have political and diplomatic credibility to play a leading role, given that a) Biden needs to deal with adversarial forces in the Congress and the Senate, b) he is seen as a one-term President and, c) following the Trump experience, we know that Washington's commitment today means significantly less tomorrow?
JE. Without question, Donald Trump created a massive, self-inflicted wound for the US by withdrawing from the Paris climate agreement. He gave the entire world good reason to question America's word. Worst of all, he did so by making false and inaccurate claims both about the seriousness of climate change and the impacts of the Paris climate agreement.
The Biden Administration recognises that it needs to rebuild American credibility and that is why it has focused since its first day in the office on implementing a meticulous, multi-layered climate strategy that will use all the tools of the US federal government, in partnership with states and localities and, most important, the private sector to tackle climate change head-on. President Biden is working with Congress to implement the bipartisan clean energy priorities that were enacted at the very end of last year in the Energy Act of 2020. That law shows that there is true common ground; we now need to build on that base and forge a clean energy future for the US.
TJ. After the Climate Change Summit that global problem has been intertwined into the agendas of all countries of the world. How should states like Georgia, Ukraine, other post-Soviet entities contribute to tackling that global security disaster?
JE. Every country can contribute to our global response to the climate crisis. Each country will have different specific challenges, as well as different opportunities.
The natural place to start is to use energy as efficiently as possible in our homes, industries, buildings, heating, and transportation systems. Another area that presents great opportunities is investing in zero-carbon energy systems (like wind and solar power) or switching from coal to lower-carbon energy systems. A third and vital area is to plan for the reality of a changing climate. Climate resilience is a necessity for every country, whether that is in the form of strengthening electricity systems to withstand severe storms or planning for changes in hydrological patterns (droughts and rainfall). The climate crisis is already evident all across our world. We have a chance to limit how severely it impacts our future and the future we leave to our children and grandchildren. To do that, we all need to be part of the solution.