The US will veer from a neo-isolationist approach to a more outward-looking foreign policy, according to Kenneth Yalowitz, former US foreign service officer and ambassador to Belarus and Georgia. 
Washington, D.C. (Brussels Morning) The coming to office of former president Donald Trump in 2016 took away the guarantee that the US would be Europe's security provider. Washington repositioned troops, articulating a financial conditionality of sorts for its engagement in Europe. The Euro-Atlantic "club", NATO, was more a sum of its parts than a community.
Russian deterrence became a far more European concern, unveiling the continent's historical inability to speak as one with regards to relations with Moscow. That became abundantly clear during Josep Borrell's recent visit to Moscow in February 2021.
The question now is how the Biden Administration will affect Euro-Atlantic relations, and by extension relations with Moscow. Will the US articulate an unreserved commitment to Europe's collective security and continue to champion NATO's expansion? The question is existentially significant for countries that stretch along the Russian border – from Belarus to Georgia – some of whom have signed association agreements with the EU to give them access to the single market, are members of NATO's Partnership for Peace programme and aspire to become "westernised", a term now more ambiguous than before.
Addressing the question of whether the Trump period of "conditional engagement" was a parenthesis or a turning point, Brussels Morning speaks to Ambassador Kenneth Yalowitz who served at the State Department for 36 years, twice as ambassador to Belarus (1994-1997) and Georgia (1998-2001), and at the US missions in Moscow, the Hague, and Brussels at NATO.
During his career, he distinguished himself in conflict management, handling the shooting down of the KAL-007 (1983) and the Chechen War's spillover into Georgia in 2000. Leaving the State Department, he went on to become the director of the Dickey Center for International Understanding at Dartmouth College (2003 -2012) and director of the Conflict Resolution MA programme at Georgetown University (2015-2018).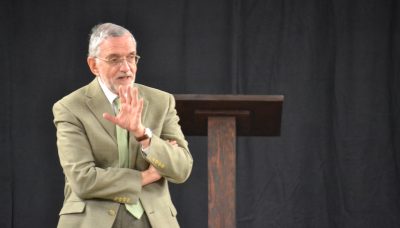 Ambassador Tedo Japaridze(TJ). Would you say that the objective of reintegrating Russia into the European Single Market and Collective Security Architecture is "dead and buried"?
Ambassador Kenneth Yalowitz (KY). The post- Cold War aspiration of building a Europe whole, free and at peace is not close to being realised. I was stationed in Moscow in 1991 at the time of the breakup of the USSR and remember well the optimism that a new stage of history was unfolding. Thirty years later, relations between the US and Europe, and Russia are at a low point. Russia alleges the US took advantage of Russian weakness to expand NATO, spread its hegemony worldwide, interfere in Russia's domestic affairs and deny Russia's place as a great power. President Putin argues the West seeks regime change in Russia and voices continuing hostility towards NATO. Russia does trade extensively with Europe but has counterposed its Eurasian Economic Union to the EU.
The US and Europe in turn posit that Russia's annexation of Crimea and military intervention in Eastern Ukraine have broken the post- Cold War security structure in Europe. Russia's human rights violations, aggressive use of cyber, interference in elections and use of force in Syria and Libya mark other sharp divides with the West.
The Biden administration has come into office committed to repairing our alliances and responding vigorously to the authoritarian challenges of Chinese ambitions to rival the US and Russia's measures to damage and disrupt US democracy. Yet the door will remain open to areas of cooperation such as arms control, pandemic response and climate change. The recent extension of the New Start Treaty between Russia and the US demonstrates willingness to take steps which benefit both sides.
The China threat will be foreign policy concern number one and there will be no "reset" in relations with Russia. Moscow's growing security cooperation with China will complicate matters further. The outlook for developing new rules of collective security in Europe and greater integration of Russia with the EU is not dead but on life support.
TJ. Do you see Moscow as a relevant actor in the "Pacific Century?" In sum, do you see the Sino-Russian partnership as a threat to American interests across Eurasia or merely in Europe?
KY. By virtue of geography, size and history, Russia will remain a relevant actor in the Pacific region. Given its economic stagnation and corrupt political system, however, Russia is viewed by many observers as a declining power with Its claim to great power status mainly its nuclear weapons. As such, Russia will be a secondary player in Asia to China and the US.
As Russia's links with the West have eroded, it has increased its economic, political and security ties with China. Both authoritarian countries oppose the spread of US influence and alleged efforts to interfere in their domestic affairs. Over time, however, differences in national interests and the power equation will become more pronounced. China likely sees Russia as a declining power and the junior partner in the relationship. It is valuable as a supplier of energy and military technology, and a useful diplomatic partner at the UN to counter the US.
The principal areas of concern to the US from the Russia-China relationship are twofold. The first is whether their military cooperation leads to greater capability to thwart US interests in Asia and Europe and take aggressive steps, which will force a US reaction. The second is the broader challenge to democracy and human rights in both regions stemming from the Chinese and Russian models of authoritarianism and opposition to democratic pathways.
TJ. Since the 2016 attempted coup in Turkey, there seems to be a deepening rift in the alliance. Do you feel Ankara will remain the anchor of the alliance in the Black Sea? Do you feel that a semblance of "collective defense" can be restored in the region?
KY. This is an important and difficult issue. US and NATO relations with Turkey are deeply strained. Turkey took umbrage over alleged US support for the 2016 coup attempt and has taken a series of steps which have concerned Turkey's NATO allies. Turkey's purchase of the Russian S-400 air defense system tops the list, which also includes Turkish interventions in Syria and Libya, Erdogan's authoritarian leanings and Erdogan's statements critical of US policy across the Mediterranean, the Middle East and North Africa. Patience has clearly worn thin in Washington and the Biden administration has made clear Turkey must take the first step.
That said, Turkey has long-standing national interest concerns regarding Russia (and Iran), which dictate the need for Turkey to maintain strong ties with NATO. Defense links between Turkey and the US remain deep and Turkey's importance to Black Sea security has increased since Russia's annexation of Crimea in 2014.
I expect both sides will act to maintain the strong military alliance even as serious differences over democracy and human rights issues roil the relationship. I trust Ankara will in the end follow its basic national interests.
TJ. Given the emerging economic challenge of China in Europe, Brexit, and enlargement fatigue for the EU, do you feel the expectation of Euro-Atlantic integration remains viable for Kyiv, Tbilisi, Chisinau and beyond?
KY. I surely hope so but the timing now is not propitious. The effects of the COVID-19 pandemic, populism and anti-immigrant sentiments, and upcoming leadership changes in key countries such as Germany all add to the uncertainly.
Much also will depend on the progress being made towards economic and democratic reforms in the three countries cited. Moldova's new president is EU-focused and Ukraine recently seems to have resumed its reform momentum. Georgia's current political crisis, however, threatens hard won democratic gains and raises doubts about its adhering to the principles of the Euro-Atlantic community. The key for these countries is to demonstrate their economic and political readiness for EU membership. If they do that, the door will remain open to them.
TJ. Do you feel that Washington's neo-isolationist vein that we experienced during the Trump administration is an "interval" or a permanent feature in Washington's foreign policy thinking?
KY. The Biden Administration has expressly linked foreign and domestic policy.
The foreign policy priorities of countering China, dealing with climate change and strengthening our alliances are linked with getting the COVID-19 epidemic under control and strengthening our economy, educational system and infrastructure.
There will be major differences with the Trump administration as the US will now work closely with allies, address global issues like climate change and restore diplomacy as the key tool in foreign policy. That said, the concerns that Trump tapped into such as trade agreements, job losses, US over-extension overseas and our allies not doing enough to help have not gone away. What this means to me is that US policy will seek to restore the US role as a world leader through diplomacy, participation in international organisations, and close coordination with allies, not bullying or coercion. The US will be back but in a more judicious, balanced and pragmatic fashion.