Brussels, 25 February: EU regulator issues guidance for COVID-19 vaccine modification
The European Medicines Agency (EMA) noted on Thursday that it has issued guidance for modification of COVID-19 vaccines to make them effective against different variants, Reuters reported on Friday. The announcement comes as the coronavirus continues to mutate and mutations continue to spread. The EMA pointed out that it assumes vaccines against new variants will be based on the same technology as their parent vaccines, in which case regulatory focus should be on the immune response. Noting that at least one trial would be needed for vaccines against new variants, the EMA stressed that "large-scale safety and efficacy studies are not needed". It added that additional laboratory studies are not needed to support the development of vaccines against new variants, since the new vaccines should be made by the same manufacturer responsible for the parent vaccines.
Brussels, 25 February: AstraZeneca to deliver 40 million doses to EU this quarter
Pascal Soriot, CEO of the British-Swedish AstraZeneca pharmaceuticals conglomerate, has confirmed that the company is determined to deliver 40 million COVID-19 vaccine doses to the EU by the end of the quarter, Reuters reports. This is less than half of what the company promised to deliver in the contract for the first quarter of 2021. The announcement is in line with AstraZeneca's earlier warnings that it would not be able to provide 90 million shots by the end of the first quarter. "I am disappointed that lower-than-expected output in our dedicated European supply chain has affected our ability to deliver", Soriot said. He noted that the company is doing everything it can to deliver the doses this quarter. He did not comment on AstraZeneca's contractual obligation to deliver 180 million shots in the second quarter. The EU has fallen significantly behind the US and the UK with regard to vaccination of its citizens and has called on AstraZeneca to deliver more doses on several occasions.
Brussels, 25 February: Czech government tightens restrictions to stem surge
The Czech government is planning to tighten restrictions aimed at controlling the coronavirus pandemic, Reuters reports. Prime Minister Andrej Babiš warned on Wednesday that hospitals could be overwhelmed if the government fails to take action, as he announced talks with the opposition to discuss plans this evening. Yesterday, Interior Minister Jan Hamáček noted that tightening the restrictions would require an extension of the government's state of emergency powers, something the parliament has previously rejected. He acknowledged the need to consult with the opposition, given its criticism of the government's handling of the coronavirus pandemic. Industry and Trade Minister Karel Havlíček insisted that proposed restrictions would not affect factories, which have remained open throughout the pandemic. According to Our World in Data, in the past week, the Czech Republic has suffered the highest per capita infection rate globally.
Brussels, 25 February: French-German border under tougher control
France has announced new restrictions at its border with Germany in response to the growing number of coronavirus infections in the Moselle region, Reuters reports. To date, cross-border workers had been allowed to travel freely between the German and French parts of the region. Now, they will have to present negative PCR tests for non-work related travel. The two countries announced earlier this week that they would try to prevent the closure of the border, but noted that joint police patrols could be stepped up. While France is avoiding a new nation-wide lockdown, it has imposed tougher restrictions locally. President Emmanuel Macron has been advocating against the closure of the bloc's internal borders and criticised Germany for closing the border amid the first wave of the coronavirus pandemic. The Moselle region recently saw a growing number of infections of the South African variant, leading egional authorities to recommend a local lockdown.
Brussels, 24 February: Denmark to ease restrictions in March
The Danish government has announced plans to ease restrictions imposed to curb the spread of coronavirus next month, Reuters reports. Shops and some schools are to reopen, with authorities to allow outdoor activities of up to 25 people. Denmark's Minister of Health and Elderly Affairs, Magnus Heunicke, cautioned that fewer restrictions could lead to more hospitalisations, and that hospital admissions could briefly peak in mid-April at approximately 880, in contrast to the current 247. Finance Minister Nicolai Wammen made the point that the planned reopening of stores should inject more than US$ 300,000 per month to the economy. On the other hand, he warned that "we have seen other countries that have gone too fast and lost control of the infection", a fate Denmark must avoid at all costs.
Brussels, 24 February: Sweden to loosen rules for vaccinated elderly
Sweden will loosen rules for vaccinated care home residents, Anders Tegnell, State Epidemiologist of the Public Health Agency of Sweden (FoHM), has announced, Reuters reports. The move comes against a backdrop of rising infection rates over the last few weeks. The FoHM warned that rules could be tightened to curb the spread of coronavirus. While more than 80% of elderly care home residents have been vaccinated and 64% have received their second shot, according to the daily Dagens Nyheter, stricter measures for the rest of the country are to be announced tomorrow. "We have discussed how those who have been fully vaccinated can live, and we think it can be a little different from the very restrictive way they have been doing up to now," Tegnell observed. Citing the restrictions in the UK as too strict, he indicated that once "we see that the spread of the infection is a little more stable, we can slowly start to ease a number of restrictions".
Brussels, 22 February: Italy extends travel bans
The Italian government decided on Monday to extend bans on non-essential travel between regions until 27 March in an effort to control the spread of new coronavirus variants, Reuters reports. The ban, imposed before Christmas, was due to end on Thursday, but officials expressed concern over the possibility of a surge in cases of the new variants and extended the ban. The number of new daily confirmed cases has dropped from roughly 40,000 in November to below 15,000. Italy has received 4.69 million vaccine shots and through its vaccination campaign, launched at the end of 2020, it has administered about 3.5 million shots. Officials are considering whether to keep reserves for administering second shots or use all doses immediately, like the UK. According to La Stampa, Italy's Prime Minister Mario Draghi is in favour of administering all available shots.
Brussels, 23 February: UK might lift restrictions in June
UK Prime Minister Boris Johnson expressed hope on Tuesday that authorities will lift corona pandemic restrictions on 21 June, according to Reuters. Johnson said that while it is difficult to make accurate predictions since the situation is volatile, he was "very optimistic that we'll be able to get there". Announcing the plan to lift the restrictions on Monday, he noted that some businesses would have to stay closed until the summer. According to the plan, restrictions on large events and night clubs will be the last to be removed. The government is insisting that the gradual easing of restrictions will be determined by data, not dates. The UK has administered COVID-19 vaccines to more than 25% of its population, making it the fastest rollout among large countries.
Brussels, 21 February: Belgians protest 'absurd' restrictions
Clergy and worshippers of different religions protested in Brussels on Sunday against restrictions that limit the number of people allowed to attend mass to 15, Reuters reported. Father Marc Leroy of the National Basilica of the Sacred Heart pointed out that the restriction "is an incredible absurdity", noting that any restrictions should be proportionate to the size of buildings. The National Basilica is one of the largest churches in the world, but the restrictions take no account of its size and treat it just the same as significantly smaller places of worship in Belgium. The government imposed the blanket restriction in December last year. An unnamed Interior Ministry spokeswoman pointed out that the restrictions reflect the authorities' concern and efforts to curb the spread of coronavirus. The government, she added, would address the issue of restrictions at a meeting slated for Friday.
Brussels, 22 February: GSK and Sanofi start COVID-19 vaccine trial
The UK's GlaxoSmithKline (GSK) and the French Sanofi pharmaceutical companies have announced started a trial of their COVID-19 vaccine, Reuters reports. The two companies predicted that the trial should reach the final stage in the second quarter of the year, allowing, they hoped, the vaccine to be approved by the end of the third quarter. In December last year, the pharmaceutical companies noted that the vaccine would be delayed because trials had shown poor immune response in older people. The trial to be carried out will be on 720 healthy people in the US, Honduras and Panama. The vaccine is based on the same technology as some of Sanofi's influenza vaccines and will be coupled with GSK's adjuvant, which acts as a booster.
Brussels, 19 February: Poland warns of third wave of infections
The Poland's Ministry of Health warned on Friday that the country has been hit by a third wave of coronavirus infections, with the number of new confirmed cases showing a significant increase over last week, Reuters reports. Having recently reopened ski resorts, theatres, hotels and cinemas, authorities warn the measures may have to be rolled back, depending on epidemiological trends. Ministry spokesman Wojciech Andrusiewicz declared that the country is "at the beginning of the third wave," albeit "not as dynamic as in Slovakia or the Czech Republic". He pointed out that the British variant accounts for approximately 10% of coronavirus cases. He said the number of confirmed new cases stood at 8,777 on Friday and indicated that the weekly growth of infections had reached about 20%.
Brussels, 19 February: France starts testing dogs trained to find coronavirusFrance started testing dogs trained to find coronavirus this week in the greater Paris region in an effort to see how effective they can be, RFI reports. The dogs were trained at the Alfort veterinary school. Professor Dominique Grandjean asserted that dogs can be more accurate than swab tests, citing how trained dogs had identified coronavirus in patients who, while testing negative at the time, soon developed symptoms and tested positive. Three of the eight dogs in the being used in the trial have been provided by the United Arab Emirates and two others were borrowed from French fire brigade units. Grandjean noted that training the dogs to find coronavirus in no way interfered with their ability to continue helping firemen or to help in detecting illicit substances at airports. The use of dogs in the bid to identify cases of coronavirus infection can not only complement existing testing methods but provide a non-intrusive alternate to the standard form of testing.
Brussels, 18 February: Researchers call for efficient rationing of vaccines
Two researchers in Canada are calling for more efficient rationing of COVID-19 vaccines, Reuters reports. Researchers Danuta Skowronski and Gaston De Serres write that Pfizer's vaccine is 92.6% effective after the first dose, compared to the vaccine developed by Moderna with 92.1%. They note that providing the second dose provides "little added benefit in the short term" and stress the second shot could be used to vaccinate more people. At the same time, the researchers warn that administering only one dose could shorten the duration of protection. Responding to the claims by the two researcher, Pfizer noted that "it is critical for health authorities to conduct surveillance on implemented alternative dosing schedules to ensure that vaccines provide the maximum possible protection." EU and US authorities are sticking by the intervals tested in their respective trials.
Brussels, 17 February: Pandemic response pushes global debt to GDP ratio beyond 355%
The response of authorities to the coronavirus pandemic has pushed global debt to GDP ratio over 355% in the last year, up 35 percentage points on the annual level, Reuters reports. Global debt stands at a record US$ 281 trillion, up approximately 24 trillion compared to one year ago. The Institute of International Finance (IIF) industry group estimates that government programmes account for approximately 50% of the increase, followed by companies, banks and households. "We expect global government debt to increase by another US$ 10 trillion this year and surpass 92 trillion", the IIF report notes. It warns that political and social pressure on governments could limit economic recovery and jeopardise their ability to handle any future crises. Debt spikes were pronounced in the EU, with debt to GDP ratios of the non-financial sector increasing approximately 50 percentage points in Greece, France and Spain.
Brussels, 17 February: Croatia could buy Sputnik V before EU approval
According to Croatia's Health Minister Vili Beroš, the country may buy Russian Sputnik V COVID-19 vaccine before it has been approved by the European Medicines Agency (EMA), Reuters reports. Beroš noted that the government has asked the national regulator to assess the vaccine. EU's slow vaccine rollout is putting pressure on governments to take action. Thus far, neighbouring Hungary is the only EU member state to start using the Chinese and Russian vaccines without EMA approval. "Each government must take care about the health of its citizens," Beroš said, pointing out that "it is not illegitimate to seek solutions also outside the European Union, especially if there is a delay in deliveries within the EU framework." He noted that Russia is planning to seek EMA approval for Sputnik V but concluded that Croatia would not necessarily wait.
Brussels, 16 February: EU regulator to decide on J&J vaccine next month
The European Medicines Agency (EMA) announced on Tuesday it could decide whether to approve the COVID-19 vaccine developed by US Johnson & Johnson (J&J) pharmaceuticals by mid-March, Reuters reports. J&J noted that it had submitted applications for approval of its vaccine to the EMA as well as to the US authorities. According to the results of a study released in January, the vaccine was 66% effective against multiple variants of the virus. While not as effective as its rivals, the vaccine developed by J&J requires one shot and does not need to be shipped frozen. The EMA says it can fast-track the review since it had been assessing some of the data in real time. J&J indicated it could start distributing the vaccine in the EU in the second quarter of the year.
Brussels, 15 February: European Anti-Fraud Office warns of fake vaccines
The European Anti-Fraud Office (OLAF) has warned EU member states against fake COVID-19 vaccines, according to Reuters. The OLAF pointed out that hoaxers want "to defraud national authorities looking to step up the pace of vaccination to keep their citizens safe", as vaccination campaigns across the bloc are struggle to cope with supply disruptions. The Office noted that it helped seize more than 14 million items since the start of its investigation in March last year, including fake test kits. The EU is looking to vaccinate at least 70% of its adult population by the end of the summer, but is facing vaccine delivery delays as well as hoaxes.
Brussels, 15 February: WHO approves vaccine developed by AstraZeneca and OxfordThe World Health Organisation (WHO) announced Monday that it has approved the COVID-19 vaccine developed by AstraZeneca and Oxford University for emergency use, Reuters reports. WHO Director-General Tedros Adhanom Ghebreyesus declared "we now have all the pieces in place for the rapid distribution of vaccines." He also stressed the need to scale up production. He called on vaccine developers to submit applications for approval to the WHO "at the same time as they submit them to regulators in high-income countries." The vaccine accounts for the lion's share of doses in the COVAX vaccine-sharing initiative co-led by the WHO , since more than 330 million doses are to be rolled out from the end of the month to poorer countries. The AstraZeneca vaccine is less expensive and more easily distributed compared to some rivals.
Brussels, 14 February: Germany tightens border control to curb infections
Germany imposed tighter restrictions on its borders with fellow EU member states Austria and the Czech Republic in a further move to curb the spread of coronavirus, AP reported on Sunday. While infection rates in Germany have been declining over the last weeks, officials worry about possible impacts of the variants from South Africa and the UK. Both mutations have been confirmed in Germany, but apparently account for a small proportion of cases. Markus Söder, Minister President of Bavaria, warned that failing to take the variants seriously "would mean significant consequences." Horst Seehofer, Federal Minister of the Interior, Building and Community, noted that cross-border commuters who work in "systemically relevant sectors" will be allowed to cross and concluded that authorities will be "pragmatic wherever it is possible."
Brussels, 12 February: AstraZeneca signing new manufacturing agreements in EU
The British-Swedish AstraZeneca biotech company is signing new manufacturing deals in the EU in an effort to produce coronavirus vaccines in the bloc, Politico reported on Friday. The company had only one plant authorised to manufacture the vaccine in the EU at the end of January and is now signing manufacturing deals to increase production in the bloc, including one with the German IDT Biologika biotech company. AstraZeneca announced in January a 60% cut in coronavirus vaccine deliveries to the EU, which the European Commission criticised heavily. After negotiations with the EC, the company announced that it would supply the bloc with 40 million vaccine doses in the first quarter of the year, with some to be imported from the production site in the US. According to unnamed sources, AstraZeneca is also engaged in talks with manufacturers in China and Russia.
Brussels, 11 February: Croatia to ease restrictions next week
The Croatian government announced plans to ease coronavirus pandemic restrictions next week, Reuters reported on Thursday. Epidemiological trends have been positive for the last several weeks, with the number of confirmed new cases standing at 376 on Thursday, significantly lower compared to the peak of about 4,500 in December last. The Government decided to allow restaurants and coffee shops to sell beverages to go, having been closed since November. The neighbouring EU member state Slovenia decided to ease restrictions as well, scrapping mandatory negative coronavirus tests for those entering the country. Slovenian Interior Minister Aleš Hojs stressed that travel restrictions within the country will remain in force during the night only, starting from next week.
Brussels, 12 February: EU regulator to speed up approval of CureVac vaccine
The European Medicines Agency (EMA) announced today that it had begun a real-time review of the COVID-19 vaccine developed by German CureVac bio-pharmaceutical company in a bid to speed up its potential approval, Reuters reports. CureVac started mass testing in December last year and initial study results are expected next month or in April. The EMA pointed out it decided to start the review based on preliminary results of early clinical and laboratory studies. "Rolling review" processes speed up approval of effective vaccines since it allows researchers to submit findings in real time, before final data is ready. All coronavirus vaccines approved in the EU went through rolling review processes. CureVac is cooperating with UK's GSK on the development of a different coronavirus vaccine that should be effective against several variants of the virus.
Brussels, 10 February: Germany extends nationwide lockdown at least until March
Germany's Chancellor Angela Merkel and state leaders have agreed to extend the nationwide lockdown at least until 7 March, DW reported yesterday. The previous deadline was 14 February and the extension was agreed as infection numbers decline. The latest lockdown, imposed in November last year, was tightened before Christmas. Merkel will next meet with state leaders on 3 March to reassess the situation. While some experts maintain that schools are hotspots, researchers at the University Medical Centre Hamburg-Eppendorf, concerned that some children are suffering from mental health problems amid the lockdowns, have been urging schools to reach out to students. At Wednesday's meeting, Merkel and state leaders agreed to allow hair salons to reopen on 1 March and noted that day-care centres and schools should reopen gradually, leaving it to the states to decide when and how.
Brussels, 10 February: EU regulator has not received Sputnik V application
The European Medicines Agency (EMA) reported Wednesday that it has not received an application for the approval of the Russian Sputnik V coronavirus vaccine, Reuters reports. "The developers have received scientific advice from EMA providing them with the latest regulatory and scientific guidance for the development of their vaccine," EMA noted. The EU regulator added that it is in contact with the Gamaleya Research Institute of Epidemiology and Microbiology, which developed the vaccine, to decide how to proceed. According to peer-reviewed trial results released in The Lancet medical journal earlier this month, Sputnik V is 91.6% effective against symptomatic COVID-19. The EMA has approved three coronavirus vaccines thus far — those developed by Moderna, Astra-Zeneca and Pfizer and BioNTech.
Brussels, 10 February: Israeli scientists claim a drug speeds up recovery from COVID-19
According to preliminary results of a trial conduced on 30 patients in Tel Aviv, Israeli scientists have developed a drug that speeds up recovery from COVID-19, according to a Times of India report on Wednesday. The drug, EXO-CD24, was originally developed in 2020 to treat cancer. Trial results show that 29 of the 30 patients recovered from COVID-19 in four days, compared to an average recovery time of three to four weeks. The scientists stress the need for further studies and trials, but note that preliminary results show an efficacy rate of 96% when used on patients with moderate to severe symptoms. Nadir Arber, one of the scientists involved in the research, pointed out that "even if the vaccines do their job, and even if there aren't any new mutations, one way or another, the coronavirus will be staying with us." He concluded that EXO-CD24 should lower the pressure on the medical community.
Brussels, 10 February: WHO team proposes four scenarios for pandemic origin
After wrapping up their visit to Wuhan in China, the World Health Organisation (WHO) investigating team proposed four scenarios for the origin of the coronavirus pandemic, Reuters reports. In the first scenario, one person came into direct contact with an infected horseshoe bat. In the second scenario the transmission to humans was via an unidentified intermediary species. According to the third scenario, promoted by China, the virus was imported via frozen foods. According to the fourth scenario, the virus was leaked from the Wuhan Institute of Virology which studied coronaviruses. Ben Embarek, head of the WHO team, ruled out this latter possibility as "very unlikely" and said the team would not investigate it further. Bat populations around Wuhan have been ruled out as a source of the pandemic. Liang Wannian of the Chinese National Health Commission pointed out the origin of the virus remains unclear. China criticised the idea of investigating the origin of the virus, noting it would cooperate only if it is not expected to take the blame for the pandemic.
Brussels, 8 February: Facebook announces more COVID-19 censorship
Facebook has announced plans to ramp up censorship of COVID-19 claims it deems false, Reuters reported on Monday. The US tech giant insists that claims the new coronavirus was man-made are false, making clear that such claims will be censored. In contrast, the World Health Organisation team continues its investigation into the origins of the virus. Facebook noted that it will censor accounts and groups that repeatedly share health claims it sees as false and believes could cause "imminent harm." At the end of last year, Facebook announced plans to censor any such health claims while adding that it would help users reach coronavirus vaccines. The tech giant stated its intention is to target select racial groups and people aged over 50 with educational content tailored for them in order to address their concerns about new vaccines.
Brussels, 9 February: French Health Minister defends pushback against lockdown callsFrance's Minister of Solidarity and Health, Olivier Véran, has defended the government's decision to push back against demands by some medics for a new nationwide lockdown, Reuters reported on Tuesday. He pointed out that "it is possible and indeed preferable" to avoid a new lockdown, stressing that epidemiological trends are stable and adding that the current situation does not warrant a new nationwide lockdown. Some health officials had expressed concern that the situation would take a turn for the worse and demanded a new lockdown, warning that new coronavirus variants are more contagious. "We are monitoring the progression of the South African variant," Véran stated, noting that "we are considering increasing the protection of health workers in overseas territories." While the number of new confirmed infections stood at 4,317 on Monday, in contrast with 19,715 on Sunday, the number of cases requiring hospitalisation increased by 343 and stood at 28,037.
Brussels, 8 February: Minister President of Bavaria wants to extend German lockdown
Minister President of Bavaria Markus Söder insists it is too early to lift the lockdown in Germany, stressing the move would risk a new wave of coronavirus infections, Reuters reports. German Chancellor Angela Merkel and heads of German states are to hold a virtual meeting on Wednesday to discuss the possibility of easing current restrictions.. Söder stressed that if Germany opens "everything in one fell swoop, then within two, three weeks we will be in a situation maybe even worse than before." He reiterated that making a mistake could cause a new wave of infections and concluded that the lockdown imposed at the end of 2020 will have to be extended.
Brussels, 7 February: Positive epidemiological trends in France continue
The number of confirmed new infections in France dropped on Sunday, making it the fourth consecutive day of decline, according to Reuters. The figure stood at 19,175 on Sunday, down from 20,586 on Saturday, according to Health Ministry records. At the same time, the number of patients treated for COVID-19 in hospitals increased from 27,369 on Saturday to 27,694 on Sunday, while the number of patients in intensive care rose from 3,225 to 3,272. Despite several medics insisting on a new nationwide lockdown, French authorities are opposing the idea, They maintain that the spread of coronavirus can be curbed through stricter rules on foreign travel and the evening curfew. Some health experts are concerned about the growing number of infections with the variant first detected in the UK. Epidemiologist Arnaud Fontanet predicted the new variant could account for the majority of new cases starting with March.
Brussels 8 February: Belgian restrictions continue until spring
Until the end of February, Belgian citizens and residents will not be allowed leave the country without presenting documentation showing a valid reason to travel. With an eye to the upcoming school holidays, the government has indicated that people face the risk of fines and being turned back at the border, should they attempt to travel solely for leisure purposes n the coming weeks. Next weekend, hairdressers will re-open after 16 weeks of closure. Zoos and recreational parks will also be permitted to re-open.
Despite pleas from restaurant and bar owners, food will be served as take-away only and bars will remain closed. The country's health minister has ruled out fully opening the hospitality sector even in March. Meanwhile, the number of patients in intensive care due to corona has dropped drastically, as has the number of deaths attributed to the disease. Belgium's residents still grapple with a 10pm curfew, which has been in effect since November, with no end in sight.
Brussels, 5 February: EC President laments bloc's inertia and excessive optimism
European Commission President Ursula von der Leyen lamented the bloc's excessive optimism about the vaccination campaign and its inertia, DW reported Friday. "Of course, a country on its own can be a speed boat, the EU is more like a tanker," she noted. The whole point of a joint coronavirus vaccine procurement scheme was to avoid competition between EU member states, which she acknowledged made the process slower. Von der Leyen insisted the bloc still aims to vaccinate 70% of the population by the end of the summer, while cautioning that further complications can be expected. MEP Manon Aubry, representing the left wing and far left group GUE/NGL, commended von der Leyen for appearing before MEPs, but stressed that "the Commission will have to do much more to rebuild its tarnished image and win back the confidence of EU citizens." Her colleague Martin Schirdewan added "we need to see from the Commission a complete rethink about how it has approached the pandemic and greater sensitivity to the immense hardship ordinary Europeans are facing."
Brussels, 5 February: France against new lockdown, several medics disagree
The French government is against imposing new lockdowns, while several medics disagree and are calling for additional restrictions to be imposed, Reuters reports. France is currently under curfew, with Prime Minister Jean Castex noting that that the situation is fragile, yet not so severe as to warrant a third lockdown. Frédéric Valletoux, head of the Hospital Federation of France, pointed out that he has been calling for a new lockdown and noted that the situation in hospitals in France remains under control. Karine Lacombe, head of infectious diseases at the Saint Antoine Hospital, noted that France is "still at a high plateau" and warned that "at one point it will be too high and, to bring it down, new restrictive measures will be inevitable."
Brussels, 4 February: Britain says there are around 4,000 COVID variants around the world
Britain estimated on Thursday that there are around 4,000 variants of the virus that causes COVID-19 as the virus continues to spread and mutate, Reuters reports. Nadhim Zahawi, the UK Parliamentary Under-Secretary of State for COVID-19 Vaccine Deployment, asserts it is highly unlikely that developed vaccines will fail to be effective against new mutations. At the same time, he points out that "all manufacturers, Pfizer-BioNTech, Moderna, Oxford-AstraZeneca and others, are looking at how they can improve their vaccine to make sure that we are ready for any variant." The UK started trials on Thursday to assess the effectiveness of combining vaccines from US pharmaceutical giant Pfizer and the British-Swedish AstraZeneca. Initial data is expected around June this year.
Brussels, 3 February: German study shows trained dogs can detect coronavirusHanover University of Veterinary Medicine has trained dogs to detect COVID-19 with a 94% accuracy rate, DW reported on Wednesday. Holger Volk, head of the Small Animal Clinic at the University, pointed out that "dogs can really sniff out people with infections and without infections, as well as asymptomatic and symptomatic COVID patients." Volk stressed that the University's study shows trained dogs accurately detected the presence of coronavirus in 94% of the cases. Minister-President of Lower Saxony Stephan Weil welcomed the study but noted the need for additional testing before deploying dogs to sniff out coronavirus. Trained dogs could be used to prevent the spread of the virus in large crowds at airports and sports arenas as well as mass gatherings. Finland started using dogs to detect the virus in September last year at the Helsinki-Vantaa Airport.
Brussels, 3 February: WHO investigation team visits virus lab in Wuhan
The investigation team led by the World Health Organisation (WHO) completed its visit to the Wuhan Institute of Virology on Wednesday as part of the search for the origin of the coronavirus pandemic, Reuters reports. While some scientists call on China to release data on coronavirus samples studied in the Institute in order to see if any compare with the one that caused the pandemic, the wire service report disclaims the laboratory origin hypothesis as a conspiracy theory. Meanwhile, China is pushing the hypothesis that the pandemic did not originate in the country, asserting it was imported on frozen food. The WHO points out that probe team members are confined to investigating what their Chinese hosts permit and that they are not allowed to have contact with community members due to health restrictions. The team has two weeks to conduct its inquiries, having had to spend two weeks in quarantine upon arrival in Wuhan.
Brussels, 2 February: Russian Sputnik V more than 91% effective
The Sputnik V vaccine developed in Russia is 91.6% effective against COVID-19 according to peer-reviewed, phase III trial results published in The Lancet general medical journal, Reuters reported on Tuesday. The vaccine was developed by the Gamaleya Research Institute of Epidemiology and Microbiology in Moscow, with the late-stage trial results in line with data from earlier stages. Results are based on data from close to 20,000 volunteers. The trials in Moscow started in September last year. The Sputnik V is the fourth coronavirus vaccine to have late-stage results published in top peer-reviewed medical journals and the third with average efficacy of more than 90%. According to The Lancet summary, the vaccine is 91.8% effective in those aged 60 and over. Gamaleya noted on Tuesday that the vaccine is approved for storage in refrigerators, rather than freezers, which alleviates many logistical problems.
Brussels, 1 February: French restaurant owners favour civil disobedience despite government threats
Some French restaurant owners decided against dropping civil disobedience despite government threats to deprive them of aid, RFI reported on Monday. Proprietors had announced plans to re-open their establishments last week, when the government responded by threatening to cut off aid. Yesterday, the French Minister of the Economy, Finance and Recovery, Bruno Le Maire, observed that while "it's extremely hard for restaurants, economically and in terms of morale," this does not justify civil disobedience. Clearly disagreeing, restaurant owner Gérard Viau pointed out that "despite the threats from the government and the fact we know the gendarmes will come, at some point they have to stop treating us like idiots." He cited the fact that big shops are allowed to stay open and are crowded as the reason why he has opted for civil disobedience.
Brussels, 1 February: UN pushes for discrimination based on sex
UN Under-Secretary-General, Phumzile Mlambo-Ngcuka, the Executive-Director of UN Women, asserted on Monday that countries should make appointments to top positions based on sex, Reuters reports. More women in leadership roles will lead to a stronger world after the coronavirus crisis, she maintained in an interview with the news agency, noting that equality of outcomes between the two sexes has not been achieved. Mlambo-Ngcuka observed that sex-based appointments are not picking up pace as quickly as she would like. She also asserted that non-white women want to see more people who look like them in top posts. Establishing quotas based on sex quotas would help push more women into politics, she claimed, noting that women tend not to focus on politics. She described sexual innuendo and body-shaming as forms of violence and said they should be criminalised. Mlambo-Ngcuka insists women should hold leading roles for the sake of inclusion. UN Women estimates that equality of outcomes between the sexes will not be achieved for 130 years at the current pace.
Brussels 1 February The EU's Centre for Disease Control added a dark red zone to its existing categories of green, orange, red and grey in the weekly map published to show the incidence of COVID-19 cases. The latest colour code will apply to areas where the virus is present at high levels, as well as indicating the more infectious variants of concern. These are defined as areas where the 14-day cumulative COVID-19 case notification rate is 500 per 100 000 people or more.
EU countries should discourage all non-essential travel to red and dark red areas, while seeking to avoid disruptions to essential travel. Perrsons leaving an area classified as dark red should undergo a test for COVID-19 infection prior to arrival elsewhere and then enter quarantine or self-isolation. Similar measures could apply to areas with a high prevalence of variants of concern.
Given the increase in COVID-19 testing capacity, EU countries have the option to require travellers coming from orange, red and grey areas to do a test before departure. Transport workers and transport service providers should, in principle, not be required to undergo a test. Where a member states requires them to undergo a test, rapid antigen tests should be used.
According to the current state of EU rules, people who live in border regions and cross the border daily or frequently for work, study or family reasons should not be required to undergo testing or quarantine. If a testing requirement is introduced, the frequency of tests on such persons should be proportionate. EU countries follow the recommendation by the European Centre for Disease Control to avoid non-essential travel, given the fear of the new variants of corona spreading. In this way, EU countries aim to prevent the reintroduction of internal border controls.
Brussels, 31 January: EC President says AstraZeneca will deliver 40 million doses by April
European Commission President Ursula von der Leyen noted on Sunday that the British-Swedish AstraZeneca pharmaceuticals company will deliver some 40 million coronavirus vaccine doses to the EU in the first quarter of this year, according to Reuters reporting. She pointed out that deliveries should start one week ahead of schedule, adding that the company is to expand its production capacities in the EU. AstraZeneca had originally committed to deliver at least 80 million vaccine doses to the bloc in the first quarter of the year, but earlier last month announced that it would be unable to make good on the deal because of production problems in its EU plants. This triggered a simmering dispute with EU authorities and the bloc, which flared up ever further when the company adjusted its delivery offer to 31 million doses last week.
Brussels, 1 February: German BioNTech and US Pfizer have promised to deliver up to 75 million more vaccine
German BioNTech and US Pfizer have promised to deliver up to 75 million more vaccine doses to the bloc in the second quarter of the year, according to BioNTech CFO Sierk Poetting, DW reported Monday. The two companies stated their plan to overcome production shortfalls by opening a new production facility in Marburg, Germany, this month. The facility should have an output of 750 million doses annually. The two companies are planning to make approximately 2 billion doses for the bloc by the end of the year, up from the originally planned 1.3 billion doses. The announcement comes before the meeting scheduled between Germany's Chancellor Angela Merkel and the heads of German states to discuss ways to improve Germany's vaccination campaign. The EU has been struggling with vaccine rollouts because of shortages arising from production problems faced by the bloc's designated suppliers, BioNTech and Pfizer as well as UK-Swedish AstraZeneca.
Brussels, 29 January: WHO team visits Wuhan hospital that treated early patients
The investigative team led by the World Health Organisation (WHO) has visited the Hubei Provincial Hospital of Integrated Chinese and Western Medicine in Wuhan, which treated some of the first coronavirus cases in late 2019, Reuters reports. "We are in the hospital that treated some of the first known cases of COVID-19, meeting with the actual clinicians and staff who did this work, having open discussions about the details of their work," team member Peter Daszak noted. Chinese Communist Party-controlled media have been claiming the virus was imported from Europe on frozen foods and that the Fort Detrick US Army Medical Command installation was connected with the pandemic.
Brussels, 29 January: Still no agreement between EU and AstraZeneca on contract breachAstraZeneca offered earlier this week to deliver up to 39 million doses of its coronavirus vaccine to the EU in the first quarter this year, according to an unnamed EU official involved in talks with the pharmaceutical company, according to a Reuters report. The official said the offer was deemed unacceptable, and that the company had been reminded that it is contractually obliged to supply the bloc with at least 80 million doses by the start of the second quarter. AstraZeneca announced it would cut vaccine deliveries to the EU last week, citing production issues in Belgium. EU officials noted the company is planning to deliver 31 million doses to the bloc by the end of March. On Tuesday, AstraZeneca CEO Pascal Soriot insisted that the company is under no legal obligation to deliver vaccines to the EU on a precise timetable. EC President Ursula von der Leyen stated on Friday that AstraZeneca has binding obligations and cannot make commitments with other clients at the expense of the bloc.
Brussels, 27 January: Norway to close borders to non-residents
The Prime Minister of Norway Erna Solberg announced Wednesday that the country would close its borders to all non-residents other than essential visitors, Reuters reports. "What we see is that the mutated virus has spread significantly in many countries that do not monitor the extent of mutations in the same way as Norway, Denmark and Britain do," she stressed. Norway announced a lockdown of the capital region on Saturday after an outbreak of the coronavirus strain first observed in the UK was confirmed. Solberg noted that the number of coronavirus infections in Norway is in decline, with the new infection rate among the lowest in Europe according to the European Centre for Disease Prevention and Control.
Brussels, 28 January: WHO investigators leave quarantine in WuhanThe investigation team lead by the World Health Organisation (WHO) that is to probe the origins of the coronavirus pandemic has left quarantine in Wuhan after two weeks in a local hotel, Reuters reports. While the WHO did not release details of the team's itinerary, team leader Peter Ben Embarek noted back in November that the team would likely visit the Huanan Seafood Wholesale Market, the apparent origin of the virus. After leaving their hotel, team members boarded a bus, declining to speak to the press. The US has accused Chinese authorities of manipulating information relating to the pandemic's origins. It has also been critical of the terms under which the WHO-led team's visit is being conducted.
Brussels, 27 January: England to introduce mandatory quarantine
UK residents arriving back from coronavirus hotspots to England will have to quarantine in hotels according to the latest plans, BBC reports. The hotspots in question include southern Africa and Portugal, where a new variant of the coronavirus has been spreading. The Labour Party insists all arrivals should have to quarantine, with party leader Kier Starmer stressing the importance of stricter border controls. Senior ministers have agreed to expand the list of hotspots in the future as needed. Home Secretary Priti Patel pointed out that measures are always under review, indicating that the government would not shy away from taking further action with the aim of protecting the UK from the pandemic.
Brussels, 27 January: Economists expect COVID-19 response to suppress economic growth this year
A majority of economists who took part in a Reuters poll have predicted that the response to the coronavirus pandemic will suppress economic growth this year, the news agency reported today. The economists expect global GDP to return to pre-coronavirus crisis levels in two years. Approximately 500 economists from Asia, Europe and the Americas who took part in the poll neither changed nor downgraded growth outlooks compared to previous surveys. Aditya Bhave, global economist at the Bank of America, noted that "as vaccine rollouts begin the world over, we are racing against time to head off the impact of potentially more contagious strains of the coronavirus." He warned "the biggest downside risk to the global economy is that vaccines prove to be ineffective against the new mutations." He cautioned that the emergence of a strain that is vaccine-resistant could cost the global economy one quarter.
Brussels, 26 January: Germany opens first jail for quarantine violators
Germany has opened its first facility for detaining quarantine violators in Neumünster in the state of Schleswig-Holstein, DW reports. The facility is a repurposed part of a juvenile detention centre and comprises six rooms. Neumünster Council representative Sönke Schulz stressed that people who do not comply with quarantine orders put others at risk and pointed out the "infection protection act therefore rightly allows isolation in locked facilities as the last resort." Schulz asserted that detention in the facility "should not really be any different from quarantining at home," but violators will have to follow the orders of the guards and will be locked up. Most other German states have decided against setting up facilities for detaining quarantine violators.
Brussels, 26 January: South Africa rebukes wealthy countries for hoarding vaccines
South Africa's President Cyril Ramaphosa rebuked wealthy countries for hoarding coronavirus vaccines at a virtual World Economic Forum meeting on Tuesday. He stressed the need for global coordination and cooperation amidst the pandemic, Reuters reports. Ramaphosa warned that some countries had acquired four times more vaccines than their populations actually required. "We are all not safe if some countries are vaccinating their people and other countries are not vaccinating", he declared. Meanwhile, US Pfizer pharmaceuticals announced a temporary cut in vaccine deliveries to the EU this month and UK-Swedish AstraZeneca noted on Monday that there would be delays in deliveries to the EU. Germany's Minister of Health Jens Spahn proposed a register of vaccine exports over delays in vaccine deliveries and other supply issues, in declaring that the bloc is not getting its fair share.
Brussels, 24 January: Curfew protests in the Netherlands turn violent
Protesters against the night-time curfew imposed in the Netherlands to control the coronavirus pandemic clashed with police in Amsterdam, Eindhoven and other cities, DW reported on Sunday. Police used dogs, batons and water cannon to disperse the protests as rioters set vehicles ablaze and looted shops near the main railway station in Eindhoven, according to Omroep Brabant reporting. Police noted more than 100 people were detained on Sunday. Authorities issued more than 3,600 fines on Saturday as the curfew came into force, with violators facing fines of 95 euro each. Protests come in the wake of the fall of the Dutch government earlier this month.
Brussels, 25 January: Ukraine lifts some coronavirus restrictions
Ukraine decided to reopen gyms, restaurants and schools on Monday, having closed them on 8 January to help curb the spread of coronavirus, Reuters reports. The number of daily new coronavirus cases in Ukraine has dropped significantly – from some 9,000 in early January to 2,516 on Monday. Minister of Healthcare, Maksym Stepanov, pointed out that "such statistics, which indicate the stabilisation of the situation, the improvement of which could be obtained only thanks to you, Ukrainians." He pointed out that the Ministry will analyse the effects of the lockdown in the coming days, while underscoring his preference for a return to a localised approach to restrictions.
Brussels, 21 January: Netherlands to impose night-time curfew
The Dutch parliament has approved its first night-time curfew since WWII with the latest pandemic-control measure to go into effect from Saturday, Reuters reports. Due to stay in place until 9 February, curfew hours will be between 9 p.m. and 4.30 a.m. The only ones allowed to leave their homes during curfew will be people with medical emergencies, essential workers and those needing to walk their pets. Curfew violations will result in a fine of 95 euro. While infections in the Netherlands have been decreasing in the last three weeks or so, authorities have warned that without tighter restrictions, next month could see a new surge.
Brussels, 22 January: EU heads looking at stricter border rulesEuropean Council President Charles Michel noted after Thursday's EU summit that additional restrictions should be imposed across the bloc in the coming days in order to discourage non-essential travel, RFI reports. Commission President Ursula von der Leyen stressed the importance of avoiding unilateral border closures between EU member states if the bloc's Common Market is to keep functioning. Closing the borders would not help in the fight against the pandemic, she observed, but it would cause severe damage to the EU economy. Von der Leyen also indicated that negative coronavirus test results could become mandatory for entering the EU from Sunday.
Brussels, 21 January: WB approves $34mn for vaccination campaign in Lebanon
The World Bank (WB) has approved a reallocation of US$ 34 million for the coronavirus vaccination campaign in Lebanon, Reuters reports. The decision to reallocate the funds from the existing Lebanon Health Resilience Project is the first WB-financed operation to finance procurement of coronavirus vaccines. The move should secure vaccinations for more than two million people and the first shots are to arrive early next month. The WB said that by protecting people, the vaccination campaign would help the economy to recover. Infection rates in Lebanon reached the highest levels in the region, with more than 6,000 new cases confirmed on Friday.
Brussels, 20 January: China criticises Western coronavirus vaccines
Chinese state-controlled media have been criticising Western coronavirus vaccines while promoting Chinese vaccines in the past week, Reuters reported on Wednesday. The reports from Chinese Communist Party (CCP)'s outlets follow Western criticism of Chinese vaccines for a lack of data disclosure. One Chinese report claimed media in the US and the UK are propagandising on behalf of the US pharmaceutical giant Pfizer. Reports warn that Pfizer is not a reliable supplier and add that Chinese vaccines are more affordable and accessible and that they are easier to transport. Approximately half of the reports pointed to instances where patients in Norway died after receiving vaccines developed by Pfizer and the German BioNTech biotech company. Norwegian authorities stressed earlier this week they have not found a causal link between vaccinations and deaths.
Brussels, 20 January: India starts exporting coronavirus vaccines
India exported the first batch of locally made coronavirus vaccines today, with the Maldives and Bhutan the first recipients, RFI reports. India's move is seen partly as a push to increase its soft power and to challenge its rival China, which also supplies other countries with vaccines. Indian regulators approved two coronavirus vaccines this month — Covaxin developed by Bharat Biotech and Covishield developed by Oxford University and AstraZeneca. After the Maldives and Bhutan, India will ship vaccines to Bangladesh, Myanmar, Nepal and Seychelles. The country is planning to offer 20 million doses to countries in South Asia, according to Bloomberg reporting last week.
Brussels, 20 January: WHO notes the British strain of coronavirus has reached 60 countries
The World Health Organisation (WHO) warns the strain of coronavirus first identified in the UK has spread to at least 60 countries, 10 more than a week ago, according to RFI reporting. WHO added that the variant first identified in South Africa has now been confirmed in 23 countries, noting that it too is believed to be more transmissible. The global coronavirus death toll has exceeded two million and the total number of reported cases is approaching 100 million, according to AFP.
Brussels, 18 January: Germany to hold quarantine breakers in detention centres
Some German states could detain people who refuse quarantine and keep them in detention centres, according to new regional regulations, the Telegraph reported on Monday. Saxony has confirmed the plan to detain quarantine breakers in a section of a refugee camp which is to be constructed next week. Local authorities say the new facility will only be used for detaining repeat quarantine breakers. According to Germany's Welt daily, three other states have built or are building similar facilities. Baden-Württemberg plans to detain such offenders in police-guarded rooms at two hospitals, while Schleswig-Holstein will use a part of a juvenile detention centre. MP Joana Cotar of the Alternative for Germany party criticised authorities in Saxony for "reading too much Orwell."
Brussels, 19 January: WHO head criticises rich countries for hoarding vaccines
WHO Director General Tedros Adhanom Ghebreyesus has criticised wealthy nations for buying up and hoarding coronavirus vaccines. He told the WHO Executive Board on Monday that this would prolong the pandemic and that the poorest countries would be left to pay the price, according to DW reporting. He criticised pharmaceutical companies for going after regulatory approvals rather than global approval through the WHO, adding that their prime motivation was profit. Ghebreyesus warned that plans to start delivering vaccines to some of the poorest countries in February are in jeopardy and that hopes of ending the pandemic quickly were fading.
Brussels, 17 January: Thousands protest against lockdown in Amsterdam
Several thousand people protested in Amsterdam against the nationwide lockdown in the Netherlands imposed with the aim of controlling the coronavirus pandemic, Reuters reported on Sunday. Riot police dispersed the protest with water cannon, which was unauthorised as the authorities rejected the application to hold the demonstration on the Museum Square. The Dutch government ordered schools and most shops to close in December as part of efforts aimed at curbing the spread of coronavirus, extending the lockdown last week by at least three more weeks.


Brussels, 17 January: Portugal's Health Minister warns health system is strained
Portugal's Minister of Health Marta Temido warned on Sunday the health system is under extreme pressure from the surge in coronavirus cases, according to Reuters reporting. According to Health Ministry data, Portugal's health system can accommodate 672 patients in intensive care units (ICUs), with the Directorate-General of Health noting the number of people in ICUs reached 647 on Sunday. The Portuguese Association of Hospital Administrators warned the number of COVID-19 patients who need hospitalisation will likely increase significantly this week. Daniel Ferro, director of St. Mary's Hospital in Lisbon, warned the hospital is "already treating patients beyond our installed capacity" and concluded that more hospitals are in the same situation.
Brussels, 14 January: Russia plans to submit Sputnik V vaccine for approval in EU
Russian Direct Investment Fund (RDIF) CEO Kirill Dmitriev announced Russia will submit the Sputnik V coronavirus vaccine for approval in the EU next month, Reuters reported on Thursday. Dmitriev said regulators in nine countries are expected to approve the vaccine this month. He added that it has already been approved for use in Argentina, Belarus and Serbia. Peer-reviewed studies are to be released soon, he noted. These would demonstrate the high efficiency of the vaccine, which is to be produced in seven countries. Russia has the fourth highest number of coronavirus cases in the world and is planning to launch its mass vaccination campaigns next week.
Brussels, 15 January: Hungarian Prime Minister Viktor Orbán said he hoped the National Institute of Pharmacy and Nutrition would decide on the use of the Chinese Sinopharm coronavirus vaccine in the coming days, Reuters reports. Having criticising the EU's centralised procurement scheme as too slow, Hungary yesterday announced it had reached an agreement with Sinopharm to buy its vaccine. According to a poll conducted by the Hungarian Central Statistical Office, willingness to get a coronavirus vaccine has increased, with 27% of respondents determined to get a shot. Orbán insisted that Hungary's capacity for administering vaccinations far exceeds the amount of doses available from the EU.
Brussels, 14 January: Denmark has vaccinated about 2% of its population
Denmark tops the list of EU member states with regard to vaccinations, having given coronavirus shots to some 2% of its population. Health workers and the elderly should be vaccinated by April, according to health authorities, with shots to be made available to the rest of the population after that. Søren Brostrøm, head of the Danish Health Authority, notes that other bodies are involved in the vaccination campaign and adds "we have a really good and well-functioning collaboration with the regions, the municipalities and the general practitioners on the practical planning of the vaccinations." Danes strongly support the vaccination campaign, he noted, more so than citizens of other European countries.
Brussels, 13 January: Restrictions imposed in different EU member states
Authorities in the Netherlands decided on Monday to keep schools and stores closed for an additional three weeks, having tightened restrictions in December. German authorities have closed many shops, schools and kindergartens. They are to remain closed at least until the end of the month. Italy has closed schools, bars and stores in areas with the highest infection rates. It has vaccinated more than 800,000 people thus far. In Ireland, people are not allowed to visit the homes of others, non-essential businesses are closed and the number allowed to attend weddings has been limited to six. Sweden is struggling with infection rates greater than 500 per 100,000 people and authorities may use new powers secured with the passage of new regulations last week to close shopping malls and gyms.
Brussels, 13 January: Germany could extend lockdown beyond February
Germany's Health Minister, Jens Spahn, announced on Wendesday that coronavirus restrictions might need to be extended beyond February and that people need to adhere to the measures imposed if the pandemic is to be controlled, DW reports. "The numbers of infections and deaths are still too high and we need to reduce them," Spahn declared, noting that the government should be able to offer vaccinations to everybody by summer. It would require several months for the vaccination campaign to yield results, he cautioned, so it might not be possible to ease all restrictions by the start of February.
Brussels, 12 January: EMA could approve Oxford-AstraZeneca vaccine this month
The European Medicines Agency (EMA) announced on Tuesday that it could approve the coronavirus vaccine developed by Oxford and AstraZeneca by 29 January if "the data submitted on the quality, safety and efficacy of the vaccine are sufficiently robust and complete." The EMA has approved the vaccines developed by US Pfizer and German BioNTech, as well as the vaccine developed by US Moderna, for use across the bloc. Thus far, the EU has closed six contracts for up to 2 billion vaccine doses for the bloc's estimated population of 450 million.
Brussels, 12 January: EU concludes preliminary talks with Valneva on its vaccine
The EU notes that it has wrapped up preliminary talks with the French Valneva biotech company on the supply of its coronavirus vaccine candidate, Reuters reports. The bloc is planning to purchase up to 60 million doses of the vaccine, making Valneva the eighth company to negotiate the sale of vaccines with the EU. "The envisaged contract with Valneva would provide for the possibility for all EU member states to purchase together 30 million doses, and they could further purchase up to 30 million more doses," an EU Commission statement notes. "If clinical development is successful, an initial approval may be granted in the second half of 2021," Valneva announced.
Brussels, 12 January: Merkel expects lockdown to last until early AprilGermany's Chancellor Angela Merkel expects the lockdown in Germany to last until early April, according to participants of the meeting of lawmakers in Merkel's party, Reuters reports. The German daily Bild reports Merkel was concerned that "if we don't manage to stop this British virus, then we will have 10 times the number of cases by Easter." However, three unnamed participants in the meeting note that Merkel made no explicit comment about extending the lockdown. Nor did she warn of a potential tenfold increase in the number of cases. Germany imposed tougher restrictions last week, extending the lockdown until the end of the month.
WHO on herd immunity
Brussels, 11 January: Dale Fisher, the World Health Organisation's Global Outbreak Alert and Response Network chair, warns the vaccination campaigns will not provide herd immunity in many countries this year, Reuters reports. He points out poor countries have limited access to coronavirus vaccines and adds that mutations of the virus could exacerbate the problem. Noting that some countries will likely achieve herd immunity this year, Fisher stresses this will not help to normalise the situation, especially with regard to border controls. "We know we need to get to herd immunity and we need that in a majority of countries, so we are not going to see that in 2021," he concluded.
Brussels, 11 January: Germany tightens restrictions
Stricter measures aimed at controlling the coronavirus pandemic are in force in all of Germany's federal states as of today, Monday, DW reports. The restrictions put in place on 16 December failed to yield desired results, with German authorities extending some measures and imposing additional ones. Minister of Health Jens Spahn noted the tighter lockdown will cause difficulties for many in Germany, but stressed the importance of curbing the spread of coronavirus. Several German states imposed the new restrictions last week, with authorities in Saxony announcing the new measures would remain in force at least until 7 February.
Overview of the Commission's response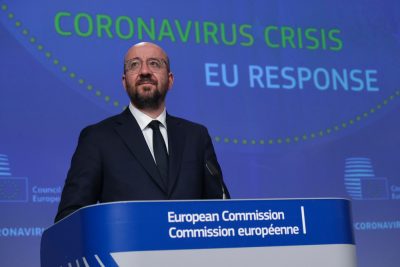 Brussels 8 January: The Commission spent hours today Friday fending off criticisms about its COVID-19 vaccines procurement. Commission President von der Leyen, a medical doctor by training, triumphantly announced how the Commission has upped its bid on the BioNTech-Pfizer vaccine to 600 million doses, with additional purchase options running from the second quarter of this year. The Commission has come under heavy criticism after vaccination programmes were rolled out in both the UK and the US sooner than in the EU, where the negotiations on the buying of vaccines have been centralised to Brussels.
Earlier in the week, the Commission spokesperson Eric Mamer defended the EU executive by saying that a total of two billion vaccine doses have been secured (so far only the Pfizer and the Moderna vaccines have been approved by the European Medicines Agency). From today, the total would amount to 2.3 billion doses with the EU having an option on an additional 300 million from future production. This way, about half of Pfizer/BioNTech's global output would be going to the EU. The EU's medicines' regulator EMA also separately authorised the use of six doses from every vial of the vaccine, which requires exceptionally low temperatures for safe storage, a key factor complicating its distribution, as opposed to the five does previously foreseen. This would increase overall availability by 20%.
Belgium's lockdown continues
Across the road from the Commission's Brussels Berlaymont headquarters, the Belgian government and chief virologists convened in a highly anticipated meeting among those hoping for prevailing sanitary measures to be revoked.
The country's restaurant and hospitality sector is largely at a halt, with bars closed since the beginning of November, and restaurants only partially opened and then solely for delivery. The country's hairdressers have been protesting the measures affecting the sector since November, as salons have to remain closed while haircuts increasingly are offered to clients at home. The situation is equally dire for both the culture and events sector, but so far no roll-back of the measures is in sight, despite testing figures showing less infections and hospitals receiving fewer COVID patients, with 382 remaining in intensive care.
Sweden's Parliament approves a new pandemic law
Stockholm 8 January Meanwhile in Sweden, parliament has adopted a new pandemic law, which would enable the closing of businesses and public transport. The Swedish government refrained from such measures for most of last year with Prime Minister Stefan Löfvén urging Swedes to think for themselves and act responsibly. Swedish legislation has not allowed the government to enact a general shutdown of society in peacetime and any coercive measures are viewed with scepticism among the public. However, with COVID-related deaths on the increase, the government has come under pressure to act, with 76 COVID-19 deaths yesterday, and a drastically higher death toll being registered than in other Scandinavian countries.
Coronavirus vaccine delivery "slower than expected"
Helsinki In 8 January Finland, the government is upset with the EU's promised delivery of vaccine doses from within the Pfizer/BioNTech quota. For January, Finland's share of the distribution would be as little as a shipment of 50,000 doses, against a population of 5.5 million. The Finnish minister for public health has written to Commissioner Stella Kyriakides to express her dismay. She notes that the AstraZeneca vaccine developed in cooperation with the University of Oxford, which is already in use from this week in the UK, has yet to be approved for the EU market. The Finnish government could have it approved by the country's own medicines agency Fimea, but fearing that the vaccine has not been sufficiently tested on certain age groups, the government has resolved to wait for EMA's approval. The number of new infections in the country remains low, espcially in the sparsely inhabited regions of the country's north.
European Medicines Agency (EMA) approved the coronavirus vaccine by Moderna
The European Medicines Agency (EMA) has approved the coronavirus vaccine developed by Moderna, making it the second such vaccine approved in the EU, RFI reports. Following a quality assessment, the EMA notes it has approved the vaccine for use on people aged over 18. The bloc has ordered 160 million doses of the vaccine, which are to be used for the vaccination of 80 million people. Two doses of the vaccine need to be administered 28 days apart and the vaccine is based on mRNA technology, similar to that developed by Pfizer and BioNTech and approved last year.


European countries to be flexible about the administering doses of the vaccine
World Health Organisation (WHO) Europe head, Hans Kluge, is calling on European countries to be flexible about the period between administering the first and second doses of the coronavirus vaccine developed by Pfizer and BioNTech, Reuters reports. Kluge stresses the importance of finding a balance between protecting as many people as possible and making the most of limited vaccine supplies. "It is important that such a decision represents a safe compromise between the limited global production capacity at the moment, and the imperative for governments to protect as many people as possible while reducing the burden of any subsequent wave on the health systems."
WHO investigators will not be allowed to look into the outbreak in China
Beijing is stepping up efforts to control the narrative around the emergence of the coronavirus as a World Health Organisation (WHO) team prepares to visit China, Reuters reported yesterday, Tuesday. While Hua Chunying, head of the Foreign Ministry Information Department, announced China would welcome the WHO team, experts suspect the investigators will not be allowed to look into the outbreak freely because Beijing is anxious to avoid any blame for the pandemic. However, China released a study last week that indicates infection rates in Wuhan were significantly higher than Chinese authorities originally acknowledged. Raina MacIntyre, head of the Kirby Institute's Biosecurity Program, predicts some hypotheses will not be investigated for political issues, notably the contention that the virus leaked from the Wuhan Institute of Virology. "I think it is unlikely all viruses in the lab at the time will be made available to the team," she said in suggesting that the investigation would not get to the bottom of the outbreak.
Belgium employers abide by the rules and favour teleworking
Belgium's labour inspectorate deployed some 500 inspectors this week to make sure that employers abide by the rules and favour teleworking, when at all possible. The inspections will be carried out in companies and in public institutions to ensure that staff can work remotely and that all sanitary measures are followed in the workplace. The pandemic rules were tightened last month with a requirement for people to work from home. The Belgian police keep a close eye on the country's borders, with enhanced inspection of in-coming train traffic mostly from France and the UK. Visitors are required to take a COVID test in advance, whereas residents should submit to two PCR tests upon return from a high-risk zone. All entrants have to fill out a form answering detailed questions as to their last whereabouts when returning from any stay abroad that lasted for more than two days. Cars are checked at the border with France, even though cross-border traffic is facilitated. Arriving passengers at airports and train stations have to prove they have filled out the requisite documents, unless they can prove that theirs was a short stay abroad only.
Scotland announces new lockdown
First Minister of Scotland Nicola Sturgeon announces a new lockdown that includes the legal requirement for people in Level 4 areas to stay at home in January, Sky reports today. "It is no exaggeration to say that I am more concerned about the situation we face now than I have been at any time since March last year," she said. Sturgeon said it was vital to limit contacts between households if the pandemic is to be brought under control. She predicted the healthcare system could be overwhelmed in three or four weeks unless the government takes action. The number of new confirmed infections in Scotland dropped on Monday from the previous day's figures, as did the daily test positivity rate.
Italy to relax restrictions on weekdays
Italy has decided to relax restrictions on weekdays, with lockdown rules due to expire on Thursday, Reuters reports today. Lawmakers are agreed to return to the three-tier system of restrictions which allows local application of measures. However, bars and restaurants are to close this weekend in all parts of Italy. The government has decided to delay the reopening of ski resorts, originally planned for 8 January, until 18 January, stressing this is in line with requests by local authorities based on advice of experts. The number of daily cases dropped from about 40,000 in November to significantly below 20,000. There have been close to 76,000 deaths since February last year.
Sweden fears a severe corona wave this week
Swedish head virologist Anders Tegnell, known for practising a different approach to curb the pandemic without lockdowns or mask-wearing, is concerned that yet another corona wave will hit this week when Swedes return to work after the holidays. Both the British variant of the mutated virus as well as the South African mutation have been detected in the country. Among the Nordic countries, Sweden is worst hit by COVID-19, registering over 9,000 deaths. Denmark, meanwhile, has entered its highest level of pandemic alert, banning assemblies of more than five people and further limiting travel. In Finland, the virus has hit mostly the southern part of the country, with restrictions on assembly extended until the end of January.
BioNTech founders warn of vaccine supply gaps
BioNTech CEO Uğur Şahin warns of gaps in the supply of coronavirus vaccine due to lack of other approved vaccines, Reuters reports. The company is negotiating with the EU Commission about increasing production of the vaccine. Şahin notes the planned production facility in Marburg, Germany could turn out 250 million doses in the first six months of 2021. Germany's Minister of Health Jens Spahn announced the authorities would do whatever they can to ensure a quick start to operations at the facility. He called on the European Medicines Agency to approve the AstraZeneca vaccine as soon as possible.

SOURCE

Italy delays reopening ski slopes to Jan. 18 as COVID cases stay high
Italy's Ministry of Health delayed the reopening of ski resorts, originally planned for Thursday, 7 January, until 18 January, Reuters reports. Italy closed its resorts for the Christmas and New Year holidays, as did many other EU member states, in a bid to control the pandemic. The decision to push back the reopening date indicates Italian authorities are worried the skiing season could help infection rates to grow. The Health Ministry stressed the decision is in line with requests by local authorities and takes account of the advice of health experts. The number of daily cases in Italy has halved from about 40,000 in November to some 20,000 at the start of 2021.

SOURCE
EU to buy extra 100 million doses of Pfizer/BioNtech vaccine
EU Commission President Ursula von der Leyen announced the bloc will buy an additional 100 million doses of the vaccine developed by US Pfizer and German BioNTech, Reuters reported today. This will bring the total number of doses the EU will buy from the two pharmaceutical companies to 300 million. The announcement follows unexpected delays in clinical trials of some vaccine candidates ordered by the bloc. The With a total population of about 450 million, the EU has booked close to 1.3 billion vaccines with options to buy an additional 660 million.

SOURCE

AstraZeneca vaccine not ready for quick European approval, watchdog official says
European Medicines Agency (EMA) Deputy Executive Director Noël Wathion warns the EMA is unlikely be able in January to approve the vaccine developed by AstraZeneca, Reuters reports today. Interviewed byHet Nieuwsblad, Wathion points out "they have not even filed an application with us yet" and notes that the available data is "not even enough to warrant a conditional marketing licence." UK Secretary of State for Health and Social Care Matt Hancock says AstraZeneca has submitted a full data package on the vaccine to the UK regulator.

SOURCE
Pfizer to complete supply of COVID-19 vaccines to EU by September
EU Commission notes the initial 200 million doses of the vaccine developed by Pfizer and BioNTech are to be distributed across the EU by September 2021, Reuters reports. The vaccine is the only one approved by the European Medicines Agency (EMA) thus far. Most member states started their respective vaccination campaigns on Sunday. The EU, with a population of about 450 million, has signed advance purchase agreements with several pharmaceutical companies for close to two billion doses in total. The EMA is testing other vaccines. The Moderna vaccine could be approved on 6 January and the agency could start processing applications from AstraZeneca and Johnson & Johnson in the first quarter of 2021.

SOURCE

Europe rolls out mass vaccination campaign, but many are not convinced
The French Public Health Agency notes that about 40% of the population plans to get vaccinated. EU leaders are promoting vaccination campaigns as the best chance of securing a return to normalcy next year. In doing so, they are attempting to face down high levels of scepticism towards the vaccine. Olivier Véran, French Minister of Solidarity and Health, points out that France might have to impose a third lockdown if negative epidemiological trends do not reverse after the holiday season, RFI reports. President Emmanuel Macron is to head a defence council meeting tomorrow, Tuesday, to assess France's situation.

SOURCE
Mutated COVID variant reaches France, Spain and Sweden
Health authorities in France, Spain and Sweden have confirmed cases of the new coronavirus variant from the UK. French authorities say laboratories are processing tests from several people potentially infected with the new strain of coronavirus. In Besides the three, cases of the new variant have been confirmed in Australia, Denmark, Italy and the Netherlands. As experts suspect the new variant is more contagious. By way of response, some 50 countries have limited travel from the UK.

SOURCE

Europe begins to launch COVID-19 vaccinations
Brussels, 27 December: Hungary and Slovakia launched vaccination campaigns on Saturday, one day before Germany, France, Spain and several other EU member states. The French government plans to vaccinate about 1 million people in January and February, followed by an additional 14 to 15 million between March and June. Spanish authorities confirmed plans to start vaccinations on Sunday, in coordination with other EU member states. Meanwhile, Germany announced plans to deliver more than 1.3 million doses to local authorities before the end of this year, and expects to deliver some 700,000 does per week in the coming year. Irish authorities announced the start of vaccinations for Tuesday, one day earlier than planned.

SOURCE
Pubs and restaurants to close on Christmas Eve
Ireland announces closing pubs, restaurants and some shops on Christmas Eve and keeping them closed until early March in order to curb the spread of coronavirus, according to a government announcement today, Tuesday. Prime Minister Micheál Martin notes it is safer to assume the new strain of the virus isolated in the UK has reached Ireland, while stressing that as yet there is no evidence that it has. The new restrictions are to be reviewed on 12 January, with Deputy Prime Minister Leo Varadkar advising businesses to operate under the assumption that reopening will come at the end of February or early March.

SOURCE

EU urges countries to lift UK travel bans

The EU Commission called on member states to lift travel restrictions to the UK on Tuesday, after many countries had imposed travel bans due to concerns over a new strain of coronavirus. While the Commission recommends the lifting of travel bans, member states may set their own rules. It points out that travel should be allowed with testing or self-isolation measures in place, but stresses EU member states should discourage non-essential travel.

SOURCE
Rapid COVID tests rolled out across EU
With the approach of Christmas, the Commission has signed a contract with pharmaceutical companies Abbott and Roche for 20 million rapid antigen tests worth up to €100 million, financed by EU emergency funds. From early 2021, these tests will be made available to EU countries, as part of the EU's strategy to enhance COVID-19 testing.
Rapid tests are cheaper and provide results quicker than the RT-PCR test, which is still the most reliable testing method. The Commission is instructing EU countries to use rapid antigen tests to further strengthen the overall testing capacity, especially since testing remains a key to controlling and mitigating the still ongoing COVID-19 pandemic.
Also, the rapid tests should only be taken by trained healthcare personnel. The quick tests can be used for population-wide screening in epidemiological situations or areas where the proportion of test positivity is high, but most positive results would be still be followed up by another test.
WHO in contact with UK over new coronavirus mutation
World Health Organisation (WHO) notes Sunday it is in contact with British officials and is keeping a close eye on the new strain of coronavirus, which apparently spreads more rapidly. No evidence suggests the new mutation reacts differently to vaccines. Nor is it believed to be more deadly. Besides the UK, the new variant has been detected in Australia, Denmark and the Netherlands. EU member states imposed temporary bans on travel from the UK and the bloc announced discussing a more coordinated response later today, Monday.