It looks like Karl Lagerfelds legacy is set to continue after LOrèal Paris has confirmed that a makeup collaboration with the late designer is launching this autumn and we are pretty excited.
In a statement released today, Caroline Lebar, Head Of Image And Communication at the Karl Lagerfeld fashion house, said, "This line of makeup truly reflects the Karl Lagerfeld brand universe and what Karl loved in makeup – he often used eyeshadows as color in his sketches." She added, "Karl liked it when a collaboration resonated with a brand and would make a real impact on many people."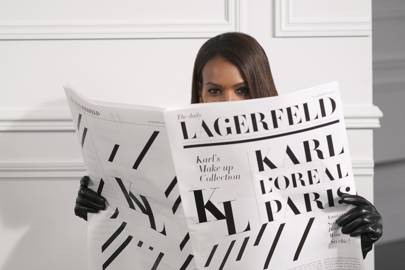 Advertisement
Lagerfeld had already "initiated" the partnership before his death and the makeup collection is going to "Channel Karl Lagerfelds iconic rock-chic style, fused with a sense of Parisian elegance that is both classic and effortless."
News of the collab isnt a massive surprise to many, the designer, after all, did launch his own makeup capsule collection with ModelCo. last year which featured over 50 products for the face, lips, eyes and some collectable accessories.
L'Orèal Paris' new Gl