Halves in the NRL are judged almost entirely on what they do with ball in hand. If a playmaker has the ball on a string, what they do on the other side of the ball is almost always ignored.
While Lachlan Lewis is still learning his craft in attack, his defence shined bright in a spirited Good Friday showdown with Sam Burgess in front of 30,040 fans at ANZ Stadium.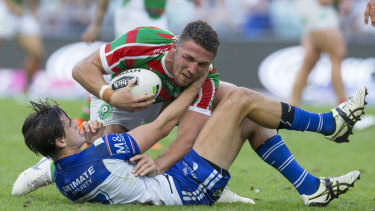 At half-time, Lewis had made 17 tackles. Only three Bulldogs had more next to their name.
Several of those tackles were on Sam Burgess. Lewis is 90kg dripping wet, Burgess every bit of 116kg – a 26kg difference.
Advertisement
You would be forgiven for thinking there was only a 6kg gap between the pair after watching the 10 minutes before half-time of the Good Friday clash, with the match precariously poised at 14-6 in the Rabbitohs favour.
The hot favourites had enjoyed almost 70 per cent possession and if they were to score again, the Dogs would have had set themselves quite the task in trying to reel in the deficit in the second half.
Burgess kept pinning the ears back and running straight at Lewis but the 22-year-old refused to take a backward step.
He hit the newly appointed Rabbitohs captain hard, low and eventually forced a frustrated Burgess to lash out and trigger a push and shove between the two sides just before half-time.
As temperatures cooled and play resumed, Lewis had a smile on his face.
He knew Burgess would come looking for him as soon as the ball swung back to the Rabbitohs' right edge.
"He said to me you're going to get found out sooner or later," Lewis said.
Two plays later, Burgess received the ball from Damien Cook and Lewis crunched the Souths skipper.
A stray Rhyse Martin arm left Burgess dazed but as the half-time siren sounded, Canterbury only trailed 14-6.
"I think their game plan was to run a bit of shape down my side and it nearly worked for them," Lewis said.
"All back-rowers are tough and they try to terrorise the halves. I'm getting used to that.
"It was like a fly hitting a car – it didn't look like it affected him at all, it was tough."
If it wasn't for Lewis' defence, the dam wall would have broken and the game would have been put to bed.
Instead, Lewis' work inspired his side.
That was clear when Corey Allan split a staggered Canterbury defensive line 70 metres from home Read More – Source