Penrith supremo Phil Gould has branded Grant Atkins "not a good referee" for his failure to halt play when North Queensland pair Nene Macdonald and John Asiata were floored in a serious collision.
Atkins drew the ire of the league last Friday night after failing to pull up play when Macdonald suffered a fractured and dislocated ankle against Melbourne, forcing his teammates to battle for 53 seconds with two men down and the game in the balance.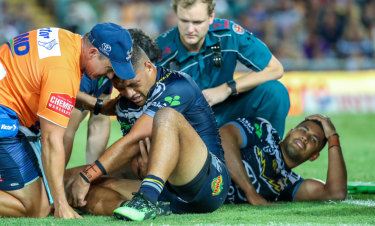 After Cowboys coach Paul Green described the handling of the incident as an "absolute debacle" that threatened "player welfare", the NRL moved to demote Atkins and fellow referee Gavin Badger before round six.
However, Gould argued the situation could have been avoided.
Advertisement
"I guess the honesty game with the two referees … as to whether or not they knew there was something wrong back there and ignored it, thats really the point," Gould told Nines 100% Footy on Monday night.
"Grant Atkins is potentially a very good referee, [but] hes not a good referee because he interferes with the game, he follows what we call process; he doesnt use discretion or have a feel for the game.
"This is a perfect example of him saying the process is this, therefore I didnt have to stop the game, where common sense would have told you that if he was aware that was a serious injury, they needed to stop the game whether process was being followed or not.
"This is how these referees have been educated for a long period of time and we need to get them out of it to have a feel for the game and read the game.
"They need to re-evaluate the process."
Sharks veteran Paul Gallen called for more heads to roll.
"Im surprised they all werent dropped," Gallen told 100% Footy.
"Theres touch judges there, people up in the box waRead More – Source