James Frawley won his first ATP Challenger singles match and did it at home after downing David Barclay at the Canberra Challenger on Sunday.
Frawley earned his first wild card into the $55,000 tournament and made the most of it with a 6-4 6-7 6-2 win at the Lyneham Tennis Centre.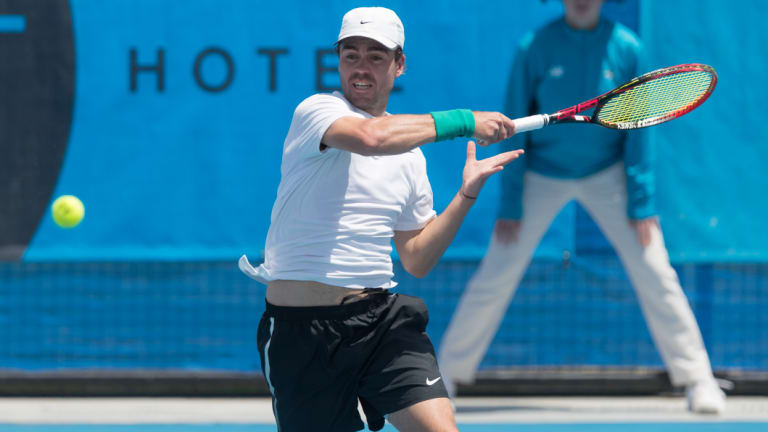 It was the first of two big wins for Canberrans on Sunday with Alison Bai earning her spot in the $317,000 Hobart International after beating compatriot Olivia Rogowska 6-4 6-7 6-1.
It came a day after Bai took down the first top-100 player of her career, Anastasia Potapova, in straight sets.
Advertisement
Former Canberra Challenger finalist Marc Polmans has arrived in the capital with an extra spring in his step after earning his first Australian Open wild card.
Polmans enjoyed a career-best season in 2018, jumping from world No. 318 to at No. 144.
The 21-year-old won back-to-back ACT Claycourt International titles in 2017 and the fifth seed will kick off his campaign on Tuesday.
"Last year was my goal to get my rankings inside the top 200 and put myself up for grabs for a wildcard and I had a great year finishing inside the top 150," Polmans said.
"I reckon I just improved a few little things, my serve, my speed and accuracy allowed me to get a few more cheap points and allowed me to hold serve more frequently.
"I'm happy I gave myself a chance and am fortunate enough to get a wildcard. Its a pretty exciting start to the year and I'm looking forward next week.
"But I love playing here in Canberra, I chose to play here instead of Sydney and I definitely like playing here, it's good to be back.
"My goal this week is to try and get as many matches as I can to prepare for the Australian Open next Monday.
"I've made the final here and hopefully I can take it one step further. I've always liked the conditions here, it suits my game and hopefully I'm off to a winning start on Tuesday."
Polmans won four titles last year and 24 straight matches throughout February and March, but he has bigger ambitions in 2019.
"This year it's my goal to get my ranking lower and try to push for top 100," Polmans said.
"There are still a few areas I need to improve, my average ball speed from the baseline needs to get bigger and faster and my speed definitely need to improve to crack the top 100."
Eamonn Tiernan is a sports reporter with The Canberra Times
Most Viewed in Sport