Your ads will be inserted here by
Easy Plugin for AdSense.
Please go to the plugin admin page to
Paste your ad code OR
Suppress this ad slot.
A gunman has killed two people and himself at a video game tournament in Florida.
The suspect, who police believe to be 24-year-old David Katz from Baltimore, Maryland, shot himself dead before police arrived.
The shooting occurred at GLHF Game Bar in downtown Jacksonville, which was hosting Sunday's event that police say the suspect was attending.
Gunshots were heard as gamers live-streamed a regional qualifier for a new football video game, Madden NFL 19.
Police are investigating an online video which appears to show the scene right before the shooting.
A red dot that appears to be a laser pointer can be seen on the chest of one of the players before the first of around a dozen gunshots were fired.
Jacksonville Sheriff's Office said they believed the suspect travelled from Maryland and had stayed in a hotel the night before.
A total of nine people were shot, and two were injured fleeing.
Their conditions are not life-threatening.
"No one deserves to die over playing a video game, you know?" said Derek Jones, who was taking part in the tournament.
The 30-year-old, from New Mexico, said he was sitting in a back patio outside the venue when he heard the gunshots.
He jumped over a fence and fled, leaving behind his backpack and phone.
"You know, I'm glad I lost today," Mr Jones said.
"Because if I'd won, I would have been in that game bar right then playing a game and not paying attention.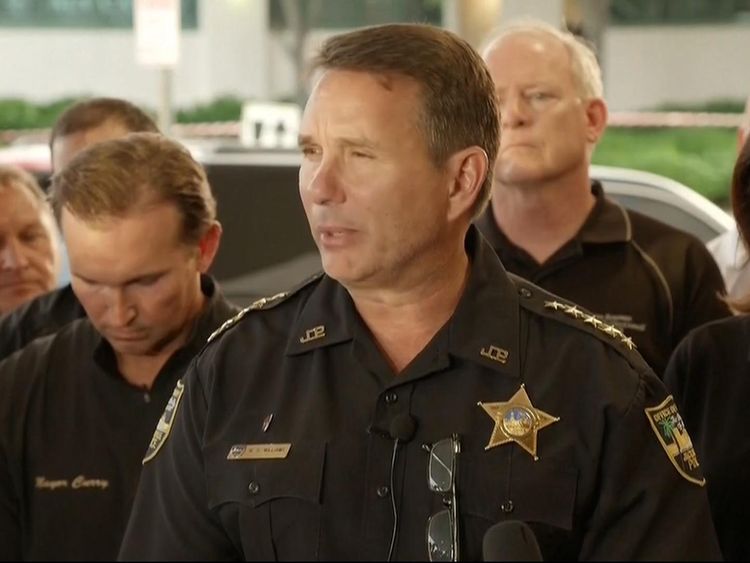 "And he could have come and I'd probably be dead right now."
Jason Lake, the founder and CEO of compLexity, a company that owns professional esports teams, wrote on Twitter that one of his players, Drini Gjoka, was shot in the thumb.
The 19-year-old tweeted: "The tourney just got shot up. I'm leaving and never coming back."
He added in another message: "I am literally so lucky. The bullet hit my thumb. Worst day of my life."
Police say the motive is still unclear, and it is unknown if the victims were known to the suspect.
As we await further details, our hearts are with Jacksonville and all those affected by todays tragic mass shooting.

— Ivanka Trump (@IvankaTrump) August 26, 2018
The FBI in Baltimore is assisting with the investigation, with agents searching a family home of the man believed to be behind the attack on Sunday evening.
Your ads will be inserted here by
Easy Plugin for AdSense.
Please go to the plugin admin page to
Paste your ad code OR
Suppress this ad slot.
Heavily armed agents, some wearing bulletproof vests and carrying long guns, could be seen entering a property in the city's Inner Harbour neighbourhood.
Police in Florida say they have located and impounded the suspect's vehicle.
A tweet by NFL team Buffalo Bills two years ago shows a picture of a man named David Katz holding up a T-shirt that says "Madden champ", with the caption: "Congrats to David Katz, the Madden 17 Bills Championship winner!"
Jacksonville mayor Lenny Curry condemned the act.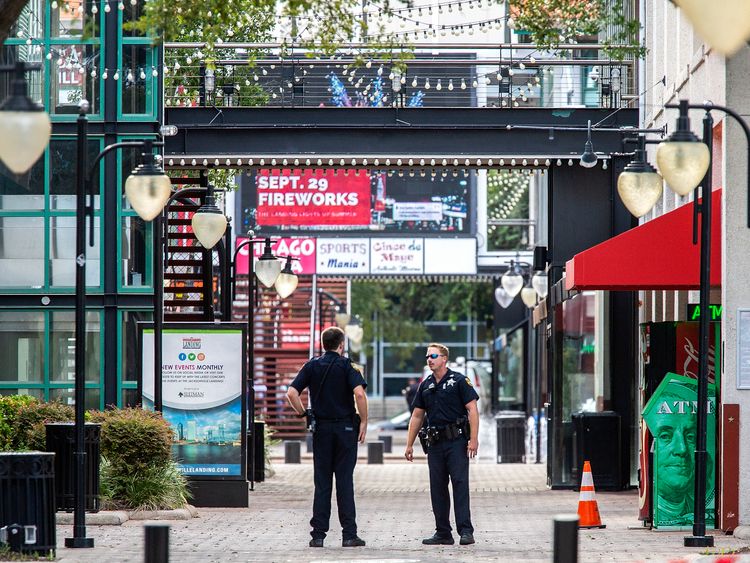 He said: "We have faced an occurrence that is all too common… One violent crime in our city is one too many.
"Pray for Jacksonville as we deal with this senseless tragedy."
The NFL said it was "shocked and deeply saddened by the horrific tragedy".
The shooting has sparked calls for extra security at esports tournaments.
Christian Tamas, director of esports programmes for Twitch, which broadcasts gamers' live streams, said: "Unfortunately, this was a matter of when not if.
Over 90% approval rating for your all time favorite (I hope) President within the Republican Party and 52% overall. This despite all of the made up stories by the Fake News Media trying endlessly to make me look as bad and evil as possible. Look at the real villains please!

— Donald J. Trump (@realDonaldTrump) August 27, 2018
"Esport event security, in general, has been extremely poor over the years, we should've stepped it up long ago."
In December, a Call of Duty tournament in Dallas, Texas, was evacuated twice because of bomb threats.
A message was also posted online threatening a "mass shooting" at the Evolution Championship Series in Las Vegas, Nevada, although the event took place without incident.
President Trump has not yet reacted to the Florida shooting, but his daughter Ivanka tweeted: "As we await further details, our hearts are with Jacksonville and all those affected by today's tragic mass shooting."
There have been several shootings in Florida in recent memory.
More from Florida
In February, 17 people were killed at a high school in Parkland.
It came after a gunman killed 49 people at the Pulse nightclub in Orlando two years ago.