Britain could enjoy warm weather well into October as above-average temperatures continue in the autumn months.
It comes as the Met Office said England had its hottest summer on record this year, while the rest of the UK enjoyed the joint-hottest.
A Met Office three-month outlook released to local authorities in Britain indicates for "August-September-October as a whole, above average temperatures are more likely than below average temperatures".
The outlook adds there will be an increased chance of high-pressure patterns close to the UK which will help provide settled weather conditions.
Forecasters do not rule out the possibility of some below average temperatures too.
But there are concerns that early confidence in settled weather conditions could be lost with changing patterns.
Joanna Robinson, Sky News weather producer, said: "We're now into the meteorological autumn and there has been lots of talk about what September and October may have in store.
"The weekend marked the new season, but there was some warmth on Sunday, with 26C (78F) recorded in Moray and North Yorkshire.
"It will turn cooler again this week, with increasing confidence of something a little more unsettled from Friday.
"September on the whole will bring some dry and warm spells, especially in the south, but there will be bouts of wind and rain too, especially later in the month.
"Overall it's not looking as settled as it once was, but long range forecasting is tricky, especially at this time of the year.
"It's too early to be talking about an indian summer, a phrase commonly used in America.
"It's defined as a warm, settled spell of weather occurring after the first frost, usually in October and November.
"There have been some chilly nights recently, but we are still waiting for the first widespread frost of the season."
In 2011, the UK set the record for the hottest temperature, with 29.9C (85F) set in Gravesend.
Forecasts by The Weather Company show above average temperatures will continue through Europe in the September to November period.
:: Scotland records its highest ever temperature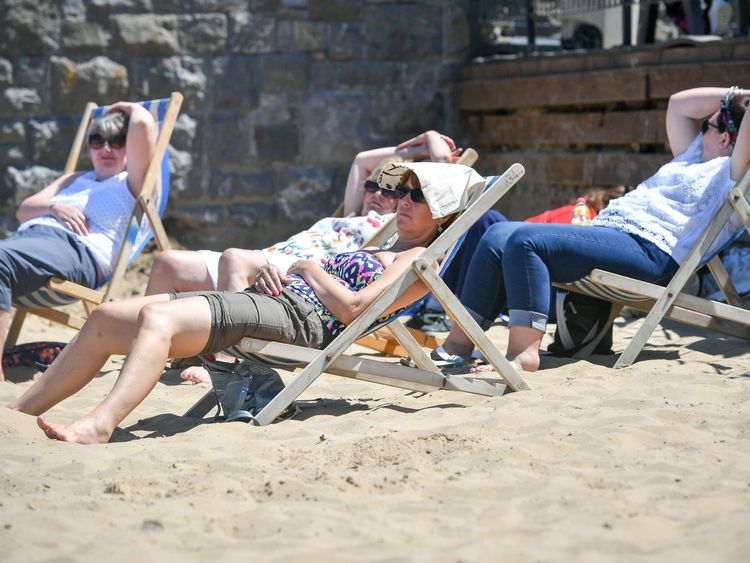 Dr Claire Kennedy-Edwards, senior meteorologist at The Weather Channel, said: "Our latest forecasts for autumn show warmer and drier spells of weather confined to north-east Europe, this extending west towards the UK.
"Individual months show warmer than normal conditions more likely to continue through October and November.
"Elsewhere, it is likely to remain largely cooler and wetter across the southern half of Europe."
More from UK
The Met Office has predicted warm and dry weather for the second half of September, particularly in the South East, but with spells of "changeable weather".
It adds: "However, as the nights lengthen through September, longer clear nights will lead to some low overnight temperatures, with an accompanying risk of patchy fog across the UK, and frost in the north."